Read all about the most famous modern architects that lead the industry in creative building design, and producing iconic buildings of today!
These 88 architects are impacting the skyline of today's cities.
This is all thanks to last century's visionary architects who have inspired countless modern-day architects with their daring and mystifying projects.
We've gathered a list of the most amazing contemporary architects and their work for you.
So get inspired by these fascinating large scale projects!
Daniel Libeskind is a Polish-Jewish architect who was born in 1946. He founded his architecture firm, Studio Daniel Libeskind, in 1989. Liebeskind is an architect that has the belief that anyone can understand and design architecture, as long as you have the right mindset.
The Jewish Museum in Berlin was Libeskind's first major international success. Liebeskind designed this museum with the wish to tell the story of the German-Jewish history, rather than simply designing a building. Each individual visiting the museum can have different interpretations, but most experience a feeling of disorientation or insecurity.
After the Jewish Museum many works followed, such as the Grand Canal Theatre in Dublin and the Imperial War Museum North in England.
If you want to know more about Liebeskind's thoughts on architecture, and the inspirations for his works, then we recommend you to read his book, Edge of Order.
Richard Meier, born in 1934, is an American abstract artist and architect, whose geometric designs are known for following timeless, classical design principles.
Incorporating natural daylight and the colour white is the standard, and order and geometry weigh very heavily in the compositions. In both the form and placement of a construction, Meier takes a close look at the context it will be situated in, to enhance the dialogue between the building and its environment.
With the increasing demand on sustainability within design and architecture, also the Richard Meier & Partners Architects company tries to incorporate new technologies and materials that are less demanding on the planet's resources.
When Meier was 49, he received the Pritzker Architecture Prize. With this age, he was the youngest ever to receive this prestigious prize. Meier has designed several contemporary buildings including the Barcelona Museum of Contemporary Art, the Jubilee Church in Rome, and the High Museum of Art in Atlanta.
Norman Foster was born in 1935, and is a British architect whose company, Foster + Partners, maintains an international design practice famous for high-tech architecture.
Foster + Partners has the main emphasis on sustainability, and developing environmentally friendly buildings. Innovation is key to them, and they create their so-called 'responsible design' using an integrated design approach.
Foster is one of Britain's most prolific architects of his generation. When you are travelling to London, one of the first buildings to strike your eye will be the 30 St Mary Axe. This contemporary building is a commercial skyscraper in London's primary financial district. Other well-known works from Foster are the Torre de Collserola in Barcelona, and the Willis Building in Ipswich.
Renzo Piano was born in 1937 in Genua, Italy. He is a contemporary, abstract and functional architect.
Piano was one of the founding partners of the RPBW architecture company, which has offices in Italy, France and since recently also in New York. Within RPBW they focus on collaborative and participative project developments.
Their main aim is to communicate to people that they design their buildings with and for the people. Therefore they focus on many non-physical elements, of which light is the most important.
RPBW designs its buildings following the Genius Loci principle, which implies that they are aware of the surroundings, and design the construction accordingly.
One of Piano's most notable projects is The Shard, which is the tallest building in the United Kingdom, with its 309 meters. Other well-known projects include Istanbul Modern in Turkey, and Whittle School in China.
Santiago Calatrava is an architect born in 1951 in Valencia, Spain. He is an architect, structural design and analyst engineer, sculptor, and painter.
Calatrava is known for unifying beauty and function in his buildings and projects. He incorporates many aspects of the human body and nature in his works.
There has been quite some critique on the building style of Calatrava, as many consider it over-the-top and too flamboyant. However, he has also gained great successes with his projects.
The largest of these is La Ciutat de les Arts i les Ciències (The City of Arts and Sciences) in Valencia, which is one of the 12 Treasures of Spain. Other buildings include Yuan Ze University in Taipei, and the O'Hare Global Terminal in Chicago.
Rem Koolhaas is an architect born in 1944 in Rotterdam, the Netherlands. Next to designing as an architect, Koolhaas is active as a Professor in architectural theories and urban space at Harvard University.
Koolhaas is known for his works that embrace modernity. He often uses asymmetry, and unexpected uses of colour. Therefore, he can be seen as a deconstructivist architect.
However, what sets him apart from others in this style is his strong focus on humanity. Urban planning is heavily emphasized, as Koolhaas designs buildings paying attention to the role it plays to people's everyday life.
Koolhaas' largest project to date is the CMG Headquarters in Beijing. Other famous works are De Rotterdam in Rotterdam, and the BLOX design hub in Copenhagen.
Ieoh Ming Pei is an architect born in 1917 in Guangzhou, China. When he was 17 years old, he moved to the US, and never left it. Ieoh Ming Pei unfortunately died in 2019.
Pei is often referred to as the master of modern architecture. Even though his work cannot be considered traditional, it is seen as timeless, and often with references to the past.
He is known for using simple geometric lines, and developing clean and sharp-edged designs. His goal is to create monumental architectural works.
One of Pei's most notable projects is The Rock and Roll Hall of Fame in Ohio, a building that recognizes and archives the history of the best-known and most influential artists, producers, engineers, and other notable figures who have had some major influence on the development of rock and roll.
Other works Pei got famous for are the East Building of the National Gallery of Art in Washington DC, and the Louvre Pyramid in Paris.
Jean Nouvel is an architect born in 1945 in Fumel, France. He co-founded Ateliers Jean Nouvel (AJN), which turned into a world-renowned design and architecture firm.
Nouvel is known for his works that can be considered provocative. He incorporates a sense of originality in each work he creates, by trying to create something unique for each specific context.
He looks at the combination of the people, place and time of a specific surroundings, before making a design. Nouvel's works are viewed as constructions transforming the environments they're built in.
In 2008, Nouvel received the Pritzker Prize for his work on over 200 projects, including Doha Office Tower in Qatar. Doha Tower is an iconic tower located in Doha, Qatar. The $125-million contemporary office building has a height of 232 meters, with 46 floors.
Other works Nouvel got famous for are The Artists' Garden in Qingdao, and Grove Heights in Miami.
Frank Owen Gehry is an architect born in 1929 in Toronto, Canada. He is among the most praised and well-known architects of the 20th century.
His style can best be described as postmodern, and he is most famous for his unusual and bold shapes and styles. A number of his buildings, including his private residence, have become world-renowned attractions.
The contemporary building of the Louis Vuitton Foundation is an art museum and cultural center and is one of Frank Gehry's best-known works. It is located in Paris.
Other famous works are the Walt Disney Concert Hall in Los Angeles, and the Guggenheim Museum in Bilbao.
Tom Wright, born in 1957 in Croydon, United Kingdom. Together with Hakim Khennouchi and Geku Kuruvilla he started the architecture company WKK in 2013.
WKK is known for its innovative and inventive buildings, that are all centered around being unique, and standing out from other buildings. The focus is on creating high quality, and making it look and feel very exclusive, and out of the box.
Tom Wright got best known by being the designer of the Burj Al Arab in Dubai. This building is a luxury hotel that is the fifth tallest hotel in the world, although 39% of its total height is made up of non-occupiable space. The shape of the structure is designed to resemble the sail of a ship.
Other famous works of Tom Wright include the award-winning Millenium Residence in Bangkok, and the Capital Gate in Abu Dhabi.
Balkrishna Doshi, was born in 1927 in Pune, India. Doshi is an Indian contemporary architect, and is also known as the Eco-friendly Architect of the Millennium.
Doshi got most famous for his low-cost, innovative housing constructions. His goal is to change the residents' perceptions, to give them back hope.
He is considered to be an important figure of Indian architecture and in 2018 he became the first Indian architect to receive the Pritzker Architecture Prize.
One of his most notable works is The Aranya Housing Project which is considered a model project for his care for third world urban poverty.
Other works Doshi is known for are the School of Architecture, and the Life Insurance Corporation Housing. Both are located in Ahmedabad, India.
Ole Scheeren was born in 1971 in Karlsruhe, Germany. He is a contemporary architect and urbanist.
Scheeren ambitions to change people's perceptions and experiences of the world through his buildings. These buildings can best be described as hybrid, innovative, and unexpected constructions.
Scheeren is seen as a visionary of the future, who is transforming the landscape we live in. With his idealism, he tries to solve challenges the society is currently facing.
You can see his contemporary architectural style in various buildings such as The Interlace in Singapore, which is a large residential complex consisting of a series of apartment blocks stacked diagonally across one another.
The concept behind The Interlace was to find a way of creating high-density housing without adding another tower block to Singapore's skyline. It has won the World Building of the year award in 2015.
Some other works Scheeren got famous for are Studio ZX in Beijing, and Fifteen Fifteen in Vancouver.
Peter Eisenman was born in 1932 in New Jersey, United States. He is considered to be part of the New York Five, a group of world-renowned architects of New York City.
Eisenman's style mainly focuses on high modernism or deconstruction architecture.
He has won multiple awards for his large-scale housing and urban design works, educational designs, and private house architecture.
Besides, he got known for his writings and teachings on architecture, and his goal to liberate architectural buildings (which led to multiple flawed buildings, was later discovered).
One of Eisenman's most notable works is the Holocaust Memorial in Berlin.
The monument is a memorial to the Jewish victims of the Holocaust, and it is designed in such a manner that there is no specific end.
Just like the Holocaust, there is no possibility to really understand it. Time does not play a particular role, and the individual experience is the main important factor.
Next to this monument, other famous works of Eisenman include the Liget Budapest House of Music in Hungary, and the City of Culture of Galicia in Spain.
Eduardo Souto de Moura is an architect born in 1952 in Porto, Portugal. His major works include a contemporary building design of conservatism and modernism.
He is sometimes considered to be a neo-Miesian architect, however he himself replies that certainly he had some Miesian influence, but remains to be original.
Souto de Moura is always looking for this originality and uniqueness in his works. Besides, paying attention to the global challenges, such as environmental issues, is normal to him.
He is known for his well-executed material use, and his often extraordinary colour use.
In 2011 he won the Pritzker Architecture Prize in 2011. This prize is given to architects who have significantly altered society and humanity in a positive manner.
One of his marvellous pieces of architecture is the Paula Rego Museum in Lisbon. The design was made in concordance with Paula Rego's wishes. She stated that the building should be "fun, lively and also a bit mischievous".
Some other famous architecture of Souto de Moura include Estádio Municipal de Braga, and Casa do Cinema, both in Portugal.
Kazuyo Sejima was born in 1956 in Ibaraki, Japan. She is known for her clear modernist elements in her designs.
In 1995 she decided to partner up with Ryue Nishizawa, one of her former employees, into the architecture studio SANAA. In 2010 SANAA won the Pritzker Architecture Prize.
Their focus is on exploring the relationship between interior and exterior space. The buildings are known to reflect their surroundings.
Sejima got famous for her buildings with large windows, which create a fluid transition between interior and exterior.
One of these buildings that describe Sejima's style is the Rolex Learning Center in Switzerland.
Some other distinctive buildings are the Christian Dior Building in Tokyo, and De Kunstlinie Theater and Cultural Center in Almere.
Moshe Safdie, was born in 1938. He is a contemporary Israeli-Canadian architect, urban designer, educator, theorist, and author.
In 1964 Safdie founded Safdie Architects, which currently has offices in Shanghai, Singapore, Israel and the USA.
The core principles of Safdie Architects are idealism and innovation. Their buildings are solving challenges in inventive ways.
Besides, their buildings are known to involve a lot of natural light, as well as greenery.
Safdie is famous for architecture which bends lines and curves to create geometry that has never been defined before.
He is most identified with Habitat 67, which paved the way for his international career. Habitat is a model community and housing complex in Montreal and is considered one of the most recognizable and spectacular buildings in Canada.
Some other works that are distinctive for Safdie's style are the Jewel Changi Airport in Singapore, and the Kauffman Center for the Performing Arts in Kansas.
Shigeru Ban was born in 1957 in Tokyo, Japan. In 1985 he started his own firm, Shigeru Ban Architecture.
In 2014, Ban won the Pritzker Architecture Prize.
Ban is known for his works made with unconventional and innovative materials, like paper and (recycled) cardboard.
He focuses on incorporating humanity factors, and making the building blend with its surroundings.
Part of his architecture aims to help disaster victims worldwide, but Ban also designs housing, cultural, and industrial buildings.
His designs are minimalist and require only the necessary building material. One of these types of works is the Paper Dome, a temporary church building located in Taiwan.
One of his human aid designs was the Temporary Paper Log House in the Philippines. One famous culturally-minded building is La Seine Musicale, which is located in France.
David Chipperfield was born in 1953 in London, United Kingdom. He is renowned for his contemporary architectural style.
In 1985 he founded David Chipperfield Architects, which currently has offices in London, Berlin, Milan and Shanghai.
Chipperfield got mostly known for his strong focus on refining a project into each little detail, to eventually end up with a construction that is consistent in architectural, social and intellectual aspects involved with the building.
David Chipperfield Architects has a broad portfolio, with buildings and spaces for both the private and public sector, all with different purposes. Besides, they have developed multiple civic designs, and urban master plans.
It is mention worthy that the company has received many international awards and citations over time.
One of Chipperfield's buildings that describes his style the best is The Hepworth Wakefield in West Yorkshire. Within this design, he focused on the heritage of the area, the view on the waterside, and the allowance for much daylight into the gallery.
Some of his other works include the Amorepacific Headquarters in Seoul, and the Museum of Modern Literature in Marbach am Neckar.
Fumihiko Maki was born in 1928 in Tokyo, Japan. In 1965 he opened his own firm, Maki and Associates – Architecture and Planning.
Back in 1993 he received the Pritzker Prize for his work. This prize is known to explore pioneering uses of new materials and fuses the cultures of east and west.
Maki perceives himself as a modernist architect. Like most modernist artists, he frequently uses metal, concrete and glass. However, he often incorporates other materials as well.
Innovations in technology play a significant role in most of Maki's buildings.
Maki designs buildings according to their surroundings, and he aims to create so-called "unforgettable scenes", which can be described best as places or spaces that allow for easy human interaction.
The project that brought Maki the most desired prize in architecture is the Tokyo Metropolitan Gymnasium. The characteristics of this building, with its contemporary design style, made Fumihiko Maki famous worldwide.
Other works that display Maki's style well are the Shenzhen Sea World Culture and Arts Center Data in China, and the Jewish Community of Japan located in Tokyo.
John Andrews is an architect born in 1934 in Sydney, Australia.
He founded John Andrews Architects in 1962.
He is mainly known for designing a number of acclaimed structures in Australia, Canada, and the United States.
His style is not attributable to a specific architecture style, as he has developed his own approach to designing buildings.
His works are all focused on being user-friendly. Andrews designs according to the specific economic, constructional, and climatic conditions, as well as the user needs of the specific site.
One of his most noteworthy projects is the Andrews Building, which is located at The University of Toronto Scarborough.
This building was the first completed, and is named after its designer. It was built in a "brutalist" architectural style, and completed in 1964.
Some other works Andrews is renowned for are the CN Tower in Toronto, and the Gund Hall in Cambridge.
Peter Zumthor is an architect born in 1943 in Basel, Switzerland. He is known for his uncompromising and minimalist work.
Zumthor places the individual's experience and senses as priority in his designs.
This human focus distincts Zumthor of his contemporaries, who focused on theories, culture, and technologies in their designs.
He is praised for his perfection in details, and the excellent use of materials.
With his works, Zumthor has won many prizes. Amongst these are the Pritzker Prize in 2009, and the RIBA Royal Gold Medal in 2013.
One of his best projects is the Kunsthaus Bregenz in Austria, which is one of Europe's leading galleries for contemporary art.
Some other renowned works are the Bruder Klaus Field Chapel in Wachendorf, and the Swiss Sound Box in Hannover, both located in Germany.
Herzog & de Meuron is a Swiss architecture firm founded in 1978. Its head office is located in Basel, Switzerland.
The company is founded by Jacques Herzog and Pierre de Meuron, both born in 1950 in Basel, Switzerland.
Their architectural style is acclaimed for combining tradition and innovation in such a way that they both augment the other.
Over time, the focus of Herzog & de Meuron has shifted towards the structure and depth of their constructions, with more aspects of the buildings being visible to the visitor.
In 2001 they were awarded the Pritzker Prize, which praised their innovativeness in their facades.
Herzog & de Meuron is best known for their conversion of the giant Bankside Power Station in London to the new home of Tate Modern, one of the largest museums of modern and contemporary art in the world.
Some other works are the Elbphilharmonie building in Hamburg, and the Vitrahaus in Weil am Rhein, both in Germany.
Ryue Nishizawa is an architect born in 1966 in Tokyo, Japan.
In 1995, he co-founded the firm SANAA with the architect Kazuyo Sejima. In 2010, he became the youngest recipient ever of the Pritzker Prize, together with Sejima.
Besides, Nishizawa has founded his own architecture firm, Office of Ryue Nishizawa, in 1997.
His works are known for combining traditional Japanese concepts, with modern and contemporary thinking.
His architecture has simple designs, all reflecting their surroundings.
The interplay between interior and exterior is one of Nishizawa's focuses.
One of his eye-catching projects is the "garden and house" in Tokyo, a five-story townhouse fronted by a stack of gardens.
Other famous works are the Teshima Art Museum in Tonoshō, and Towada Art Center in Aomori, both in Japan.
Alejandro Aravena is an architect born in 1967 in Santiago, Chile.
In 1994 he founded his own firm, Alejandro Aravena Architects.
Besides, he has been leading ELEMENTAL since 2001. This institution focuses on public projects, which provide some sort of social impact.
ELEMENTAL works in a participatory design manner, meaning that the community is being closely involved throughout the whole design process.
In 2016 Aravena won the Pritzker Architecture Prize, where he was praised for leading a social architecture movement.
Aravena is best known for his work on the Siamese Towers in Santiago. The towers serve as the Center for Technological Innovation at the Catholic University of Chile.
Other renowned works are Quinta Monroy in Iquique (Chile), and the Elemental Treehouse in Montricher (Switzerland).
---
---
Takaharu Tezuka was born in 1964 in Tokyo, Japan. He and his wife Yui Tezuka founded the Tokyo-based firm Tezuka Architects in 1994.
Their work emphasizes human activity and connectivity. They are mainly known for designing spaces for children.
For this they have won multiple prizes, including UNESCO's Global Award for Sustainable Architecture in 2017.
One of their works that clearly shows their ambition to design buildings centered around humans is the "Roof House" in Japan.
Some other renowned works are the Tokamachi Industry and Crafts Center Ikote and the Church of Eaves, both located in Japan.
The firm RCR Arquitectes was founded in 1988 in Olot (Spain) by Rafael Aranda (1961), Carme Pigem (1962) and Ramon Vilalta (1960).
Their intention is to produce quality architecture while focusing on the environment and landscape.
Nature and the surroundings hence play a central role in the design of their constructions.
In 2017, Aranda, Pigem and Vilalta won the Pritzker Architecture Prize, praised for the positive impact they have had on their environment.
One of their projects that is basically only about the environment is the Tossols Basil Athletics Stadium in Barcelona, where the architects choose not to alter the space by cutting any trees or by leveling the landscape.
Some other praised works are La Lira Theatre in Ripoll, and Les Cols Pavilions in Girona, both located in Spain.
Taller de Arquitectura was established by the architect Mauricio Rocha in 1991. Later on, in 2012, Gabriela Carrillo joined the firm and the company name was changed to Taller.
Taller projects try to develop contemporary architecture, focusing on the environment and on the overall efficiency.
Creating integrity and harmony are their key goals, hence their focus on developing a balance between form and function.
One of their known projects is the Criminal Courts for Oral Trials in Patzcuaro, Mexico. The project matches the Taller ideology of design and functionality, as they wanted to signal equality and transparency through this construction.
Some other renowned works are Los Chocolates Community Development Center in Cuernavaca (Mexico), and the Iturbide Studio in Mexico City.
Frida Escobedo is an architect born in 1979 in Mexico City, Mexico. In 2006 she started her own firm, named after herself.
Her style is said to blur the boundaries between architecture and art, even though she only develops architectural works.
Her overall goal is to make her constructions comment on what is happening in a country's social, economic and political situation.
Escobedo's focus is on the design and restoration of urban spaces like housing, community centers, art venues, and hotels.
The Serpentine Galleries are two contemporary art galleries situated in London, the UK.
Every year these galleries appoint world-renowned architects to build a temporary summer pavilion. Frida Escobedo was the youngest architect to ever work on this project, when she entered back in 2018.
Some of her other works include La Tallera in Morelos, Mexico, and GSB Stanford in Palo Alto, California.
Solano Benitez is an architect born in 1963 in Asuncion, Paraguay.
In 1987 he founded Gabinete de Arquitectura together with Alberto Marinoni and Gloria Cabral, in Asunción, Paraguay.
Their office tries to produce sustainable and economic solutions with their buildings, all adapted to the specific surroundings and environment.
One of these buildings is the Unilever Building in Villa Elisa, Paraguay. It is a large container of offices that permits entry of light and proper ventilation.
Two other renowned works are Casa Esmeraldina in Asuncion, Paraguay, and his award-winning construction Breaking the Siege in the Venice Biennale 2016.
Dominique Perrault was born in 1953 in Clermont-Ferrand, in France.
Perrault has done very diverse projects, with most of them being large-scale, and focused on solving challenges in innovative ways.
He often uses more uncommon materials and manners, to enhance the construction's aesthetics, but also their function.
He operates worldwide, with some notable works including the Olympic Velodrome and Olympic swimming pool in Berlin, the Olympic Tennis Stadium in Madrid, the Fukoku Tower in Osaka or the French National Library.
Another project Perrault is working on are the DC Towers. Only one of the DC Towers is finished and is currently the tallest skyscraper in Austria. The others are still to be completed.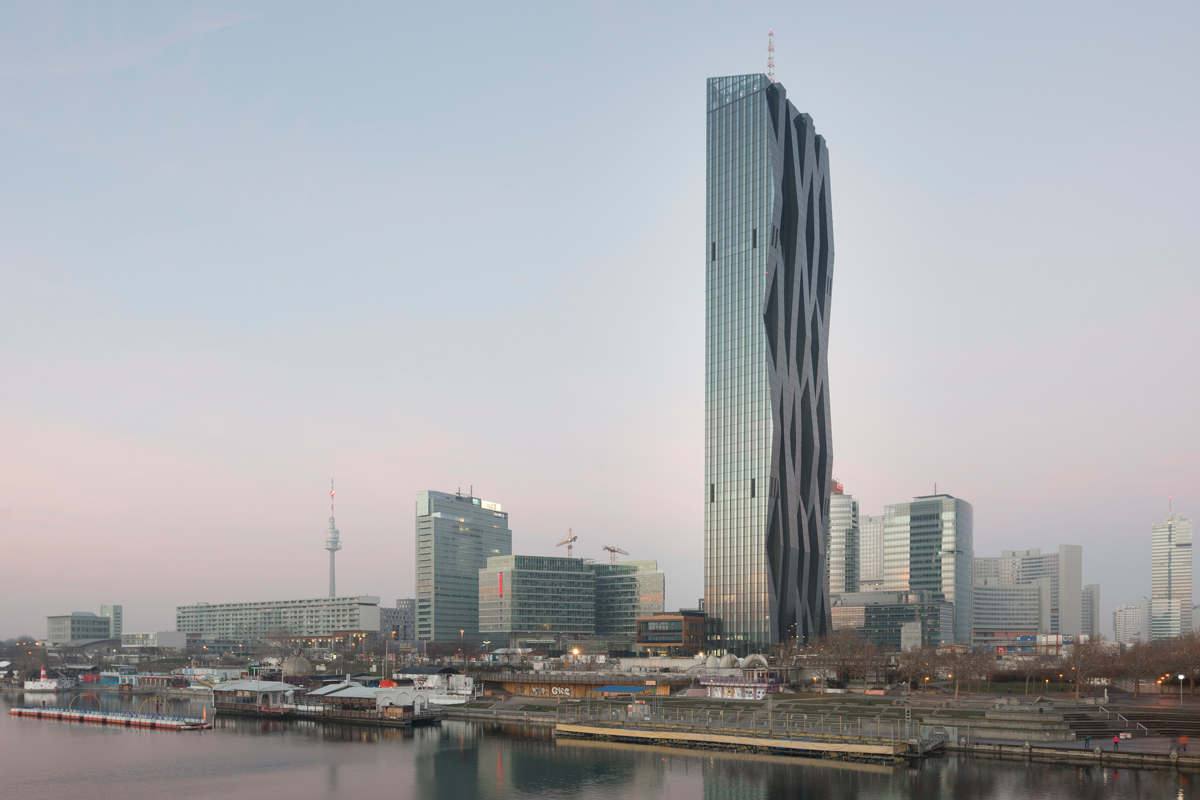 Álvaro Leite Siza is an architect born in 1933 in Porto, Portugal.
He is known for his simple but breath-taking projects. He stated that "architects don't invent anything, that they just transform reality".
Within his works, Siza plays with the relationship between the exterior and interior of a construction.
One of his awarded projects is the Ibere Camargo Museum, inaugurated in 2007. The design museum follows the European trends of that specific year and perfectly shows Alvaro's style.
Some other renowned works are Casa Tolo in Ribeira de Pena, Portugal, and his competition proposal for Guggenheim Helsinki (Finland): 2014 Concurso Guggenheim.
Antoine Predock was born in 1936 in Missouri, the United States. He currently resides in Albuquerque, New Mexico.
He founded Antoine Predock Architect PC in 1967.
Predock merges his passion for riding motorbikes into his building style, by designing his buildings to convey an experience to the viewer, a road filled with experiences so to say.
His style is aiming to preserve the cultural foundation of a scene and he is designing his creations as being part of the landscape.
One of his famous projects that reflects his ideologies is the Canadian Museum for Human Rights, located in Winnipeg. This building is developed to praise the existence of human rights.
Two other renowned works are the City Hall in Austin, Texas; and the Luxe Lakes Arts Center in Chengdu, China.
Ben van Berkel was born in 1957 in Utrecht, the Netherlands. In 1988 he founded UNStudio together with his wife, Caroline Bos (1959; Rotterdam, NL).
UNStudio operates internationally, and has four full-service offices in Amsterdam, Shanghai, Hong Kong, and Frankfurt.
Their goal is 'future-proofing the future', and they do so by enhancing their knowledge.
All constructions are built with the user central in mind. They are designed in such manner that they are adaptive, resilient and future-proof.
One of Van Berkel's memorable projects is the Erasmusbrug, which was accomplished before the creation of his new office, UNStudio.
The bridge is compared with a swan by the public and described by the architect as being "a bracket construction in sky-coloured steel [that] can appear thin as a needle, or wide as a harp".
Some renowned projects of UNStudio are Westfield White City in London, the UK; and The Ellipsicoon in the Philippines.
Bernard Tschumi is an architect and educator who was born in 1944 in Lausanne, Switzerland.
He is known for his deconstructivist style in his projects, which shows itself in a chaotic and fragmentic building style.
His works are known to distort with the common building structures and traditional ideas of harmony within a construction.
He has solved many urban planning challenges with his works.
One of his most well-known works is The New Acropolis Museum in Athens, Greece. This museum is said to store the most important works of art and architecture, including the archaeological findings of the past city Acropolis.
Other works of Tschumi include the Binhai Science Museum in Tianjin, China; and Parc de la Villette in Paris, France.
Bjarke Ingels is a Danish architect born in 1974 in Copenhagen. In 2005 he has founded BIG (Bjarke Ingels Group).
He is known for his innovative and ambitious design approach, many of his buildings defy traditional architectural stereotypes.
He believes in information-driven design.
One of his most notable projects is the "8 House" located in Copenhagen (DK). The building is a mixture of three types of residential housing and retail and office spaces.
Two other renowned works of BIG include the Hualien Residences in Taiwan, and the Superkilen park in Copenhagen, Denmark.
César Pelli was born in 1926 in San Miguel de Tucumán, Argentina. In 1952 he emigrated to the USA. In 2019 César Pelli unfortunately passed away.
In 1977 he founded Pelli Clarke Pelli Architects, under which he designed some of the tallest buildings in the world.
Cesar Pelli states that "Humanity has an obsession with building big" and the fact that "Tall has power". These were his main reasons for designing tall constructions.
One of his projects in this category of tallest buildings are the Petronas Twin Towers in Kuala Lumpur, Malaysia.
The towers were the tallest building existent between 1998 and 2004 and they still are the tallest twin towers in the world.
Two other works of Pelli include The Centrale in New York, and the Salesforce Tower in San Francisco, California.
Christian de Portzamparc is a French architect and urbanist born in 1944 in Casablanca, Morocco.
In 1994 he won the world-renowned Pritzker Prize.
He states to ''consider a building as a part of the whole, …. At the same time, the building must also be a response to a client or user's needs."
De Portzamparc's work is being described as having a bold design, artistic touch and focusing on the importance of the environment and landscape.
Château Cheval Blanc is a winery in Saint-Emilion, France. While designing, De Portzamparc's focus was not put only on the structure, but also on the contrast between the landscape and the design of the building.
Two other works characteristic for De Portzamparc's style are the Dior Flagship in Seoul, Korea; and the Luxembourg Philharmonie, in Luxemburg.
David Magie Childs was born in 1941 in New Jersey, USA.
His works are said to be adapted to their specific surroundings, where everyone is involved to create a community.
He himself mentions he likes to design big and complicated works, where others are needed to help solve the challenges.
This architect is most known for designing the tallest building in the United States, the One World Trade Center in New York City.
The structure holds sentimental value and history for the reason that it is built on the same spot where a tragedy happened to the old World Trade Center.
Next to this, Childs got renowned for the Times Square Tower, and the 825 Eighth Avenue both in New York City
Jeanne Gang is an American architect and urban designer, born in 1964 in Illinois. In 1997 she founded Studio Gang.
Gang's work is characterized by having an innovative use of materials and an environmentally sensitive approach.
Her approach is research-based, and is exploring the relationships between individuals, communities, and environments.
Her most famous work is the Aqua Tower in Chicago, Illinois. It is an 82-story residential skyscraper. The building was awarded as being the best skyscraper of the year 2009.
Two other famous works of Gang are Writer's Theatre in Glencoe, Illinois; and Rescue Company 2 in Brooklyn, New York.
Joshua Prince-Ramus is an American architect born in 1969. He is the founder of REX, the international architecture, and design firm.
Ramus has received many awards for one of the best young architects of our era.
His company REX is known for challenging typologies, and promoting architecture as an industry.
One of Ramus' works that brought him fame is the Vakko Fashion Center in Istanbul, Turkey. The construction is two office buildings, with one built inside the other.
Two other works are the Seattle Central Library in Washington, and the Necklace Residence in Long Island, New York.
Ken Yeang was born in 1949 in Penang, Malaysia.
Yeang himself states: '"I'm an ecologist first, an architect second".
In 1977 he founded the architecture firm Hamzah & Yeang together with Tengku Robert Hamzah.
They are known for their innovative structures that are focused on being environmentally and ecologically conscious.
One of Yeang's key buildings that follows his ideologies is the National Library Singapore, where Ken Yeang found the opportunity to apply his sustainability concepts.
Some other renowned projects of Hamzah & Yeang are the office building SOLARIS in Singapore, and the Calvary Convention Center in Kuala Lumpur, Malaysia.
Kengo Kuma is a Japanese architect and professor born in 1954 in Yokohama.
In 1990 he founded his firm Kengo Kuma & Associates.
Kuma is known for his goal to recover the traditions that the Japanese architecture holds and implement them in the architecture from our century.
He aims to let buildings merge with their environmental and cultural surroundings. All designs are human scaled.
One of Kuma's key projects is the Bamboo Wall House, which had the purpose to contrast the Great Wall of China in the sense of fragility and transparency.
Two other works that are great examples of Kuma's distinctive style are the Japan National Stadium, and the Nagasaki Prefecture Art Museum.
Ma Yansong is an architect born in 1975 in Beijing, China. In 2004 he founded the firm MAD architects.
Mention worthy is that Yansong has been the first Chinese architect to win an overseas landmark-building project.
Yansong's works can be seen as innovative, and breaking with tradition.
Yansong's ideology comes from the concept that contemporary architecture has no spirit and he wants to make buildings that inspire people and are against this concept of today.
In his constructions, Yansong explores the relationship between traditional, eastern values and the contemporary, western architecture style.
Even though his works are contextually aware, they often appear very surreal to the viewer.
One of Yansongs most notable projects are the Absolute Towers, which is a residence with a focus on reducing energy load and giving to its inhabitants as much light as possible.
Two other renowned works are the Ordos Art & City Museum, and the Harbin Opera House, both located in China.
Massimiliano Fuksas is an architect born in 1944 in Rome.
He has founded the architecture company Studio Fuksas together with his wife, Doriana Fuksas.
Since they design according to the specific context and background of a site, the Fuksas works vary a lot in style, scale, and location.
However, all their works display some kind of elegance in their appearance, and they are designed keeping the impact on the environment in mind.
The couple focuses on the desires and needs of the public, as they want to provoke positive feelings to the visitors.
One example of their exemplary work is the Shenzhen Bao'an International Airport Terminal 3, a project located in China that shows elegance and utility.
Two other renowned works are the Zenith Music Hall in Strasbourg (France), and the St. Paolo Parish Complex in Foligno (Italy).
José Rafael Moneo is a Spanish architect born in 1937 in Navarro.
In 1966 he founded his own firm, Studio Rafael Moneo. Also in this year, Moneo won the Pritzker Prize.
He is known as a contemporary architect that combines aesthetics and functionality in his projects.
By spending part of his life in Scandinavia, he incorporated traditional Nordic style and material aspects in his overall design style.
His buildings are clean, often designed with straight lines.
One of his best buildings is the National Museum of Roman Art, where Rafael Moneo used Roman techniques, materials and proportions in order to give authenticity to the building.
Two other renowned works are the Prado Museum Extension in Madrid, and the Murcia Town Hall, both located in Spain.
Rafael Viñoly is an architect born in 1944 in Montevideo, Uruguay.
In 1983 he founded the firm Rafael Viñoly Architects.
Viñoly describes himself as being a practical and intelligent architect who takes into consideration all the factors that go into the architecture of a building.
Especially the stakeholders weigh heavily in the design, as Viñoly aims to incorporate everyone's opinions and experiences into one cohesive whole.
Overall, Viñoly's design approach can be considered as an efficient and integrated process.
One of his most famous works is 432 Park Avenue, the third tallest building in North America.
Two other renowned works are the Cleveland Museum of Art in Ohio, and the University of Chicago Medicine, Center for Care and Discovery in Illinois.
Richard George Rogers is a British-Italian architect born in 1933 in Florence (Italy).
He has co-founded the architecture company Rogers Stirk Harbour + Partners.
In 2007 he won the Pritzker Architecture Prize, besides he has won many honours and awards.
Rogers is renowned for his focus on functionality and modernist design. Most of his works can be considered high-tech architecture.
Besides, designing with a focus on sustainability is key for him, as well as the involvement of relevant stakeholders via collaboration.
One of his memorable projects is the Pompidou Centre in France, designed with the help of Renzo Piano and Gianfranco Franchini.
The project is described as being "not a building but a town where you find everything – lunch, great art, a library, great music".
Two other famous works of Rogers are the Lloyd's of London in the UK; and Terminal 4, Barajas Airport in Madrid.
---
---
Robert A.M. Stern is an American architect born in 1939 in New York.
His style can best be described as a "modern traditionalist" to describe his work.
His works are mainly contemporary, and he specializes in urbanism.
In 1977, Stern founded the architecture firm RAMSA.
Robert Stern is the person behind the design of one of the most famous condominium apartment buildings in New York City, the 15 Central Park West.
Two other works are Ten Rittenhouse Square in Philadelphia, Pennsylvania; and Arris in Washington DC.
Sheila Sri Prakash is an Indian architect born in 1955. She is known for being the first woman architect to open her own firm, Shilpa Architects Planners Designers, in 1979.
While working on her firm ,Shilpa Architects, she became one of the most influential architects in the world. She is known for focusing on local and cultural arts and by centering her architecture on sustainability.
Her work links human behaviour to the built environment, through urban planning.
With her work, she has grown into one of the leading members of IGBC, the Indian Green Building Council.
Sheila designed the first official entrance to Mahindra World City – the first Special Economic Zone in Tamil Nadu. The design is meant to reflect the city being a "new hope".
Some of her other renowned (finished) works include the IVR Prime Golf Villa Development and the Copper Beach Gardens in Chennai, India
Steven Holl, born on December 9, 1947, is considered one of the most important American architects for the importance that he gives to natural light.
He has the ability to utilize the light and shadows in his design in order to get the best balance between the two.
One of his most known projects is the Kiasma Museum in Helsinki, which is on par with his abilities, being designed in such a way that it catches the low angle of the Scandinavian sun.
In terms of design, light played a huge part for the architect, who was fascinated with the Finnish natural light.
The museum opened in 2019.
Tadao Ando, born on September 13, 1941, is one of the most distinguished Japanese architects.
His unique and abstract style brought him many awards, including the most desired award, the Pritzker Architecture Prize in 1995.
One of his most famous works that portrays the simplicity of his style is the "Row House".
This design is absolute riveting. It showcases how a smaller space (64,7m2) can become a private and personalized living space.
The house is divided into two sections: one which features kitchen and bathroom on one floor and another with bedroom and study in another.
The Row House has a very unique way of incorporating nature in everyday living by having an outdoor patio be the only way to reach the house's main two sections on the two floors. As such, one will always be in contact with the outdoors when going from one section of the home to another.
Sir Terry Farrell, born on May 12, 1938, is a British architect and urban designer.
One of his most famous projects is the MI6 Building, headquarters of the Secret Intelligence Service of the United Kingdom.
This design of this building offers a modern take on Mayan and Aztec temple designs.
The construction best characterizes his contextual urban design and postmodernism style.
Thom Mayne, born on January 19, 1944, is an American architect and principal founder of Morphosis. The company is focusing on culture and modern design and forms.
One of their innovative projects is 41 Cooper Square, a project that integrates sustainability with function and architecture.
It was completed in 2009.
Thomas Heatherwick, born on February 17, 1970, is an English designer, known as an "ideas engine". He states that he does not have his own style as many other architects, but he describes himself as being a problem solver.
One of his most notable works is the Learning Hub in Singapore, an academic building with no corridors that creates a dynamic environment and encourage interactions between students.
The Learning Hub finished in 2015 and spans across 14.000m2.
Toyo Ito, born on June 1, 1941, is a Japanese architect, world known for his creative and unique projects and for his innovative designs.
His style brought him the world-renowned, Pritzker Prize in 2013. One of his famous projects that scream his style is the "Tower of Winds".
Built in 1986 and 43m2 large, the design of this tower is predominately inspired by technology. The tower incorporates "1300 lamps, 12 neon rings, and 30 flood lights" in its design.
These lights are in direct contact with, and actually influenced and controlled, by the tower's direct environment. The lights are designed to reacts to the wind and sounds of the tower's surroundings.
Even though the building is just a storage house, it looks like so much more due to connection in design between nature and architecture that Toyo Ito manages to implement in its creation.
A. Eugene Kohn, William Pedersen, and Sheldon Fox are the founders of Kohn Pedersen Fox Associates, one of the biggest architecture firms in the world.
Their projects touch a vast area of activity, from cultural spaces, commercial office buildings, transportation facilities to educational facilities, residential and hospitality developments.
One of their most famous works is the Lotte World Tower, the 5th tallest building in the world, and is inspired by traditional Korean art and design.
Marina Tabassum, born in 1968, is a Bangladeshi architect and the owner of Marina Tabassum Architects (MTA).
One of her most contemporary and well-known works is the Baitur Rauf Jame Mosque, winning her the Aga Khan Award for Architecture in 2016.
Built in 2010, The Beitur Rauf Jame Mosque is 144.999 square feet, with a very modern and untraditional take on a Mosque as it has no domes but rather has a very square design.
The building is located in Dhaka, Bangladesh and serves as the epitome of "peace and solidarity".
Stanley Tigerman, born on September 20, 1930, is an American architect, theorist, and designer, characterized by his social and development-mindset.
One of his most known works is the Illinois Holocaust Museum, a building that has the mission to honor those who were lost and teach the mass how to fight against hate and indifference.
The Illinois Holocaust Museum is an entire 66.000 square feet.
Its design is very symbolic with both dark and right wings. According to the museum, the dark wing wing represents a "descent into darkness and the horrors of the Holocaust" while the white wing represents "the rescue and renewal of the survivors".
James Polshek, born on February 11, 1930, is an American architect known for his attention that he gives to people and their needs and his ability to add modern architecture components to the traditional ones.
One of his best-known projects is the Rose Center for Earth and Space, one of the biggest attractions of the American Museum of Natural History in New York City.
It is built in 2000 and is 379.000 square feet.
The architect describes this work as a duality of wonder and fact with the words: "the soaring interior space and the articulated spatial experience inspire an appreciation of the wonder of our universe and the power of scientific inquiry".
David Adjaye, born on September 22, 1966, is a British architect known for his diversified design and unique way of using materials and light.
One of his most known projects is the "National Museum of African American History and Culture" in Washington DC.
Opened in 2016, this museum spans across a grand total f 420.000m2.
The building and the connection between its design and surrounding landscape represent America's long African culture.
This connection is further represented by the bronze lattice that the building is wrapped in, sending a nod to African American craftsmanship.
Wang Shu, born on November 4, 1963, is a Chinese architect known for his modern design accomplished by using classic materials and an older style.
His well-known design approach can be seen in his most famous work, The Ningbo Museum, which was finished in 2008.
Glenn Murcutt, born on July 25, 1936, is an Australian architect and winner of the Pritzker Architecture Prize in 2002. He is known for being the most famous Australian architect.
Glenn earns this title not by building tall and imposing buildings, but by designing smaller settlements that let him focus on economical design, preserving energy and environment. One of the many examples of buildings that enter this category is the Riversdale Boyd Education Centre.
Elia Zenghelis, born in 1937 is a Greek architect whose style is characterized by simplifying structures, materials and building taking into account the landscape and environment.
An example of his work is the Ashikita House of Youth. In this design, the focus was on preserving the view of the sea, so it was built in such a manner that the design will direct people's eyes towards the water.
Peter Pennoyer, born on February 19, 1957, in an American architect known for his traditional and classic design.
Even though he has many outstanding modern works, one of the most famous ones is the Metropolitan Opera Club, which we can say has strengthened his classic style.
His classic styles is clearly seen is examples such as the Fifth Avenue Maisonette and the New England House.
No doubt his next project, House in Maine, will be as classical and beautiful.
Maya Ying Lin, born on October 5, 1959, is an American designer and architect best known for sculptures and historical memories but also for her care for nature and the environment.
Her most famous project is the Vietnam Veterans Memorial, built in the honor of the US army that fought in the Vietnam War.
Opening in 1981 and finally completed in 2015, this 12.000m2 piece of art was a surprising opportunity for Lin.
This iconic design is the result of Lin's winning of the design competition for the Vietnam Veterans Memorial.
The design is very minimalistic in nature, allowing big emotional impact.
Since this design, Lin has worked on The Women's Table at Yale and the Civil Rights Memorial in Montgomery, Alabama.
Denise Scott Brown, born on October 3, 1931, is a South African architect who became one of the most influential architects of the past century by her planning, writing and teaching architecture.
She and her husband manage to build one of the most sophisticated public projects in the Postmodernism, the Sainsbury Wing.
More recent designs of the pair include the Baker-Berry Library at Dartmouth College and Dumbarton Oaks Library at Harvard University.
Amanda Levete, born on November 17, 1955, is a British architect, considered one of the most innovative architects in the UK.
She obtained this title by designing the Selfridges Building with the Future System team. The building is part of the Bullring Shopping Centre, it cost 60 million pounds and it is one of the most futuristic buildings in Birmingham.
Completed in 2003, this building is known for its unique "Blob Architecture" style and is comprised of 15.000 aluminum discs that create a very futuristic look.
Annabelle Selldorf is a German architect and founder of Selldorf Architects. This firm creates clear and modern settlements, which are "brought to life by its users".
Included in this category are museums, libraries, galleries and residential buildings. One of the most notable ones being the David Zwirner Gallery.
This David Zwirner Gallery opened in 2013, is 30.000 square feet, and is heavily influenced by its industrial environment. This is clearly seen in the use of exposed concrete and clear lines.
Odile Decq, born in 1955 is an award-winning French architect and founder of Studio Odile Decq.
Her work is characterized by the importance that she gives to the overall space. An example is the Fangshan Tangshan National Geopark Museum, where the interior is spacious and structured.
Built in 2015, the lines of the Fangshan Tangshan National Geopark Museum draw inspiration from an 1993 archeological site.
This connection between design and inspiration ties in perfectly with the museum's focus on geology and anthropology.
Susana Torre, born in 1944 is an Argentinian architect known for her projects that gather cultural, social and regional topics.
Her style can be recognized in some of her best-known projects like Fire Station Five in Columbus, the Clark and Garvey Houses in The Hamptons and the Consulate of the Ivory Coast in New York City.
This particular design was a collaboration between Torre and the mayor of Columbus, Indiana, with a focus on integrating women into the firedepartment.
Torre designed a more female-friendly environment, where women weren't necessitated to share sleep and shower facilities with the men.
Rather, the new kitchen and gymnasium have replaced sleep and shower facilities as places for coworkers to bond.
Elizabeth Diller, born in 1954 is an American architect and partner in Diller Scofidio + Renfro alongside Ricardo Scofidio, Charles Renfro, and Benjamin Gilmartin.
She is known as one of the most influential designers of cultural buildings. One of her many known buildings is the Institute of Contemporary Art (ICA), the first new art museum to be built in Boston.
The ICA was finished in 2006 spans across 65.000 square feet. It was actually the very first museum built in Boston for over a century.
However, the ICA is much more than simply a museum. These 65.000 square feet offer numerous entertainment possibilities, such as "galleries, a 330 seat multi-purpose theater, a restaurant, bookstore, education/workshop facilities", just to name a few.
Also, it has a great view of the harbor!
Currently, Diller is working on a design for the London Symphony Orchestra (The Center for Music).
Diébédo Francis Kéré, born on April 10, 1965, in Burkina Faso is the founder of Kéré Architecture.
He finished his studies in Germany and then decided to come back and help his home town. He is known for building the Primary School in Gando, which was his very first building, alongside many other school-related buildings.
The Primary School was finished in 2001 and is 301m2.
What makes the design of this building so special is the fact that it is a very personal design. When designing, Kéré had a heavy focus on resources as he himself had gone to a school in Gando that wasn't an optimal climate for learning.
According to him, his childhood school had no ventilation and very poor lighting, both of which heavily affected his ability to learn.
This would be remedied in the new primary school. Here the indoor climate was vital and prioritized.
What makes it even more special is that this school is a true "it takes a village" building. Embracing tradition, the entire village helped build the school.
Bruce Kuwabara, born in 1949 is a Canadian architect and founder of KPMB Architects.
He is known for his sustainable architectural design and for being one of the few who was studding this aspect before being a priority in Canada.
One of his well-known projects is the Remai Modern art museum.
The Ramai was finished in 2017 and spans across 126.000 square feet.
According to Dezeen.com, it was "designed to respond to the 'low, flat topography of Saskatchewan's prairie landscape'".
Douglas Cardinal, born on March 7, 1934, is a Canadian Aboriginal architect known for his curved style.
One example is the Canadian Museum of History, Canada's most visited museum, found in Quebec.
The Canadian Museum of History has park areas that link the museum to its surroundings such as the Ottowa River and the Jaques Cartier Park.
Jack Diamond is a Canadian architect known for his ability to analyze the construction site.
He won many awards on different types of buildings, from civic and residential to academic and cultural projects.
One of the most famous ones is the Four Seasons Centre, a theater in Toronto with a capacity of 2000.
---
---
Bruno Freschi, born on April 18, 1937, is a Canadian architect known for his specific focus on space, form, and urbanism.
One of his projects is the Science World where his style can be clearly seen.
This gorgeous dome was created to be the pièce de résistance of the 100th anniversary of the 1986 World's Fair in Vancouver.
According to its creator, Bruno Freschi, the dome was "built to be torn down, dreamed to last" as its sole purpose was to be a part of the 1986 Expo.
The 17-story geodesic dome was built from 766 aluminum triangles and has an expo line going straight through the Dunsmuir Tunnel. This tunnel is used daily by over 55.000 vehicles.
Barton Myers, born on November 6, 1934, is an American architect and he is known for his focus on urban consolidation, the ability of a building to define the surroundings and the ability to combine the old and new architectural combinations.
His style can be seen in one of his most popular projects, the New Jersey Performing Arts Center.
Altuğ Çinici, born in 1935 is a Turkish architect known for her fast adaptability to modernization and her focus on the environment.
She earned a lot of awards over the years and one of the reasons is one of her most notable works, the Middle East Technical University.
William McDonough, born on February 20, 1951, is an American architect known for his focus on "green" architecture and for minimizing the negative environmental impact.
One of his most famous construction is the NASA Sustainability Base, which shows the best of his ecological style.
NASA describes this building as "a building so smart and intuitive it knows exactly how much energy is consumed – and adapts itself based on weather, seasons and work patterns."
Eric Parry is a British architect who established the Eric Parry Architects practice in 1983.
Throughout the years, the architectural firm achieved multiple awards, and currently holds a large portfolio of interior design projects outside of their architectural and urban designs.
Fen Court opened in 2019 and has been described as "a candy-striped miracle in the central London Skies" by the Guardian.
Minsuk Cho, born in 1966 is a South Korean architect, founder of Mass Studies and known for his urban research and for his buildings.
His work is worldwide recognized for its shape, size, innovation and space efficiency. A clear example of all mentioned in the residential/office tower, the S-Trenue Tower, which was finished in 2009.
82. MVRDV : Winy Maas, Jacob van Rijs, and Nathalie de Vries – The EXPO 2000 Pavilion
Winy Maas, Jacob van Rijs and Nathalie de Vries founded MVRDV in 1993.
The company is based in the Netherlands and had implemented contemporary architectural solutions and urban issues all over the world.
One of their most well-known projects is the EXPO 2000 Pavilion, which was made to represent a balance between nature and technology.
This amazing design has resulted in a construction of six levels of Dutch Landscapes that "form an independent eco-system communicating Dutch cultural sustainability" in one single building.
Sergey Skuratov, born in 1955, is an award-winning Russian architect, winning the Architect Of The Year place at Urban Awards in 2012.
He states seeing "the buildings as living things." His most well-known project, for now, is "House on Mosfilmovskaya", a skyscraper which almost became demolished at the time by former Moscow mayor Yuri Luzhkov, because of its height (213 meters).
However, his passion for skyscrapers continues, as Moscow is currently designing its "tallest" skyscraper yet, reaching 404 meters, directed by his company, Sergey Skuratov Architects.
Hafeez Contractor, born in 1950 is an Indian architect known for building a large number of skyscrapers in India.
He also stated that he does not have a particular style, he wants to make beautiful and imposing construction. An example is the twin-tower residential skyscraper, The Imperial.
The Imperial was completed in 2010 and is one of the tallest buildings in India with a height of 252 meters.
Raj Rewal, born in 1934 is an Indian architect, known for his ability to combine light and dark design and also the ability to connect the interior design with the exterior landscape.
One of his most known projects that reflect his style is the Parliament Library in New Delhi.
The Parliament Library opened in 2003, is nearly 55.000m² and can boast of being able to hold over 3 million volumes.
Inspired by the traditional relationship between Guru and King, Rewal deigned the library to appear powerful without overshadowing the Parliament building.
Rahul Mehrotra is an Indian architect and founder of RMA Architects. The firm is known for the equal importance that they give to urban design, architecture, planning, landscape, and historic preservation.
One of their most famous projects is the KMC Corporate Office, which illustrates Rahul Mehrotra's style; the building is able to control the amount of light and air that circulates inside the construction.
The KMC Corporate Office opened in 2012 and is strikingly special in its focus on indoor climate.
The building has particular elements that ensure a cool and comfortable workspace throughout the hotter months in India. These elements include a screen that humidifies all incoming air as well as a misting system.
Fun fact: 20 gardeners are employed to keep the buildings facade healthy and thriving.
Sanjeev Panjabi and Sangeeta Merchant are two Indian architects and founders of SPASM Design Architects, one of the best firms in the country.
Their work includes family houses, luxury villas or commercial towers. One work that is included here is the Exim Tower, which is in concordance with the Indian tradition and the firm style.
The Exim Tower was opened in 2009 and its 15 stories span across 1541m².
According to the architects themselves, the main focus was on human comfort: "We chose to bring value to the project through the comfort of human occupation in the hope of enhanced productivity and creating a local icon."
As such, the architects chose elements which "provide spaces sensitized to human needs and experiences."
Elements such as shaded terraces, a noise-buffering stainless steel mesh covering, and lots and lots of natural lights further support the architects' vision of creating a working place that allows for comfort for its inhabitants.
Serie Architects are focusing on architecture, urban design and research.
One of their well-known projects is the Jameel Arts Centre Dubai, where their focus on space efficiency and elegance can be seen, as well as the relation between inside and outside, art and nature.
Opened in 2018, Arts Centre spans across 10.000m² and is actually "the first non-governmental contemporary arts institution of its kind in the Golf", according to ArchDaily.
The entire vision is inspired by both the early Emirati Sha'abi houses and the Madinat style of city planning.
Christopher Lee from Serie Architects says that the collaboration with Art Jamal has resulted in "architecture that … acts as a background structure for the life of the center to unfold."
Notable mention
Vilalta Studio operates in the fields of architecture, urbanism and design. Declaring that "we love nature and we care about people", firms design philosophy is to connect the old and the new.
The Lideta Mercato was intended to be a shopping mall just like many others in the city of Addis Ababa. Common issues of the existing malls in the city were uncomfortable thermal conditions and over-illumination in the interiors.
The observation of the Old Mercato, the largest open-air market in Africa, was an inspiration to redefine the program of the building, conceiving a multi-story contemporary market instead of a conventional shopping mall based on large shops.
The skin of the building was designed considering the local climate conditions and traditions. The facade acts as protection from the sun, controlling the natural light and ventilation in the interior spaces.
It was built using a lightweight concrete prefab system, and the shapes come from a traditional Ethiopian fractal pattern commonly found in the local fabrics.
---
Did you like the article?
We have worked hard to represent the best contemporary architects in the world under one list. Their work is truly inspiring and we hope you learned something new from this list. Don't hesitate to tell us who we've missed.
Get your List with all 88 contemporary architects here! ????
For additional information about famous buildings and architecture in general, feel free to check these blogs