Becoming an architect is dream for many, but this dream starts with choice of correct school. Trough our research we have found all the best schools in Europe that offers architecture studies! Some of the schools offer free programs and some have available tuition support! It is guarantee you will find best academic choice for your future within architecture!
---
Faculty highly specialised in engineering and building management, offers it's students high quality education with direction towards architecture and urbanism. Attendees will explore design ,structures , materials and planning to be prepared for work placement after graduation.
Annual Tuition Fees
For domestic appliers: Coming soon
For foreigners (non-EU): Coming soon
---
Graduates are welcomed to join university and expand their knowledge and experience within architectural field. With rapidly growing demand for sustainable and high performance buildings is just raising. University aims to prepare future specialists for professional practices , consulting firms, research organisations and development firms.
Annual Tuition Fees
For domestic appliers: FREE
For foreigners (non-EU): 363.33 EUR
---
Faculty has built network with multiple corporations nationally as well as internationally, giving students ability to exchange knowledge. School approaches architectural material from research-by-design and design-by-research perspective. Universities given academical tasks are approached both experimentally and academically, preparing graduates for their careers in multicultural and international environments.
Annual Tuition Fees
For domestic appliers: 922 EUR
For foreigners (non-EU): 3500 EUR
---
Trough active research and lecturing, university aims to inspire critical and creative thinking among the students in the discipline of Architectural Design. With rapidly growing urbanisation and technological development new way of thinkers are required in industry. School is ready to contribute with highest quality of studies and technologies used in teaching process.
Annual Tuition Fees
For domestic appliers: Coming soon
For foreigners (non-EU): Coming soon
---
Universities teaching has developed through the time and currently offers students insight in architectural design , sustainability and business. In 6 year programme students will become confident architects to enter private and governmental sector with internationally approved diploma in architecture.
Annual Tuition Fees
For domestic appliers: 870 EUR
For foreigners (non-EU): 1520 EUR
---
Students are introduced of practical and theoretical frameworks of architecture, design , materials and planning. Gaining knowledge in creative thinking and problem solving, this 2 years architecture masters course will open doors for wide spectrum of career opportunities.
Annual Tuition Fees
For domestic appliers: Coming soon
For foreigners (non-EU): Coming soon
---
Young professionals will be prepared to enroll work placement after graduating the school. During the studies students will cover four main areas four thematic areas: architectural history and theory, technology (construction, structures), communication and management. At the end receiving BA in architecture.
Annual Tuition Fees
For domestic appliers: 8800 EUR
For foreigners (non-EU): 9120EUR
---
Czech Republic: Archip
Archip is not a typical university. It provides its students chance to obtains master degree through the focus on practical and project based work. Students work closely with lecturers on complex problems and aim to find creative and sustainable solutions. Young professionals are prepared then to successfully enter workplaces.
Annual Tuition Fees
For domestic appliers: 5600 EUR
For foreigners (non-EU): 7200 EUR
---
Studies are held in English and are project based by working un student group teams. Education is focused on nordic architecture, tectonic design and sustainable architecture. Universities teaching is based on research, meaning that the lecturer is doing research in subject he or she is teaching.
Annual Tuition Fees
For domestic appliers: FREE
For foreigners (non-EU): 13400 EUR
---
Practical work and specialised research together with industry practitioners is cornerstone for architectural program taught in the university. Students will gain knowledge in various fields as engineering, planing , design and humanities. Note that education is offered only in Estonian.
Annual Tuition Fees
For domestic appliers: 1000 EUR
For foreigners (non-EU): NOT available

---
This programs goal is to develop minds of the student's to work not only technical, scientific and artistic directions, but also to be able create solutions that are sustainable and socially responsible. School has strong international reputation. School employs leading practitioners with successful career results in architecture competitions, design projects or successful exhibition
Annual Tuition Fees
For domestic appliers: FREE
For foreigners (non-EU): 15000 EUR
---
Modern programme that will prepare future specialists for industry leaders. This course will provide you with knowledge on how to navigate and manage current metropolitan areas and emerging trends. Studies are based on economic, energy and transportation solutions and is based towards business world. Teaching is combination of theoretical methodology and real-world work.
Annual Tuition Fees
For domestic appliers: 12000 EUR
For foreigners (non-EU): 12000 EUR
---
Top German university offers it students Architecture department with over 31 professors and 200 scientists. Program is taught is in German only, and will improve students ability of research in sustainability. Main aim during the course is to prepare new professional and successfully integrate design practice into research.
Annual Tuition Fees
For domestic appliers: 260 EUR
For foreigners (non-EU): 260 EUR
---
Studying architecture in City like Athens could be very motivating and inspiring for every upcoming architect. In the faculty students will focus on architecture through theoretical, social and technical approach. Students will be given a chance to develop multiple project to showcase their visions.
Annual Tuition Fees
For domestic appliers: FREE
For foreigners (non-EU): FREE
---
During two years of studies, students will acquire skills in architectural technology , sustainability, building technology and theory. Working on individual projects and solving complex problems in groups each student will gain confidence and experience required to successfully enter the job market afterwards.
Annual Tuition Fees
For domestic appliers: 6400 EUR
For foreigners (non-EU): 6400 EUR
---
Icelandic bachelors education will be great start into the architectural world. Students will work on complex design projects broken down to smaller research courses.Academy is small compared to other architectural institutions , but that allows more personal approach to each student and lecturer.
Annual Tuition Fees
For domestic appliers: 2015 EUR
For foreigners (non-EU): 2015 EUR
---
University prepares students for problem solving in theoretical and practical manner within architectural field. When finished course students are commonly sought among regional and international firms and become experts in their selected fields.
Annual Tuition Fees
For domestic appliers: 7830 EUR
For foreigners (non-EU): 24800 EUR
---
Modern Italian school with strong traditions and culture behind offers its students professional teaching and excellent study environment. Strong research background, school is one of the largest engineering schools in Europe and is funded strongly by European union.
Annual Tuition Fees
For domestic appliers: Coming soon
For foreigners (non-EU): Coming soon
---
Students has a possibility to finish architectural bachelor degree in university prior enrolling in master program. During the studies scholar will be discovering deeply architecture and urban studies, BIM, law and management. International well experienced lecturers will deliver material in english.
Annual Tuition Fees
For domestic appliers: 6200 EUR
For foreigners (non-EU): 6200 EUR
---
Twice a year small groups of 10 students gets accepted in Masters of Architecture program by the university. During 2 years students covers subjects as architectural planning, intelligent facades, theoretical framework and actual case studies.
Annual Tuition Fees
For domestic appliers: 867 EUR
For foreigners (non-EU): 1143 EUR
---
Once graduating from program, students will have confidence to individually solve complex tasks of urbanisation and architecture. During the course, students have opportunity to participate in Erasmus exchange program and are required to do semester long internship.
Annual Tuition Fees
For domestic appliers: 3500 EUR
For foreigners (non-EU): 3500 EUR
---
Within 2 years of studies, new architects will explore subjects as architecture, European urbanisation and globalisation. The gained knowledge will therefore enable graduates to think and act strategically and future-oriented with opportunities to continue carers in private and governmental sectors.
Annual Tuition Fees
For domestic appliers: 1000 EUR
For foreigners (non-EU): 1000 EUR
---
Students will be exploring fields of design, history and technology in order to achieve final diploma that will confirm them as Architects. Course will deliver wide range of understanding how human, environment and society works with buildings and architecture. On how to detect any problems in this mechanism and how to solve them in best possible manner.
Annual Tuition Fees
For domestic appliers: FREE
For foreigners (non-EU): 13400 EUR
---
University with focus on in depth research and hands on projects. Students during the course will explore Urban design, Architectural design, aesthetics and functionality. The 6 years program should prepare new specialist in architecture for local and international projects.
Annual Tuition Fees
For domestic appliers: 510 EUR
For foreigners (non-EU): 1780 EUR
---
A well organised school with clear goal of preparing best architects that will then fulfil sustainable and thoughtful construction projects. Students will work together with architecture industry specialists and gain knowledge in urban planning and design as well as sustainability and architectural planning.
Annual Tuition Fees
For domestic appliers: Coming soon
For foreigners (non-EU): Coming soon
---
University provides students with dutch way of teaching, work in groups and problem solving through practical approach. Program is is taught in English and supported by excellent study environment , facilities and respectable professors. Students will explore areas and gain skills in areas as : design practice, social sciences, technology, engineering, innovation and sustainable development.
Annual Tuition Fees
For domestic appliers: 2083 EUR
For foreigners (non-EU): 18750 EUR
---
Studying and learning from problem based tasks students will shape themselves as creative planner for one of largest industries in Norway. Students will be introduced to planning of various types and sizes of projects in terms of architecture, design materials and finance. Program is taught in Norwegian.
Annual Tuition Fees
For domestic appliers: Coming soon
For foreigners (non-EU): Coming soon
---
Innovative Polish university welcomes student to obtain MSc degree in Architecture with focus on architectural design, city planning and spatial design. During the course students will explore various concepts and methods for architectural problem solving. Education aims to prepare specialists ready to join private and public sector.
Annual Tuition Fees
For domestic appliers: 2200 EUR
For foreigners (non-EU): 2200 EUR
---
University with diversified and international selection of students from over 100 different countries and nationalities. It makes is a great choice for someone who wishes to complete their master degree in architectural field in recognised university with prestigious background.
Annual Tuition Fees
For domestic appliers: 871,52 EUR
For foreigners (non-EU): 7000 EUR
---
Dynamic and friendly environment of study will help students to achieve their architectural masters degree. Students are encouraged to reach their best potential in architecture design, building creativity and sustainability.
Annual Tuition Fees
For domestic appliers: 1600 EUR
For foreigners (non-EU): 3500 EUR
---
International masters program will aim to prepare graduates for future development of our cities. Students will combine technological innovation, urban design, business strategy and societal concerns in order to develop solutions for smart cities.
Annual Tuition Fees
For domestic appliers: 6240 EUR
For foreigners (non-EU): 6240 EUR
---
High level of education that is based on research, aims to prepare competitive specialist in architectural field. Students will work closely with research and hypothesis defence as well as collaborate with schools industry partners.
Annual Tuition Fees
For domestic appliers: 3000 EUR
For foreigners (non-EU): 3000 EUR
---
Pedagogical activities of the education aim to provide students with independent creative artistic, design and design activities. Besides scientific and research activities are held in the field of architecture, urban planning.
Annual Tuition Fees
For domestic appliers: 3500 EUR
For foreigners (non-EU): 3500 EUR
---
Modern study program in Urbanism will allow students to gain knowledge in city planning , structures and materials required for nowadays modern cities. During 2 years of study, students will graduate with competitive diploma that is internationally approved.
Annual Tuition Fees
For domestic appliers: 3000 EUR
For foreigners (non-EU): 3000 EUR
---
With Main focus towards urbanism, contemporary architecture and design this school will be a great choice for students who are looking to expand their knowledge in urban development. Program focuses on technology, architecture and invasion and combination of all in worlds future development. School also offers related programs such as : civil engineering and industrial engineering.
Annual Tuition Fees
For domestic appliers: 3267 EUR
For foreigners (non-EU): 4900 EUR
---
Well known University offers dynamic environment for students to achieve the highest goals within architectural field. With advanced focus on Architectural design and Spatial Experiment, school prepares next professionals to be architects on a global market.
Annual Tuition Fees
For domestic appliers: FREE
For foreigners (non-EU): 19700 EUR
---
Swiss university with great history offers students environment and opportunity to expand their minds and practical knowledge within architecture. Study course aims to strengthen students ability to participate in large scale projects, solve challenges from practical and aesthetic view as well increase individual approach towards work.
Annual Tuition Fees
For domestic appliers: 1340 EUR
For foreigners (non-EU): 1340 EUR
---
Students with interest in architecture history and theories, will explore new solutions for our political, social, geographic and economic problems. During the course attendees will strongly work on research orientations chosen by them self and provided from university.
Annual Tuition Fees
For domestic appliers: 245 EUR
For foreigners (non-EU): 245 EUR
---
This Ukrainian university promises to prepare next specialist in architecture and building structures. Together with theoretical framework and practical projects students will explore current building technologies, materials and designs.
Annual Tuition Fees
For domestic appliers: Coming soon
For foreigners (non-EU): Coming soon
---
United Kingdom (UK): UCL
University is ranked as one of top Schools in the world. Students are continually proven successful track of entering job market after their graduation. From total of 5 years education, student will spend 4 years in school, solving various tasks in small groups with high focus on design. Final year is spent in architectural firm for practice or alternatively can be thesis project about Advanced Architectural Design if placement is not available.
Annual Tuition Fees
For domestic appliers: 10370 EUR
For foreigners (non-EU): 28400 EUR
---
Explore our map and choose schools by their geographical placement. Is there a school that is close to your home town or city you always wanted to move to? Each pin point includes full information about school and architectural education program.
All 43 schools offer a great opportunity for anyone to become a skilled architect. Contact schools directly , and apply for your next carrier push and maybe next time we will se some of your creations in our urban landscapes.
If you have been student of one of the schools, please contact us and share your opinion about study environment and quality of studies. We would love to hear student opinions and projects you have been working on during your study years. Are we missing any school? Please contact us and let us know about the school!
Disclaimer: The price of studies may vary year to year and subject to local currency changes.
The Work of Plan constructed by the Royal Institute for British Architects has become an unwritten industry standard.
Not just British Architects rely on the 8 phase design and construction plan.
Whether you are new to the concept or looking to refresh your RIBA knowledge here is the Ultimate Guide for you!
What is RIBA?
The RIBA is the Royal Institute for British Architects who developed the first plan of work back in 1963.

The aim of the plan was to provide an outline model for the building design and construction process in the UK.
For half a decade the plan has consistently been adapted to changes in the industry until it got completely revised in 2013.
The new plan of work is set to be the updated standard of procedure.
8 detailed phases lay out the path from initiation of a project all the way to the completion of a building and ribbon cutting.
The revised plan further includes a phase dealing with the occupied building and maintenance.
The phases are
0 – Strategic definition. (New addition)
1 – Preparation and brief.
2 – Concept design.
3 – Developed design.
4 – Technical design.
5 – Construction.
6 – Handover and close out.
7 – In use. (New addition)
The phases are categorized in 5 areas of the project:
The new additions are both pre and post areas.
Phase 1 is Preparation.
Phase 2, 3 and part of Phase 4 are Design stages
Remaining of Phase 4 is Pre-construction
Phase 5 is Construction
Phase 6 is Use
No architect is forced to follow the rules set out by RIBA, although it has become a universal standard.
This guide will explain the most recent Plan of Work and provide a detailed explanation of each step.
What changed?
One of the significant changes in the 2013 model is that it aligns to more than just the traditional procurement route.
While the majority of architects still use the traditional contractual agreements other sorts, like the Design and Build forms of procedure have also grown in popularity.
The new WoP is flexible to fit the new trends in the industry.
On the website of the RIBA it is possible to create a custom work of plan to fit the desired procurement route.
The 2007 RIBA'S Plan of Work consisted of 11 steps lettered from A to L.
The 2013 RIBA'S Plan of Work is divided into 8 stages numbered 0-7, to avoid confusion to the previous phases.
Adapting to the changes in the industry, the new phases are also BIM ready, mapping out the processes.
If you are unfamiliar with BIM, there are helpful videos explaining the process.
The Plan of Work introduces a new flexibility when it comes to (Town)-planning.
The 2013 recognized the need to make a plan adaptable to different sizes and scopes of projects to ensure the best experience for both ends of the contract.
Through adjustable templates their website, the plan can be completely fitted to the scale of the project.
The tasks marked *Variable can be adjusted to the 3 P's Procurement, Programme and Planning.
The 8 Phases
To demonstrate the process of construction through a real life example, we will show the project Fountainbridge by Oberlanders Architects in Edinburgh.
The project started in 2006 and has won multiple design awards since opening in 2012.
Some examples for the design process are not publically available and will be shown through other project.
0 – Strategic Definition
One of the new additions to the 2013 Plan of Work is the first step of the cycle.
During the strategic definition it is the suppliers goal to properly consider the clients Business Case and Strategic Brief, before creating the Initial Project Brief in Phase 1.
A Business Case is the client's rationale behind the initiation of a new building project.
This can be anything from a simple spoken request, to a detailed written proposal, explaining what exactly they want from this project.
The architect is to thoroughly go through the wishes and intentions of the client before they can work on the Project Brief.
Together they are able to properly define the scope of the project and go into the preparation process more prepared.
The business case often includes first cost evaluations and discussing the sites available for the project. This phase is particularly important in terms of sustainability, for example if it would benefit for a building to undergo refurbishment rather than be built new.
An example of a new refurbishment boom are first-tier cities in China.
There, no more land is being released for development, driving the industry towards refurbishment of old building instead.
Factors influencing this can be aspects like budget, local planning policies and building context.
Initial considerations of all team members for the projects are being considered, to create the best work force possible.
The Project Program is also being established.
This outlines the projected length of the project and how briefing, design and construction phases are going to be distributed in this time frame.
The only people involved at this stage are the client and the architect.
No information exchange with the government is necessary yet.
Summary Phase 0:
ensure the client's Business Case and the Strategic Brief have been properly considered
establishment of Project Plan
consideration of Team Members
1 – Preparation and Brief
The main goal of the second stage, or Phase 1 (not to get confused) is to produce the Project Initiation Document (PID)
The PID includes the Initial Project Brief and a Feasibility Report, as well as the Client Brief and Business Case from the previous phase.
The PID is what is being used to gain funding for feasibility studies.
This stage is important to ensure that the Concept design in Phase 2 can be as productive as possible.
1.1 Objectives
The Initial Project Brief lays out the main Project Objectives, such as:
Quality Objectives
Project Outcomes
Sustainability Aspirations
Project Budget
Other parameters/ Constraints

The quality objectives are the objectives that set out the quality aspects of the project.
Size and location of the project are defined
The demanded project outcomes have been discussed in the first stage.
How long it takes to produce the PID fully depends on the scope of the project and special requests that need to be considered.
Depending on the project it can be relevant to contact local authorities pre-appointment.This will make future engagement easier and help guide the design from early on.
Local architect should be contacted to get familiar with local policies.
Who's in charge of creating the project team depends on the contract between architect and client.
1.2 Contract
The relationship is established as a Contractual Tree:
Client Service Consultancy: (Full Control)

Here the architect does everything
-Landscape
-Interior designer
-MEP (Mechanical, electrical, plumbing)


Client Consultancy: (Full service)

The client does everything in terms of hiring all subcontractors
-Architect only responsible for design part


Split Consultancy: (Shared partnership of a project)

The Architecture firm works together with Financial establishment/government/engineering company
-Usually chosen for larger projects


Sub-Consultancy: (Very specific)

Focus on one element of the project
-This can be doing just landscape, interior design, drawings, design, etc
-Client chooses what role the architect will play in the project
It is required to create an initial Risk Assessment.
Once the Initial Project Brief and Feasibility Report have been completed the Project Initiation Document is finished and the project can move into the design phases. (2 – 4)
Summary Phase 1:
creation of Initial Project Brief
creation of Feasibility Report
production of Product Initiation Document
assembling the Project Team
creation of Risk Assessment
2 – Concept Design
The project is now in the first of 3 design phases.
The goal of this phase is to produce a Final Concept Design.
2.1 First drafts
This is the first time the client gets to see a visual representation made from the Project Brief.
The visual can be anything from drawings to models designed to show the aesthetics of the project including:
-interior
-exterior
-landscapes
General procedure is that the client receives 3 different concept proposals for the construction.
They can be similar or completely different.
The client then gets to choose which proposal fits their needs the best by combining elements from all designs.

2.2 Final Concept Design
When the final design has been agreed on the architects begin with the design.
This includes for example:
-general drawings
-sketches, drawings
-models (physical + 3D models)
-very rough renders.
The drawings should be 1 to 50/500 (Adjustable to project needs)
For example:
Part of the drawings are:
-What is surrounding the project on the plot of land
-How does the external world affect the design
For example:
-busy highway,
-river,
-parking lots,
-foot traffic etc

Large scale drawings are helpful in seeing how a building is going to function in its location.
It is essential to revisit the brief during this stage and it should be updated and issued as the Final Project Brief as part of the Information Exchange at the end of Stage 2.
2.3 Hand In
The final design has to be prepared for hand in to the client.
This includes:
General plans
sections, elevations
all relevant material to express the design.
The drawings move up to a scale of 1 to 100/200
Concept Design Checklist
Plans:
Tells you how your designs to the surroundings.
Provides other information such as square meters, walls, size of plot, relation of what is indoor and outdoor.
For Example:
Elevations:
Prodive the vertical visual aesthetic of your design
-It's the exterior shell, the view from the outside
For example:
Renders
Future drawing (the design in context of what it would look like once it's build)
-3D mock up
1 render of the building
1 render of the interior
1 render of how it relates to the landscape and surroundings
1 render of the building in colour:
1 render of the interior:
1 render of how it relates to the landscape and surroundings:
Situation plan:
What's around it (access to it)
1 to 1500 to 1 to 5,000 (Adjustable to project needs)
-View from above showing the land around it
The following types of design were not available from Oberlanders Architects and are shown by other project examples:
Sections:
Provide you with the vertical elements of the building
Gives you a good idea of how your design and your building relates to other buildings heightwise
For example:
Axonometrics
Technical 3D View of the design for the entire building Visualization of a plan
For Example:
Physical models
Can be any size, helps demonstrate the final product in a more tangible way
In the past years using Virtual Reality has been introduced as a way to show clients the designs in 3D.
This might set of properly once the technology further advances.
2.4 Permits and permissions:
Local planning authorities need to be consulted to obtain permits and permissions needed.
Things to consider are:
The historical significance of the site
Government issued building programme
The surroundings (Water, land (brown and urbanized))
Height
Need air rights?
Feedback from the consultations may result in changes to the design.
The length of Phase 2 is depending on the scale and complexity of the project
2.5 Cost Plan
With the finished design the elemental cost plan for the project can be produced. This lays out all assumptions, abnormal costs and whole-life costs.
Summary Phase 2:
Produce Initial Concept Design
Client decides on Final Concept Design
Creation of visualisation of Project Brief

Plans
Sections
Elevations
Axonometrics
Renders

Creation of Elemental Cost plan
3 – Developed Design
The main goals of this phase are to produce a Final Design to be send to authorities and approved.
The architectural, building services and structural engineering designs will be finished by the end of phase 3.
With the Final design approved the Cost plan can be determined and aligned to the Project Budget.
It usually involved the planning application, but due to the flexibility of the 2013 PoW, it can vary across the phases.
In phase 3 the design is further developed.
Visualisations are moved to a 1 to 20/50 scale depending on the project scale.
The designs produced now are dimensionally correct and co-ordinated as CAD-drawings.
Models should show:
-Window, door, exit, fire escapes, stairway locations
-Wall patterns
-Materials
-Some electrical
-Fittings, fixtures, equipment
-Environmental and cleanup fees/charges
-Atmospheric conditions (Mood boards/Material boards – e.g. concrete and wood, glass and tiles, etc)
-Load bearing mechanical (structural logic of the building – e.g. foundation, pillars, and load bearing walls)
-Aesthetics from the interior, exterior, and landscapes
Building System Services:
-Tech, security, advanced functionality
-Mechanical, Plumbing, Electrical (MPE)
-Green/eco/solar

Structure of the Building – Type Selection
-Concrete (prefab + in situ)
-Masonry (brick + mortar)
-Steel (i beams + cladding – multiple types)
Changes during this phase are usually documented.
The chosen materials and dimensions can give an accurate estimate of the cost plan.
Changes in this phase are often made to adjust to the project budget.
The cost estimation is where things tend to go wrong.
Avoid these common errors for the closest estimate possible:
Lack of transparency
Not using an estimating checklist
Oversimplifying Labour costs
Ignoring weaknesses
Lack of risk estimation
Number errors
Phase 3 is usually when the planning application is being submitted to the responsible authorities.
The detailed drawings and reports are to be included in the application.
A planning application can include:
A standard application form
Location plan, showing the site and context
Site plan or block plan, showing the proposal in greater detail
An ownership certificate
Agricultural holdings certificate
Application fee
Further factors depend on location and scale of the project.
Summary Phase 3:
Final Design approved
Submission of Planning Application
Cost plan finished (Labour excluded)
Creation of detailed CAD models
4 – Technical Design
The goal of Phase 4 is to prepare the detailed technical designs for the building.
In the end of the stage the designs should include all architectural, structural and building services information.
This includes any design for specialist subcontractors and specifications.

All designs are to align with the Design programme and Design Responsibility Matrix.
4.1 Detailed Drawing
The Lead and Construction architect come together to produce detailed drawings of the designs.
The scale of detail now goes from 1 to 1 up to 1 to 20.
How detailed each designer has to get depends on whether the construction will be built according to the design team or based on information given by a specialist subcontractor.
The drawings now include things like electrical outputs, insulation and other specifics.
Depending on the project, all needed engineers are subcontracted and work alongside the Lead and Construction architects.
At this stage the overall design of the building does not change anymore.
The Design team is expected to work on their part individually, according to the designs set out in the previous stages.
It is possible that the design team has to respond to queries that arise during the construction phase.
Once the detailed designs are finished the Architects hand it over to the Project Manager.
It is important to regularly check in with the authorities during this phase.
4.2 Tender
If the supplier has already been chosen it is their responsibility to create their own supply chain.
For this they have to prepare tender documentation and their own version of the employer's information requirements.
If the supplier hasn't been chosen the tender documentation and pre-tender estimate now have to be produced in order to tender the construction contract.
4.3 Contractors
All contractors are reviews, new ones are chosen, approved and contracted out.
Who is responsible for appointing all subcontractors depends on the original contract between Architect and Client.

The Lead architect and Project manager approve all selections of contractors and discuss these with the client for his approval.
Summary Phase 4:
Preparation of detailed drawings
Designs by specialists subcontractors
Construction Architects join the team
Preparation of tender documentation
All contractors approved by Project managers and client
5 – Construction
The goal of phase 5 is the offsite manufacturing and onsite construction of the building.
All construction is according to the designs produced in the previous stages.
The Design Team still has to respond to design queries arising during this stage.
5.1 Construction and Building
The Architect's role during construction depends on the contract.
Traditionally the client appoints the contractor who is responsible for the work onsite.
The architect firm usually offers a Contract administration service to oversee that the work is according to the programme through regular visits.
The contract administrator deals with:
Tendering
Requesting/ Issuing instructions from the client
Construction progress reports
Reporting defects
Issuing interim certificates
Documenting defects and issuing making good certificates of said defects
Issuing the final certificate
5.2 Health and Safety
Local inspectors review and observe the site to make sure all health and safety laws are being followed
Summary Phase 5:
The Construction onsite
Manufacturing offsite
Processing Design Queries
Contract Administration Service
Issuing Final Certificate
6 – Handover and Closeout
The goal of phase 6 is the handover of the completed building and the conclusion of the building contract.
The client is now able to occupy the building.
For 6 to 12 months, also called Defect Liability Period, the contractor is still responsible for any defects on the property.
6.1 Report
At the end of construction, a report is produced covering the contractors, errors, accidents, incidents of waste/loss.
The contract administrator is issuing his final report on the construction.
In some cases the client may keep a retention sum for the contractor unit the Defect Liability Period is over. This ensures that the contractor does his job.
6.2 Inauguration and official opening
The completed site is visited by the client and other relevant parties.
All members of the Project Team are invited and the building is officially 'In-Use'.
Often includes an official Red Ribbon Cutting ceremony and champagne.
Summary Phase 6:
Completion of construction
Hand over to client
Issuing of final report
Start of Defect Liability Period
Champagne
7 – In Use
This is the second new addition to the RIBA's Plan of Work 2013, and aims to provide an aftercare service to the client and the building.
The service provided to the client can include for example:
Sometimes it's necessary to pass on expert knowledge in order for the building to be used properly.
This especially applies when it comes to sustainability.
The 'end of life' of a building can be part of Phase 7 or considered part of the Phase 0 of a new construction cycle.
In this case it's considered whether the development can be reused by refurbishing it or has to be demolished.
This stage is what united the phases of the plan into a cycle of development.
Phase 7 Summary:
Aftercare service for client
Advice on ideal use of property
Sustainability
Consideration of end of life
---
RIBA Plan of Work Concluded
The Plan of Work is recognised internationally as standard procedure.
While no one is expected to use it, by doing so you can play it safe.
"Unless they are inappropriate, use the RIBA forms of Appointment" – A Guide to Keeping out of Trouble.
The guide allows to simplify the project to both architects and clients, and increases the communication between both parties.

Need help getting started?
We worked through the red tape and bureaucracy so you don't have to.
In most cases you must complete some official forms for the Building and Residency Register (BBR forms) together with the building application for the municipality.
Visit your municipality's website and find the correct forms to be filled in. Here, and at BBR.dk , you can also read more about the review and application for construction work.
---
Download our full infographic! High-quality!
What do you think about the RIBA Plan of Work 2013? Share your experience and thoughts, send us a message!
Introduction
The date an architect seems like the perfect find in the sea of love that we all fish in.
A creative genius who draws something and then actually makes it reality.
Elegant ribbon cutting events for the newest addition to the city's skyline.
Sounds like a dream, doesn't it.
The reality of dating an architect might involve more coffee than champagne, and looking at the same sketch for 2 months.
Ted Mosby had us dream of the hopeless romantic who builds the next Empire State building.
But looking back at even his depiction, being an architect often looks a lot different.
We've compiled a list of 20 things you need to know before dating an Architect, to prepare you for the ride of your life.
1. Their heart is taken already
One thing you need to prepare for when meeting an architect is that they are already taken by someone else.
Their job.
Architecture is the committed relationship they got in to when they first signed up to University.
There will be times where you get stood up for studio sessions or construction site visits. And you will have to deal with that.
Being passionate is one of their greatest qualities, even if it affects other parts of their life.
Would you rather find someone who's dull and directionless?
Probably not.
2. They are (mostly) not rich
It is a common misconception that Architects make a lot of money. There are exceptions of Architects that made the big break.
Surely firms like Fosters and Partners don't have to worry about paying rent with cashing over 2 million USD a year, excluding their highest paying project.
Usual Architects mentioned in Forbes lists fall in the older age category.
You are more likely to come across a younger, less successful partner, who will not be cutting red ribbons any time soon.
In reality, architecture doesn't involve skyscrapers, but a lot of renovations.
The broke artist curse doesn't spare the building designers.
On the good side, this makes architects very good at handling the money they have.
This doesn't mean they are stingy, just very specific.
Tasteful limited finds will grace your bedside table.
Time to say goodbye to your ikea shelf, because sundays are now for antique flea markets.
3. There always will be pens around
The architect significant other comes with a new, never ending supply of pencils.
No matter if it's black, blue or red, any colour you need won't be hard to find.
Having constant access to pencils can prove very beneficial.
Instead of putting everything on a phone, you can return to having your shopping list on paper.
Finally!
If your architect and you have already made it to living together, beware of the laundry.
The endless supply of pencils often comes out of a black hole in their back pockets. Their dominantly black wardrobe is pretty much immune to any damage.
Yours might not be.
Prepare to throw out some white shirts, and keep your socks away.
At least the monotone wardrobe makes laundry sorting a lot easier.
4. You get your personal Arts and Crafts store
The utensils supply doesn't stop with the pencils. Any arts and craft stationery is likely to appear around your partner and their home.
The issue of not having a glue gun around is now one for the past.
Dating an architect can come in handy, as they often are, handy.
Knowing your prospective partner can fix the basics themselves is reassuring.
Broken shoe? Superglue.
Your personal art supply store also pays off when festivities approach.
To make up for their smaller budget, they can craft the best presents. Wedding season seems a lot less intimidating now.
And you won't have to worry about buying your own laser cutter any longer.
What a relief.
5. New destinations
Architects can show you the world.
And they will, no matter what the payment checks look like.
Just not the world by the ocean.
Or in the mountains.
They will show you the world of granite structures and stuck decorations.
If you like a good city holiday you are in luck because with an architect by your side a lot of those are coming for you.
Prepare for treks on the path of architectural history with your personal tour guide.
Rome, Paris and Athens make for good destinations and also offer delicious food if your guide allows you a lunch break.
Did you know the Luxor Obelisk on the Paris Place de la Concorde is also the biggest sundial in the world?
After returning from holidays now, you certainly will.
In the case you go on an actual guided tour, your architect might jump in to correct them.
Being a little embarrassed is okay.
It's also inevitable to end up with a photo album full of pictures from your trips. Without you or your family in it.
Just a lot of buildings.
6. There will be a lot of books
If you manage to convince your significant other to join you on a trip to the beach, you will need a book to relax with.
It will come in handy to have a whole library at home to chose from.
Strictly architecture content of course.
Having every edition of the encyclopedia is essential.
So are any other architecture related publications from the last 5 centuries.
Decorating your flat will prove a lot easier, as half of the space is already covered by books.
7. And anything else architecture related
Besides books, the flat is also covered in anything other architecture related.
Sketches flying around the rooms like paper planes, sometimes folded into one.
Instead of buying vases or statues you can arrange your partner's insane collection of models around the tables.
Be careful when handling them.
Breaking their models might break a bit of their heart with it.
8. You've now joined Architecture 101
Going on exclusively cultural holidays will eventually pay off. The good thing about dating an architect is that their passion and knowledge will rub off on you.
Whether you want it or not.
After a couple months of coffee dates, you could easily pass architecture 101, without the endless all nighters.
Architects spend a majority of their early years learning the industry lingo.
Selfless as they, this knowledge will be passed to you.
Architectural jargon sounds like a mystery to outsiders but once you are in, you are in.
The longer you spend together, the more of their jokes will be understandable.
Still not all.
The world of architecture humor is almost as big as their heart.
9. They have a lot of patience
Patience is key.
This counts for almost every relationship.
To make it through the hard times with your partner you will both need to show a lot of patience, working together.
Good thing, that architects are as patient as it gets.
Spending years of their lives sketching the same floor plan over and over again, just to then do the same in modeling; makes you acquire a certain level of patience that can't be matched.
Glueing 1000 miniature trees to a model requires fine tuning that will help your relationship as well.
If you are someone who likes to provoke conflict to get what they want, you might be out of luck with this partner.
It's nearly impossible to be more annoying than their clients.
Learn to talk it out.
10. Any place is educational
You've learned about the educational trip abroad that await you.
But when money is tight and the most travelling you are getting done is to the grocery store, you won't be left empty handed.
An adventure down the road might include a history lesson on the embassy building you just passed.
Or an in depth opinion on why the new bypass near your home is a technical disaster.
Driving through the countryside to visit families for the holidays won't have much to offer for analysis.
Fear not, there are more podcasts out there than you could ever possibly listen to.
Your architecture classes don't end because it's christmas.
11. They're coffee snobs
Whether it's the all nighters studying for the degree show back in college or staying up until the late night drawing for another project deadlines.
A humans best friends might be dogs, but an architects is coffee.
No matter the time of the day, they are always seen with a steaming cup in their hand.
This makes them excellent baristas. It's like having your own brewery at home.
But the years of drinking coffee also makes them quite picky when it comes to the magical bean.
Prepare to make room for quality arabica coffee and wave goodbye to the instant sachets left in the cupboard.
Coffee is an easy way to impress your date.
If you are still on route to dating an architect, do some research and suggest a date at a good coffee shop. Knowing 2 facts about coffee can go a long way.
12. They can stay up all night
What brought them to their coffee addiction in the first place are the allnighters they had to endure during their studies and continue on in their career.
As a partner, you might be happy that they can stay up all night doing more fun things, being used to the lack of sleep.
But in most cases they are more likely to have already stayed awake the previous nights working, so on a day off their brain clocks out at 7pm
All night action is reserved for pen and paper.
13. You only have architect friends
Dating an architect comes with the free addition of new architect friends.
Like other profession, your partner often attracts people from the same industry.
Good that you've picked up some of the lingo, this will help you blend in to the group.
After an hour of discussion on the sustainability of the new opera house being built even the most dedicated partner can zone out.
Don't be surprised if by the time you zone back in the topic still hasn't changed.
Architects never run out of things to say.
14. They've got a wandering eye
Dreaming of long walks in the city with your loved one. Staring into each others eyes in the moonlight. Sounds pretty romantic.
Until you notice they aren't looking at you but at the bridge behind you.
Architects are prone to have a wandering eye. Not in a bad way.
They won't get distracted by other people during a date.
Walking past a new refurbishment is another story.
15. They do a lot of overtime
As you may have guessed from their lack of sleep and coffee addiction, being an architect involves a lot of overtime.
Not paid overtime.
This might be where the misconception about their wealth comes from. Someone who spends all weekend in a studio surely are paid back for that sacrifice.
The issue of overworking interns has become so widespread that in 2016 a new federal law was passed in the USA demanding that companies pay their employees time and a half for their overtime.
With 90-hour weeks leading up to competitions, an architects schedule can be insane.
Previously unpaid as well.
Prepare for some lonely nights, and have an open ear to complaints.
16. Architecture is everywhere
For architects, the job doesn't end once they leave the office. They have the power to connect everything around them to architecture.
It's possible to use this to your advantage.
Want to watch a movie genre they don't particularly like? Chose one that plays in an architecturally interesting location. Luckily almost every rom-com plays in New York with sufficient scenes of the Empire State building.
And no spy movie misses out on London.
17. They talk a lot without saying
If you are familiar with How I Met Your Mother you will know the architect looking for love, Ted Mosby. His portrayal is said to be one of the most accurate when it comes to showing the struggle in the industry.
His character, while lovable, has a habit of talking around the point, and constantly correcting his friends about everything.
To survive in a studio, architects have to be very good at giving their opinion.
They have a way of making you question your own.
Don't be fooled by their talking around the point, they don't know everything.
If you want to win an argument, prepare to justify every statement.
Opinions that are not backed up have little value to an architect.
Good luck with the fighting.
18. Gifts are easier than ever
Architects being so passionate about their job makes gift shopping a lot easier.
Although you might have found enough pencils in your flat to last a lifetime, they won't see it like that.
Architecture related things are a very broad category.
Books, notebooks, pencils, pens.
More glue for the glue gun.
Another encyclopedia.
As creative individuals, they will appreciate a creative effort from you as well.
It might be hard to master their humor but once you get it, you will nail every present.
(Coffee machines work wonders)
19. They are never satisfied
After spending a lot of time with an architect, it will become clear that they don't love anything that already exists. Every construction could've been done differently.
They would have designed the bridge much better themselves. And the colour your neighbours are painting their house doesn't compliment the original style of the building.
They will talk about projects they like, but always systematically criticize it at the same time. Often in the same sentence.
If you appreciate honesty, you're in luck.
They're not scared to give you helpful critique when you ask for it.
20. You won't need to worry about the future
If you manage to get yourself to date an architect and dealt with the 19 things mentioned above, you are looking towards a bright future.
How convenient that the one by your side can design that future for you.
When it comes to starting a family and eventually getting your own house, your architect will make sure it's the best home you can find.
Whether it's finding the best offer on the market or even building it themselves.
You won't have to worry about it.
They will do enough of that for both of you.
---
Do you recognise the architect in your life, or yourself in this list?
Architecture around the world has undergone a lot of changes in the last decades. With the times it's not just the lifestyle of the cities that adapted but also its public spaces. From entire new skylines to greener public spaces here we have accumulated a collection of 40 examples of amazing transformations.
Let the before and afters inspire you and inform you about the ever-changing buildings from across the globe.
1. Klyde Warren Park
In 2006 Architect James Burnett unveiled his design to put a lid on the Freeway going through Dallas, Texas.
The idea was first met with a lot of scepticism as a park including a theater stage, sport facilities and 322 trees weighs a lot.
By using geofoam the problem could be solved and by 2009 the city had enough funding to put the foundation over the streets.
General Contractors Archer Western and McCarthy Building Cos. finished the 21,000 square meter park in October 2012, after an expense of nearly 80 million USD.
2. Rio Madrid Project
The Manzanares river going through Madrid has been surrounded by highways since the 70s and didn't leave much room for romantic scenes. It wasn't until the second half of the 20th century that Major Alberto Ruiz-Gallardon signed off the project that would turn the streets into a green space.
Spanish architect collective West 8 designed the new area, which would be split up in individual components offering anything from green space to skate parks and restaurants.
In 2003 the highways were moved into 43 kilometre long tunnels to make space for the new park, which habitats over 8500 lamps; 5500 seating areas; 33 bridges connecting the two overhauled riversides.
Over 4 million euros later in 2010 the project was completed and completely open to the public.
3. A'Beckett Urban Square
For years the RMIT University in Melbourne Australia used the 2800 squaremeter space as a car park surrounded by its academic buildings.
In 2012 the cities Mayor took a stand against inactive property owners and sparked a wave of urban interventions, including the RMIT A'Beckett Urban Square.
The former car park was turned into 'pop-up' park in 2013 and completed a year later for all the students to use,
Peter Elliot Architecture + Urban Design took over the 1.2 million USD project and designed a space designated for active and casual engagement, incorporating sport courts, landscaping, BBQ facilities and bike parking.
The urban space is only a temporary use for the space, until MRIT continues with its own expansions.
4. Place de la Republique
As the largest and one of the most important squares in Paris, the Place de la Republique attracts thousands of visitors every day. Before it became a social hub in the city in 2013, it was more of a traffic hub, surrounded by cars and streets taking up more than two thirds of the area.
The agency TVK consisting of Pierre Alain Trévelo and Antoine Viger-Kohler redesigned the whole square and 'gave it back to the Parisienne'.
After a 2 year renovation process the area designated for pedestrians increased from 12,000 sqm2 to 24,000sqm2 and opened the stop for many businesses and activities.
5. Mariahilferstraße
One of Austria's most prominent shopping streets has followed Paris' example and gave the space back to the people through an amazing transformation. The 1,6km long street used to focus on the cars driving through and left little room for the shoppers walking through.
Once the different street levels were removed the visitors started to use the entire space and brought live to the city.
In 2010 the council decided to remove all traffic from certain areas of the street and turned it into a pedestrian only walk.
6. Brooklyn Bridge Park
The Brooklyn Bridge Park is barely 10 years old but holds one of the most remarkable transformations around the city in the recent years. Manhattans skyline has been solid for a few decades but the neighbouring district across the river has been lacking some development.
In 2002 the Mayor and Governor signed a Memorandum of Understanding to agree on creating the Brooklyn Bridge Park and formed the Brooklyn Bridge Park Development Corporation (BBPDC). The corporation put together a master plan in 2004 for the piers that go along the river.
Several of the Piers along the waterfront were redesigned by Architecture firm WXY Studios.
In 2010 Pier 1 opened to the public and has since become one of the cities favourite spots.
7. Cheonggyechen
The stream passing through Cheonggyecheon was hidden underneath a multiple story freeway before the city decided that instead of renovating the ageing concrete it was time to transform the area.
The government wanted to connect the two sides of the city which were separated through the freeway without creating traffic congestion.
SeoAhn Total Landscape came up with a design which would both allow the people to make use of the stream again and continue the flow of traffic in the city.
22 bridges were build across the water, 12 for pedestrians and 10 for automobiles. The public transport system in the centre got a push and the use of cars has also been discouraged by the Seoul Metropolitan Government.
8. Alaskan Way Viaduct
An earthquake hit Seattle in 2001 and destroyed parts of the city, including the multilane freeway Alaskan Freeway, going along the pier.
Instead of rebuilding it the city decided to change parts of the lanes underground to allow the space to be used for pedestrians. After a 10 year debate between council, public and government whether to keep the highway over or underground the reconstruction by the Washington State Department of Transportation began in 2011.
Known as the Highway 99 Project the new tunnel cost the city nearly 3.3 billion USD and was opened with a 2 year delay in 2018.
9. Pier Freeway
The Piers of San Francisco are one of the main attractions the city has to offer. Similar to Seattle the Pier used to be blocked by a highway viaduct for years until an earthquake damaged it severely in 1989.
The removal opened the pier to development and created an open space in one of the busiest areas. 3,000 new housing units, 2 million square feet of offices and 375,000 square feet of retail replaced the former traffic centre.
10. Denver Union Station
The original Denver Union Station was built in 1868 by architects Taylor, A.; Fairfield & Burton.
Today the old beaux arts style building isn't recognisable after RTD purchased the building in 2001 and developed a master plan to renovate the station and 79,000 square meter surrounding it.
The plan layed out to construct the new site in a single phase and the partner agencies selected Hargreaves Associates and Skidmore, Orwings & Merrill to design the space.
The 500 million USD renovation didn't just create a new train station but simultaneously started the renovation of historic buildings in the surrounding area.
11. Berlin Central Station
The central station in Berlin is the main station in Germany, connecting the capital to the rest of the country. Underneath the modern glass construction is the historic site of the Lehrter Bahnhof, which stood on the ground from 1871 until the end of World War 2 where it was heavily damaged.
In 1998 it was decided that it was time for a new station to reunited the formerly divided city.
The construction began with building tunnels connecting the stations across Berlin and laying down the foundation stone.
Through winning a design competition the Hamburg architect Gerkan, Marg and Partners took over planning the station that opened in 2007.
12. Times Square
Before Times Square become the embodiment for Manhattan hyper-density, it was on the verge of overflowing. Underneath the millions of pedestrians and cars is the busiest station on the New York metro line.
In 2008 Mayor Michael Bloomberg and the Department of Transportation decided to make the square accessible again.
Jan Gehl and his team came together with Sadik-Khan to develop a design that would introduce bike lanes and pedestrian Plaza's instead of multilane streets.
In the same year the renovation allowed for a New Years Eve celebration on the new Times Square.
13. TVG Station
Paris based architect Marc Mimram designed a 'Garden-Station', with the intention of allowing travellers to see the surroundings and seasons outside the building.
The new station was proposed in 2014 and the design features pleats going across the concrete roof to throw shadows across the station.
In collaboration with Emmanuel Nebout, contractor EGIS and developer Icade the team worked on the 142 million Euro station starting in 2015.
14. Shanghai Skyline
It only took 20 years to turn Shanghai into the metropolis we know it as today. In 1990 it was already a world commerce hub but showed green space instead of skyscrapers along the river.
After the economic reform it into the largest cargo port in the world and the architecture grew with it.
Remarkable buildings in the new skyline include the tallest building in China, the Shanghai Tower, designed by Jun Xia and built from 2008 to 2014 by the contractor Shanghai Construction Group.
Close second is the Shanghai World Financial Center designed by Kohn Peterson Fox in 1997.
15. Singapore Skyline
The tiny city-state and Island has had severe changes in its skyline since it became independent from Malaysia over 50 years ago. It's hard to believe that constructions like Marina Bay Sands were only added to the scenery 10 years ago.
The building was designed by Moshe Safdie and Aedas Singapore in 2007 and opened to host celebrities and sports from across the world in 2010.

Only a year later in 2011 Safdie left another print on the skyline by designing the Art Science Museum shaped like a lotus flower.
16. Dubai Skyline
In 2 decades Dubai transformed from a desert city to a one-of-a-kind metropolis counting the tallest building in the world as part of its skyline.
The Burj Khalifa is construction of superlative designed by Skidmore, Owings & Merrill LLP from Chicago and with consultation of Adrian Smith FAIA, RIBA in 2004. In 2010 the city celebrated its opening and the 1.5 billion project came to an end.
30,000 apartments, 9 hotels, a mall and a lake can be found in the construction that broke all records.
17. Doha Skyline
The transformations in the middle east are incomparable to renovations in Europe or the USA.
Until the 90's Doha was a small fishing community until the country started tapping into the oil and gas industry. Now, Qatar is one of the leading exporters in the world and has the skyline to match the skyrocketing industry.
The city isn't done expanding as it currently has 47 buildings under construction. The Doha Tower is one of the more subtle additions to the cityscape build from 2005- 2012. The city is said to spend 65 billion USD on new projects and infrastructure including the stadium for the World Cup 2022.
18. Shenzen
Shanghai has undergone a rapid development in the past years but the fasted growing city in China is Shenzen in the south.
The former green area has now turned into the first and most successful Special Economic Zone in the country.
Danish studio Henning Larsen is working on building a new city centre in collaboration with two Chinese consortiums.
The new public space is aiming to relocate the people to the waterfront.
19. Fortaleza
The city on the Brazilian coast gained tourism in 2014 as it was one of the host cities of the World Cup. Between 1975 and now it also gained a remarkable skyline going along the beach side.
20. Rio De Janeiro Olympic Park
Before hosting the Olympics in 2016 Rio de Janeiro had to undergo an immense transformation.
Completely new sport facilities were built in the years leading up to the games and changed the landscape of the city.
The London based firm Wilkinson Eyre designed the largest part of the Olympic park, a conjunction of 3 arenas all holding different sporting events. He gave the master plan to local firm Arqhos Consultoria e Projetos, who brought the vision to live.
21. Las Vegas
Vegas is known for its extravagance and excess but before there was gambling and a second Eiffel Tower, the desert town was merely there for necessity.
A few hotels were built as a stop over for trade routes across the state and with the business came the customers.
60 years later the Las Vegas strip and CityCentre is illuminated from casinos and hotels and it became the fastest growing area in America.
22. Subway Line 4
Before the Olympics Brazil didn't just improve their sport facilities but also gave Rio's infrastructure a push.
The new subway line 4 was build to connect the city to the event venues. The modern Design was proposed by firm Odebrecht.
It ended up opening with a delay and almost double the initial cost with 3.1 billion USD just in time for the games.
It was only made accessible to the general public in late 2017.
23. Berlin Parliament
World War 2 left a lot of the historical buildings in Europe in ruins. The German parliament in Berlin has its seat in the Reichstag which was also a victim of bombs.
Instead of removing what was left, the city decided to revive the construction and renovated the building with modern additions.
In 1993 UK designer Fosters and Partners won a competition with a design that didn't include the glass dome that is now seen as a symbol of Berlin.
Only in 1995 the dome and its spiral staircase got introduced to the design and now attract over a million visitors each year.
The renovation cost the state over 300 million euros.
24. St. Louis Church
The St. Louis Church in Memphis Tennessee was first built in the late 1950's with an, back-then, modern design. The original construction didn't let much natural light into the building and in 2014 it was time to give the Church a makeover.
Already existing parts and a new altar and baldacchino were combined and kept in a similar style. The most drastic change was the new stained glass behind the altar which included artificial lighting, in order to bring life into the building.
25. Holy Name of Jesus Church
The Catholic church located in Brooklyn raised nearly 1 million USD to be able to restore the building and give the altar a new look.
What visitors previously described as 'upside down' hockey sticks, has now made place for a marble centerpiece which brings live into the historical place.
A lot of the renovation was done by the parishioners themselves giving back to their community.
In 2014 the church opened again for its first mass with its brand new altar.
26. Salem Jail
The Salem Jail was the oldest operating penitentiary in the States until it closed down in 1991. The living conditions were said to be so bad that inmates sued the country, and won.
It took almost 2 decades until developers David Goldman and Dennis Kanin from the New Boston Ventures picked up the abandoned building and turned it into luxury apartments and a restaurant.
The restoration cost nearly 12 million USD and was completed in 2010 with all the apartments quickly being rented out.
27. Tennessee Theatre
First opened in 1928 the theatre spent half a century entertaining generations in Knoxville with its movies.
After its closing it took 18 months and 300 million USD to give the building a well needed rehaul, lead by local firm McCarty Holsaple Architects.
Original elements of the theatre were kept intact and restored while the main stage got equipped for performing arts.
28. Boyle Hotel
Starting out as a luxury hotel in 1889 the Boyle Hotel made a promising place for shops and guests. With time the businesses left the area and the building deteriorated and after being left alone for years.
It took 24 million USD to bring back to life.
New roof, floors, doors and furniture were added by Richard Barron Architects and in 2012 it reopened as affordable apartments with new shops opening on the ground floor.
29. Art Hotel Paradiso
Ilmiodesign, have brought the Miami Beach style to Ibiza by taking on the renovation of the Art Hotel Paradiso.
With pastel colours and interior design inspired by 70's Italian architects Artizoom, the hotel opened its doors to artists and travellers in 2018
The lobby of the hotel features a 'Glass room' in which one can sleep for free with the condition that the room is fully visible to people walking by.
30. Tung Fat Building
The building was first built in the 1960's and hosted several apartments and businesses.
The name Tung Fat literally translates to 'get rich together' which was the original purpose of the office complex.
In 2015 Melbourne based firm KPDO gave the building a make over, creating luxury apartments while preserving the original structure.
The refurbishment costs HK$ 30 million and aims to inspire fellow architects to keep old buildings in Hong Kong alive rather than building new skyscrapers.
31. Garage Screen
The Garage screen in Moscow Russia is a modern take on an Open Cinema. Opened in 2015 the construction is designed to combine the experience of a closed cinema with an open air show. The visitors are still able to engage with the surroundings of the cinema while watching the movie.
photo source https://whitecube.com/news/news_and_events/Damian_Ortega_at_the_Garage_Museum_of_Contemporary_Art_Moscow
SYNDICATE architects created a space that was fully adaptable depending on seasons, with the roof being able to open up and the whole construction can be completely disassembled if the materials are needed elsewhere.
32. Strøget
Known as the oldest and longest pedestrian street in the world Strøget goes through the heart of Copenhagen. While neither claim holds to be true, it was one of the inspirations to pedestrianise urban spaces in New York and other cities.
Already in 1962 it was decided to remove all traffic from the street and quickly turned the area into the shopping street.
Architect Jan Gehl studied the pedestrian walk in 1962 and found it to play a part in the policy shift to pedestrians and bicycles which still dominate Copenhagen to this day.
33. San Pablo Community
Transforming Urban Spaces doesn't just revive old constructions, but also the life around it. In 2016 a group of female designers came into the neighbourhood and turned the sketchy shadows into a playground that parents let their kids play on.
Rozana Montriel and Alin V Wallach wanted to address one of the main issues in the country, which are the open spaces between buildings.
With low cost projects creating public spaces they increased the quality of life for many families.
34. Slotervaart
A suburban neighbourhood in Amsterdam was facing similar issues as New Mexico.
The 'garden-city' apartments in Slotervaart were popular choices for workers in the 60's but left alone since then the area wasn't populated enough to grow.
Several architects took over different parts of the district and turned the empty spaces into dense and elegant apartments.
'Paul de Ruiter Architects' created a school, child care centre, housing and a park out of a single public housing courtyard.
35. Regnbuepladsen
Denmark promotes the use of bicycle over automobiles and reflects this in their landscaping. Previously a car park, Regnbuepladsen is now a pedestrian area with possibilities to lock your bike.
After its renovation the square opened with a new name as a tribute to the LGBT+ Community.
36. Gemini Residence
Bjarke Ingles and his group have played a significant role in the urban development of Copenhagen.
One of the area's he's transformed into a popular destination in summer is Islands Brygge, one of the harbour baths of the city.
The project was completed in 2003 and holds 5 pools with a capacity of 600 people.
Near the harbour baths is another notable transformation by MVRDV who turned two former silos into apartment buildings.
The Gemini Residence has the flats attached to the outside of the silos and a lobby the height of the building to allow the tenants to move up and down.
The construction took place from 2002 – 2005 and became a part of the modern harbour front in Islands Brygge.
37. High Line Park
Another one of New Yorks favourite parks has its roots in another public construction when it's foundation was built in 1930 as a railway line.
It connected the warehouses on Manhattans west side until the 70's when parts of it were demolished to make space for the automobile traffic.In 2003 architects James Corner Field Operations with Diller Scofidio + Renfro won a competition with their design to turn what was left of the train tracks into an elevated park. 6 years later the High Line Park opened to the public and goes along the New York skyline.
38. Axel Towers
While Scandinavian design is taking over the world, the local architecture isn't being left behind.
Architect group Lundgaard & Tranberg Arkitekter has changed the scenery of Copenhagen. A newer addition is found next to one of the oldest constructions in the city Tivoli.
In 2016 the Axel Towers were completed, and opened several restaurants, offices and a public garden area.
39. Palm Islands
Landscape transformations in the United Arab Emirates are known for reaching the sky. The Palm Islands in Dubai show that the constructions have reached the waters as well.
Nakheel's construction and property management company build the palm shaped artificial island on the coast of the metropol. The islands were build over 6 years from 2001 – 2007 and took millions of tons of rocks and sand from the Persian Golf.
The Jumeirah is a community of 50 smaller islands and hosts some of the most luxurious hotels of the city.
It isn't the only artificial landmark on the coast. The World is a smaller island near the Palm, while The Universe and Dubai Waterfront were meant to join the landscape but constructions are currently on hold
40. Skanderberg Square
The Skanderberg Square in Tirana, Albania is one of the most important cultural and historical centre of the city.
Its boulevards connect several embassies and the presidential palace. In 2004 first renovation plans were made to create a more densified city centre but the drastic change in skyline was met with protest by the public.
Between 2008 and 2011 the architect firm 51N4E proposed a different design that would turn the square into a pedestrian only zone. The area isn't flat but shaped like a 4 sided pyramid with 2.5% slope.
The renovation completed in 2017 won the European Prize for Public Space in 2018.
Interactive Map
Click on the map below to see where in the world to find these amazing Transformation.
---
Have there been any impressive transformations in your city? Let us know and comment below!
There is not much left until the year 2019 ends up. Every architecture firm, upcoming architect or a student still has a great chance to participate in these 48 ambitious competitions and bring the best out of their creative work. Scroll through our list and find the most interesting competitions for you or even participate in all of them and maybe there is a chance for you to win thousands of dollars in prizes!
---
Trough the centuries cemeteries and the way we honor dead has changed. In this age accelerated urbanization and densification questions cemeteries as part of urban space. Is there a new way of how we can do it in this century? Designers are urged to explore new means of this ritual by suggesting devices, interior design projects, buildings, urban plans or other creations.
---
With cities growing at a fast pace, we must rethink how we use space and how transportation is distributed in them. Contenders are invited to propose innovative designs for parking towers that will hold at least 300 cars, will be friendly for city inhabitants and will blend in with functionality and aesthetics.
---
Engineers, architects, designers, and students from all over the world are invited to design a new landmark for the city Sharjah in the UAE. The city hosts the Barjeel collection and is an important representative of modern art and design in the Arab World.
---
Municipality of Maribor is looking for the most suitable solution, of the new promenade by the Drava river. Contestants should take in consideration geographical conditions and surrounding landmarks, as well as creative design solutions. It is suggested that proposals could include facilities for leisure, recreational and sports activities.
Design proposals are asked to envision new pier built in the Liqeni I Farkës lake. A new architecture piece should blend in the surrounding landmark and could reactivate how people interact with the environment they are living in. Participants should consider how will the new pier serve for local and international tourists all year long, how it will allow them to explore basin in an unexpected manner and way of pier contributing to sustainability.
---
Architects and designers are invited to explore the territory of Chinas countryside and work with public spaces as the library, homestay, and vegetable market. In essence, how do these spaces can help local residents, foreign residents and indigenous people shape the relationships together?
---
Competitors are given a unique opportunity to design a tourist village that will help its visitors to learn and better understand human evolution. Educate and spread awareness about ever-changing relationships between Australian natives and nature. The site takes place in Kakadu National Park and with beautiful sceneries, will definitely be a place for designers and architects creativity to spark.
---
In the middle of April, the world was watching tragedy in Paris- burning Notre-Dame. Could we use this global catastrophe to rethink the way how we see their heritage in today's culture, in today's cities? Hosts invite participants to explore possibilities of the new dialogues between past and contemporary architectures?
---
Participants are offered to participate in proposing concepts for new urban planning, architectural solutions, installations or other proposals for the city of Krakow. Municipality of Kraków seeks new orientation within the Old Town urban space in relation to the bank of the Vistula River. There are no really specific requirements set up. Contestants are welcome to choose the projects scale and types of visual materials presented by themselves.
---
With rapidly growing e-commerce popularity, traditional malls are put towards a threat. Malls currently serve not only shopping experience but also a harbors social spot of neighborhoods. Contestants are challenged to design marketplace that is evolving and more adaptive towards the coming future. Demolished Dixie Square mall place will be used as a site for this experiment.
---
The competition invites all undergraduate architecture students to look at how to improve the commuting atmosphere in Jakarta. Students will have the chance to explore and experiment with ideas in order to find solutions that could benefit city dwellers.
---
By city of Ljubljana, contestants are invited to design a footbridge over Ljubljanica river. The bridge is aimed to connect both sides fo river banks, as well as improve the general housing quality of the existing nearby neighborhoods.
---
With the recent acquisition of Vevče complex, the principal of city Ljubljana is inviting architects, engineers and designers to introduce the best solutions possible for areas comprehensive renovation project.
---
Suffered from multiple natural disasters and political instabilities, Haiti is currently among poorest in the region. Less than 50% of children are going to school and by a recent earthquake, more than 80% of schools in the west region of the country were devastated or seriously wrecked. An inspiring competition is set up, that asks architects and designers to propose plans for a rural school to Haitian, TE NWA community. Currently, children use a tent with plywood separated classrooms. A total of 7 levels of the clases has to be held in school and host over 50 children.
---
The Municipality of León in Mexico has announced the competition for participants to rethink urban areas of the Mexican city. With the main focus towards the integration of public spaces and green spaces within the new social housing neighborhood. Architectural practices and individuals are encouraged to focus on innovation and sustainability, same time keeping housing solutions safe and accessible for those groups with less income in society. With the completion of this project, the municipality will encourage access, equal opportunities and freedom from discrimination living.
---
With the ever-growing problem of overpopulation and lack of proper housing in urban areas, participants are asked to prototype a possible design of a micro-housing unit that could be used in the community by own choice. Contenders should evaluate aesthetics and functional nature of proposed visions. Explain how these units will improve life and serve the basic needs of the inhabitants.
---
The participants are invited to create a 21st-century library with elements of transparency, light, and nature. Designers should pay strong respect towards the context and surrounding environment. The new library should stay true to the spirit of the library as well as promote the culture of reading among visitors and city inhabitants.
---
Young Architects Company invites in contestants to design and present a place where sport can aspire. The place that can unite people and warm hearts. With the main prize of 10000 EUR, it makes it a serious and challenging competition for ambitious architects and designers.
---
The design challenge here is to improve people lives in urban areas by breaking their long screen time with public space installations. These installations should provoke attention, aspire element of play and connection. Participants can determine their own audience and context and design process. Cities like Tokyo, New York, London, Hong Kong or any other upcoming city of the world share chaos, high level of stress and disconnectedness where humans flow just as regular grey mass trough the streets.
---
Contestants are asked to design huts, keeping in mind the use of materials, sustainability, form, and integration in the landscape. 3 of the best designs will receive not only honorarium but the actual possibility to construct the huts along the River Trail located on the Assiniboine and Red rivers in Winnipeg, Manitoba.
---
Architects and designers are invited to design a home that can be dismantled, packed in a shipping container and moved to any place in the world to be mounted back again. Important to notice that hosts require this construction to be partially made out of BCORE (a special stainless steel material). Overall concepts will be judged on overall costs, aesthetics, BCORE usage, Eco-friendliness, housing strategies, disassemblability, and others.
---
A Desert house challenge presented by HOUSE CHALLENGE has yet brought another interesting task for international competitors to participate in. In this challenge, contenders are asked to explore possibilities of living in harsh environments such as the desert. The focus is to create creative designs or methods of temporary housing with new and original concepts.
---
City of Reyhanli, Turkey in last years has experienced tremendous growth for their population due to Syrian refugees. The town is facing multiple problems in hosting all in need, and therefore a transitional shelters solution has to be designed. Contestants are asked to evaluate the situation and propose best solutions that will serve the elderly, widowed and orphan Syrian refugees.
---
Competitions theme "Living upon Nature" suggests contenders open up their imagination and present various concepts of this slogan. A panel of jury suggest everyone think about how to enriches the relationship between Earth and humans, how is life in the city and how it is in nature, how will the future look like?
---
Architects, engineers, designers, and students are faced and exciting challenge of the urban reimagination of Italian city Monza in Lombardy. Contestants have freedom in terms of what to design, but it is required that final results bring value to neighbourhoods around It, is built and operated in a sustainable manner and creative to stand out.
Worth mentioning that it is a BIM-based competition! Contestants are invited to submit 3D models instead of traditional pdf blueprints.
There are just a few competitions like this in the world and it's the first one happening in Italy.
---
With no fixed place or client, designers are given wide freedom with house designing. OPENGAP invites everyone to challenge boundaries, innovate and suggest visionary proposals. Participants are suggested to choose the client of their own preference or inspiration.
---
In this competition architects and designers are asked to present their architectural answers in just 24 hours! The final brief will be only announced on the event day, but we can already see that the competition will be about future societies. With utopian themes, trough social problems and humanitarian issues, the competition seek to spark ideas and creativity in participants!
---
Trough the time home has been an important element of human life. The competition invites all designers to explore our possibilities for future homes, how will domestic architecture look like? Designers are encouraged to think about emerging building materials, and techniques. Consider the rise of smart houses, tiny houses, home-sharing and marketplaces like Airbnb.
---
A challenging competition where participants are asked to draw a new design for the future building of the Faculty of Mechanical Engineering located in the western part of the Slovenian capital city, Ljubljana. The new building should provide students and teachers with modern all necessary facilities for study and research.
---
Contestants are encouraged to reimagine and rethink spaces for visually impaired people. A place that would allow everyone to experience it to its full potential and to erase the distinction between the blind and the non-blind. There are no size or type limitations, however, space has to offer the ability to be used by all people. Architize suggests to look up for inspiration from Louis Braille and do research on what has already been designed for blind people.
Like what you're seeing so far?
Download the whole list below for FREE before we change our minds.
---
Participants are faced with challenges of creating a civic landmark that will enhance community life in Silicon Valley. Designs should be transformative with exciting presence and must include impressive lightning solutions with net-zero energy approach. In the second phase, three of the finalists will receive 150 00 USD stipendium to refine their proposals.
---
Paris is among the top 10 most expensive cities to live in. With the rising trend of short term rentals, landlords are choosing to earn as twice as much per month over long term rentals. Challenge is seeking to design a sustainable solution for the affordable housing problem. Participants should propose designs that can be used in different locations with different conditions in mind, as well as host various type of inhabitants, ranging from single professionals to families.
---
Participants are given complete creative freedom to design portable reading rooms that could be used in various locations. Designers can introduce specific environments they wish the reading room to suit, spaces can be open or closed and should encourage reading.
---
A powerful landmark of 'Aldeia da Mata' dolmen, located in Crato, Portugal is a perfect playground for students and professionals within the design and architectural fields to participate in this competition. The new Site cloister is expected to enhance the beauty and power of surrounding landscapes and provide spaces for exhibitions, offices, meetings, and others.
---
Current visitor center requires more modern touch in aesthetics and functionality to emerge better with surrounding landscapes. Competitors are asked therefore to deign new visitor center that would hold the potential to become an iconic landmark itself, exercise sustainable construction practices as well as hold all the basic amenities of the information center.
---
Participants are invited to design a cost-effective and eco-friendly building proposals for the guest house located next to one of the most breathtaking Icelandic landscapes. A winning design will be considered for the actual construction of 8-10 room guest house.
---
In this decade urban centers that fuelled by economic growth has faced a huge problem with affordable housing for its residents. As prices for housing has grown in tremendous speed, residents lack the opportunity to catch up with it. Therefore more solutions for affordable housing are required. Participants are encouraged to present solutions that are easily developed, with minimal use of materials and land, but not limited to size or residential units. The design should be flexible and adaptable to suit different locations across the world with their local specifications.
---
Iceland is country full of landmarks and now the designers and architects are given a chance to create one more of their own. The Iceland Volcano Museum has to serve various practical needs as an information centre, cafe and office complex being multipurpose exhibition hall.
---
Architectural students and professionals are invited to be part of redesigning Musée des Beaux-Arts de Lyon in France. Museum has a long history behind and several reconstructions and redesigns. This time contestants are asked to include and play around with artificial lighting on the museums interior and exterior façades as well as a choice of rooms, halls, and stairways.
---
With 3 main prizes, architects and designers are challenged to imagine living in new conditions. With the continuously growing world population, we must take action and expand our living areas. Spaces we haven't used before therefore has to be put in perspective. How would inhabitable village with the modern but yet sustainable design look like on Moon, under the water or by African coastline?
---
One of the most populated and poorest districts in Lima is in huge need for a community center, a place where locals can gather, study, work play and share. DNADD and Techo share a common vision that this center will be the starting point for many families to step out of poverty. Important to notice that it is planned to host different activities and provided a changing environment that is able to adapt its users.
---
Again, architects, designers, students, and engineers are invited to participate in annual Skyscraper Competition, organized by eVolo Magazine. This year's competition encourages participants to consider sustainability and advanced technologies, present new urban and architectural methods that aim to solve cultural, economic and social problems. Contestants are not restricted regards site, size or style. Think what is the skyscraper in the 21st century?
---
An exciting challenge for every designer or architect who is looking to twist their minds over the well-discussed problem of large venues not being properly used. Contestants are requested to design and propose plans for the multi-purpose stadium, that would not only host sports events but could also serve other purposes.
---
Competition wishes to push boundaries bit further and challenge visionaries to explore opportunities of inhabiting artic. With world cities growing at fast pace, overpopulation, poverty, pollution and high traffic, we must seek spaces out of cities allowing people to experience a better quality of life. Ellesmere Island becomes a perfect starting point for an ambitious project, this city will be a midpoint in the Hyperloop route between Moscow ( Russia ) and Vancouver ( Canada ).
---
Pop up a pavilion that connects people, architecture, and passion under one roof. This could be the short description of a given task. Archasm aspires to generate progressive ideas for fashion capital – Milan. Architects and designers are given the freedom to express their visions for visitors to be inspired.
---
Participants are suggested to design proposals for school in Mozambique. The aim is to find the best solution for the new school, the area is ready for build and the winning project will be constructed. It is important to consider all the required factors and especially the usage of building materials and available labour. Architects and designers have a wonderful chance to create for the community.
---
The host invites participants to create a design that is able to react on it's dynamic social, natural and built surroundings. Competition is accepted in urban, architectural, technological, or product design. There are no limitations towards projects location, size or functions. In previous events, designers went beyond typical solutions and much included robotics, mechanics, bio-architecture, mobility and any more.
"
---
Celebrating 50 years of space exploration, designers are invited to present concepts of space exploration centre for kids and teenagers. Organizers are expecting ideas that spark interest and creativity towards space exploration, are driven towards learning and are interactive.
---
Special mention:
Architects and designers are invited to propose sustainable, safe and resilient solutions for underprivileged areas. These proposals should improve the daily lives of the local citizens. It could be housing, civic, educational or cultural solutions that are presented by contestants.
---
Choose the competitions by their locations
---
Did you find any of the competitions interesting and considering to participate? If yes comment below wich one or how were your results!
*Registration fees and prizes may be subjected to taxes.
Download the list for free!
We're giving this entire list away for free! Fill in your details below to get the excel format of this list for FREE.
Have you ever wondered who are the main architecture firms in the world? We have composed a massive list of 100 best architecture firms sorted by their revenue. While reading our article you will find out who is behind some of the worlds most iconic buildings, and get a chance to connect with company leaders via Linkedin.
Interactive map
Click on the map below to see where the mentioned Companies are having their headquarters.
Founded in 1957, Tokyo, Showa Sekkei is one of the biggest architectural firms in Japan which delivers all services related to architecture. With a revenue of about 5 Million USD and over 200 employees, the firm is known for its innovative designs, such as for the creation of the Abeno Pedestrian Bridge and the Tokyo Metropolitan Matzusaka Hospital.
Aidea represents another influential architecture firm in the Philippines, located in Makai City which is the financial hub. With a revenue of about 7 million USD and over 200 employees it has received several awards within the last years such as the BCI Asia award in 2005 for the top 10 architecture firm in the Philippines and later on in 2011 they were recognized the BIM award for the best use of BIM for sustainability, build-ability, and constructibility. Their most famous work being Mandani Bay development project in Cebu.

Company president: Jojo Tolentino
Palafox Associates is a multi-disciplinary firm founded in 1989 with more than 100 professional consultants where the main focus is on engineering and interior design. Located in the capital of the Philippines, Manila offers the firms visibility and attractiveness for its fast pace growth and tourist attractiveness. The company is known for designing attractive parks and urban plans within the Philippines and internationally such as the Aluminum City in Bahrain.

Senior Project Architect at Palafox: Floren M. Naguit
Morphogenesis is listed as one of India's well-known, award-winning architecture and Urban Design firms. With their offices located in Mumbai, Bengaluru, and New Delhi. It is also listed as the only firm in the WA100 chart of the World's largest Architecture firms which is gender-neutral. The company employs over 50% of women across all levels. With over 8 million USD in revenue and international projects, Morphogenesis is also known for landscape design projects such as the Rock-cut Architecture- Amarnath caves.
Founding Partner at Morphogenesis: Manit Rastogi
Based in London, the firm features a long list of awards in urban planning and building design. The classical design and beauty are represented by their project of Trinity-square in London and their modern innovative touch with Skype project in Prague. One of their latest and greatest projects can be found in Hamburg and it is Fontenay Hotel.
Director at Aukett FItzroy Robinson: Tom Alexander
With more than 1,100 employees and 14 million USD in revenue, Archetype Group is one of the largest consultancies in the Asia Pacific with core services in Architecture & Master Planning and their expertise covers key construction sectors such as buildings and real estates. Their greatest project being: Capital Place (Four Seasons Hotel)
Owner, Founding President at Archetype Group: Francois Magnier
Change arises from the relationship between the past and the future. With this quote, the Italian firm company based in Milan has accomplished several projects in the classical design such as the New Padua Calcio stadium and the Chongqing Jihua Yuelai Eco-Oxygen Tower Project in China.
CEO Founder and Principal at Progetto CMR: Massimo Roj
UN studio started with 2 people and their passion laid down on a kitchen table 30 years ago. Currently, the firm has 4 international offices and in total manages over 200 designers and architects. Their main projects focus on human needs, housing, and fast-growing communities.
Founder of UNStudio: Ben van Berkel
Award-winning architecture company Ryder architects have been improving the quality of life around us since 1953 when a group of entrepreneurial architects started the company in Newcastle. Since then the company has grown into the 180 people working and bringing in a solid turnover of 15 million USD.
Director at Ryder Architecture: Mark Clasper
Founded in 2001 in Singapore, Malaysia, Space Matrix offers a design practice that specializes in workplace environments supplying future-ready workplace solutions throughout Asia. Space Matrix has created new workspaces in places like the BBC office in Singapore, Microsoft offices in Taipei and redesigned IBM Singapore office solutions.
CEO at Space Matrix: Arsh Chaudhry

GVA is a leading Mexican architectural firm in the Latin American region. Holding strong experience with over 50 years in the industry, the company reaches a turnover of 22 million USD. With more than 100 talented employees, GVA has managed to execute several high-class leisure projects, such as Hilton Resort in Aruba, Mundo Imperial in Acapulco and Breathless Punta Cana Resort and SPA in the Dominican Republic.
President at GVA & Asociados: Jaime Gomez Vazquez Aldana
The London Based architecture firm with over 22 million dollar revenue and approximately 300 employees. Focusing on urban design highlighting social and environmental responsibility. The firm has a track record of the construction of universities, colleges, campuses, and hospitals.
Partner at Sheppard Robson: Rupert Goddard
The Copenhagen based architecture firm's main focus is on the landscape, engineering and interior design and rethinking of how we can design social spaces to alleviate a growing global trend of loneliness.
CEO and Partner at Henning Larsen: Mette Kynne Frandsen
Architecture-Studio is a French architectural company which has multiple offices in Paris, Shanghai, and Venice. Today, the studio is run by 150 skilled architects, urban planners, landscape and interior designers. Companies staffs is well mixed with 25 unique nationalities represented.
Founder at AS Architecture-Studio: Martin Robain
Specialized in housing design and urban planning, this English firm has received more than 100 awards focusing on affordable housing. PRP Architects has over 50 years of experience in the field and a strong focus on sustainable housing. With 3 offices located in the UK, this firm gathers turnover of 23million USD.

Senior Partner at PRP: Anne-Marie Nicholson
With the headquarters in Paris with several offices located in France's major cities this firm specializes in general infrastructure and design they are well known for infrastructure construction in the sector of well being such as hospitals.
Director at AIA Architectes Ingénierus Associés: Simon Davies
Is one of the most diverse architectural firms as their work covers all scales and sectors with 950 ongoing projects, work in 44 countries. One of their featured projects is the BMW Central Building in Leipzig.
Principal at Zaha Hadid Architects: Patrik Schumacher
Well known for the construction of "The Chambon Penthaus" located in Brussels for which the Belgian firm has won the first prize at the Golden Rules for Urban development. Company is well known in Europe for its focus to achieve excellence in design, delivering solutions in an efficient way. Jaspers-Eyers Architects commits to emphasize on communication and design in an ecological way for the people and the environment.
CEO at Jaspers-Eyers Architects: Jean-Michel Jaspers
Thomson Adsett Architects based an Australian firm is best to be described as reliable and accountable once delivering high-end projects. Company has a combination of highly motivated and experienced designers, innovators, and architects that shape the future vision. Firms main activities reflect on hospitality, communal living, commercial, educational and interior projects.
COO at ThomsonAdsett: Louise Cox
Allies and Morrison is an architecture and urban planning practice based in London, Cambridge, and Dublin. Founded in 1984, it has developed a reputation for well-crafted buildings and thoughtful placemaking. Currently focusing on projects located in the Middle East and in North America.
Partner at Allies & Morrison: Jo Bacon
Based in Kansas city the firms' specializes in the construction of large infrastructures which include stadiums, event halls/venues, and arenas. With more than 3,000 projects in their portfolio such as Target Field Stadium in Minneapolis, First National Bank Stadium for FIFA 2020 and Sochi 2014 Winter Olympic & Paralympic Games. Company is definitely among the industry leaders once we are talking about architecture for large size venues.

Senior Principal at Populous: Brian Mirakian
Based in Adelaide, Australia the firm works in six capital cities, representing decades of experience and skills across all design disciplines. They collaborate with local and international partners such as UN Studio, Foster + Partners, Silver Thomas Hanley, and Cox Architecture. Their portfolio is based on general construction and infrastructure.

Director at Hames Sharley: Brook McGowan
Established in 1979, the firm has over 130 people working across 5 studios in the UK. The company takes their job very serious and approaches every customer with high ambition and drive towards excellence. 3DReid believes their buildings must bring beneficial outcomes for direct users and the wider public. Majority of their projects focuses around residential, industrial, educational and others.
Director at 3DReid Architects: Gordon Ferrier
Based in Ontario the Canadian firm has led several projects and constructions in the fields of healthcare, public buildings, and research and one of the most recent projects is the construction of the School of Culinary Arts and Information Technology in London.
Associate at Diamond Schmitt Architects: Dan Gallivan
Based in Hong Kong this architecture firm has completed projects in urban design all over the world with a particular focus on the middle east and in Dubai where they are well known for the construction of the Blue Water Residence home to the largest observation wheel in the world.
CEO at 10 design: David Pringle
Also, this prestigious company is based in Hong Kong with over 550 active staff members. Their main headquarters are in Hong Kong with additional offices located all across main Chinese cities: Beijing, Guangzhou, Shanghai, and Shenzhen. RLP offers services for a wide global client base, ranging from the public sector to commercial and institutional sectors.

Vice-Chairman at Ronald Lu & Partners: Bryant 慶耀 Lu 呂
The Mumbai based firm is one of the first companies to build an extensive range of the tallest buildings such as the tallest residential building in the world (23 Marina Dubai) and the tallest building in India.
Senior Associate Architect at Architect Hafeez Contractor: Pushyamitra Londhe
Ramboll is one of the largest architectural practices in the Nordic countries and fourth-largest in Europe with close to 800 experts. Rambøll Denmark was selected by Novo Nordisk A/S for the design of a new production facility. In this Facility is planned to fabricate and deliver the world's first protein tablet to the global market.

Chief Innovation Officer at Ramboll Group: Hilde Tonne
Jean-Michel Wilmotte, founder of Wilmotte and Associates was born in 1948 in French town Soissons. In 1975, Paris, he founded his own architecture firm. Currently, the firm employs 270 specialists from 25 different nationalities and operates in 20 countries. Companies international development office has launched two subsidiary companies: Wilmotte UK Ltd in London, and Wilmotte Italia Srl in Venice.
Senior Project Manager at Wilmotte & Associés: Marco Olivieri
The London based firm provides a unique blend of services and expertise, working with our clients to transform and modernize their businesses across the UK and Europe. Their main focus is on design and construction of large infrastructures across Europe.
Director of Infrastructure at Capita Symonds: Phil Downes
As TP Bennett has existed for already ten decades. The company can be proud of long-established expertise in listed buildings, built heritage and conservation. Company in total has seven listed buildings to its name and has been a huge part of development on hundreds of historic buildings in both the domestic and international realm, including work at UNESCO World Heritage sites in Libya and Ghana.
Associate Director at TP Bennett: Melanie Zarins
Based in Madrid this firm is one of the leading design companies specializing in the construction of large infrastructures for scientific purpose and they are well known for their unconventional touch such as the San Mames Stadium. Company has a solid 40 million revenue.
Director: Jesús María Susperregui

In the heart of everything the company does is the philosophy that architecture and design should be simple, elegant and timeless. The firm is having offices in Australia, Asia, and the Middle East. At the same time, they are working on extending their worldwide architectural and design services to the US and Europe by 2020.
Executive Chairman: Brenton Mauriello
The firm is one of the leading architectural companies in Scandinavia when it comes to turnover and number of employees. With a total of a bit over 470 workers located in 16 cities across Scandinavia LINK, architecture executes projects related to urban planning, design, architecture, interior, etc. Company is based in Norway and has been nominated for the RENOVER award 2019.
CEO at LINK arkitektur Danmark: Kirsten Anker Sørensen
The firm is one of the leading architectural companies in Scandinavia when it comes to turnover and number of employees. With a total of a bit over 470 workers located in 16 cities across Scandinavia LINK, architecture executes projects related to urban planning, design, architecture, interior, etc. Company is based in Norway and has been nominated for the RENOVER award 2019.
Architect and Partner at C.F.Møller Architects: Mads Mandrup
PBK has successfully planned and designed facilities for many international organizations and industry-leading companies. Their main focus is primarily on education, health & wellness. The company employs more than 500 design professionals over 15 offices located in Australia, the US, and China.
Partner, K-12 Education at PBK: Alexandra Parslow
Founded in Hong Kong in 1874, Leigh & Orange (L&O) has continued to thrive as a significant force in the markets it serves for nearly a century and a half. The company strives towards an innovative design approach, with the latest intelligent building ideas and advanced thinking in sustainability, energy conservation. The creation of architecture with a minimal environmental footprint has been part of their focus points.
Managing Director at Leigh & Orange Ltd: Ivy Lee
Dewan Architects and Engineers has been at the top position of the Middle East's rapidly growing architectural and engineering fields for nearly three decades. Companies current Chairman and original founder as well as Managing Director, Mohamed Al Assam, established the inaugural Dewan office in Abu Dhabi in 1984. Just 4 years in industry firm successfully completed their first towering commercial project, Baniyas Tower, in 1988.
Director Of Operations at Dewan Architects & Engineers: Haider Al Assam
With knowledge in every considerable industry sector, the London placed company specializes in, Retail, Leisure, Residential, Hospitality and Office design with over 2000 projects, 90 countries and more than 250 awards on their portfolio.
Director at Chapman Taylor: Jon Hale
Since its establishment, Kunwon has always been fully dedicated to generating inventive designs for the Korean market within residential and urban environments. Children have been Kunwon's main focus in its urban design projects, ensuring that the proposed environments are optimal for them.
Executive manager at Kunwon Architects & Engineers: Brad Shim
Arup plays a central role in the design and development of many of the world's favorite cultural institutions. Some of their notable work has been realizing the Sydney Opera House, the Centre Pompidou to our more recent work like the San Francisco MOMA or the Pinewood film studios extension.
Associate Director at ARUP: Derya Doğan
Their projects efforts are trying to find the perfect voice of carrying symbolism and poetry, which exceeds the simple requirement of logic and program. The French firm works mainly in the national context but their buildings can be found throughout Europe such as the Da Gennin Tower in Russia.
Architect Director at Valode & Pistre: Geraldine Maurice
With the main focus on interior design and projects of residential buildings in the UK such as hospitals and university campuses, they are also well known across borders as the US for the construction of large infrastructures such as the Miami Cruise Terminal.
Director of Architecture at Broadway Malyan: Ian Ellis
The firm is specialized in interior design for luxury resorts and public buildings throughout the US. With 10 offices in 3 continents company brings in a solid revenue of 54 million USD. The Sky lobby in Hong Kong remains one of their most notable projects.
Chief Executive Officer at Wilson Associates: Beth Campbell
The practice started in Hong Kong in 1963. The Wong Tung Group of Companies has successfully established an approved track record when we are talking about master-planning and architectural services for vast size orders in Hong Kong, Macau, and across the Pacific Rim Region.
Associate Director at Wong Tung & Partners Ltd.: Fred Ng
The firm was established first in 1969 with a clear vision to rethink architecture and planning in India, CP Kukreja Architects (CPKA) is currently one of the leading architectural companies of the country. The firm has been mentioned in one of the world's most influential architectural journals: World Architecture, to be part of the top 100 architectural firms in the world.
HVAC Design Engineer at CP Kukreja Architects: Najid Rehman
Based in Seoul, Gansam Architects have a rich portfolio of projects and awards for prestigious buildings and stunning urban planning. They also have constructed large infrastructures overseas such as the Presidential Palace, Baiterek Tower, Khan Shatyr.
Senior Designer at GANSAM Architects & Partners: Muchan Park
B+H is a global, award-winning consulting + design solutions firm founded on a 65-year legacy of creating bold and inspiring spaces for people. B+H provides core architecture, planning, landscape, interior design, and Advance Strategy services with a team of more than 450 staff collaborating across nine studios in Toronto, Vancouver, Calgary, Seattle, Dubai, Shanghai, Hong Kong, Singapore & Ho Chi Minh City.
Chief Marketing Officer, Principal at B+H Architects: Jennifer Futol
The Australian firm located in New South Wales has created large buildings and infrastructure projects. They do not have a particular design style but rather want to be connected to context, public engagement, and environmental performance.
CIO at COX Architecture: Moreno Sartorello
The company with more than 60 years of experience in healthcare design. Recently Interior design magazine ranked ZGF No. 1 as Most Admired Healthcare Design Firms among Top 40 healthcare companies in the world. In total Company has received over 1000 awards and consist of 600 active professionals located in offices across the US.
Managing Partner at ZGF Architects LLP: Ted Hyman
Benoy Architects are based in Newark-on-Trent, UK and focus on international projects in master planning and interior design. Some of their notable buildings can be seen in China, Bahrain, Colombia, and Indonesia.
Associate Director at Benoy: Priscilla Lin
Company primary focuses on educational institutions. The firm believes that proper facilities play a high role in the overall success of a student! Their work includes architecture, engendering, structural planning, and furniture design. Huckabee with 6 offices located in different US cities brings total revenue of 65 million USD.
Principal at Huckabee: Blaik Ritchie
This German architecture firm with over highly skilled 350 employees holds 70 years of experience. With offices located in Germany and China, their main architectural focus is towards cultural, health, educational facilities as well as production and master planning. The company works with office buildings and are highly involved in workspace design. Recently finishing Merck Innovation Center in Darmstadt, Germany and Zalando Headquarters in Berlin, Germany.
Managing Partner and Head of Design at HENN: Martin Henn
The Japanese architectural firm quotes their philosophy as "Originally, architecture is for all people. Their logo stands for Architecture, Art, Science, and Satow and still, nowadays these are the values firm strongly follows. With current innovations company also has a strong background in renewal projects such as the TORNARE Nihonbashi Hama-cho.
Architect at AXS Satow: Kazuyuki T
Founded in 1927 with 366 employees and have offices throughout Japan with headquarters in Tokyo. Company values sustainable projects and energy efficiency. The firm has extensive experience in designing public facilities, government offices, office buildings, educational facilities, medical institutions, hotels, resorts, and urban development areas.
Architect at Ishimoto Architectural & Engineering: Hiromi Horie
ATP architects engineers are the company who employs more than 800 employees, and they are well-known integrated design offices in Europe. Multidisciplinary teams located in ten different European cities develop integrated solutions for complicated construction projects where they have been working on sustainability principles for over 60 years, headquartered in Innsbruck, Austria.
Head of Design at ATP Architects & Engineers: Paul Ohnmacht
Based in Singapore, DP Architects are leading several projects in Indonesia, China and Dubai. They are specialized in consultancy, visual planning, and lighting. Founded in 1967, the firm currently employs over 1200 specialists in 16 offices all over the world.
CEO at DP Architects: Angelene Chan
With nearly 15,000 experts planning and designing cities and communities we live in, Sweco is shaping a sustainable future. The Stockholm firm is the founder of Urban Insight, a concept revolving around sustainability and optimizing electrical consumption.
CEO at Sweco: Dariush Rezai
Located in Hamburg, Germany, this firm has constructed large buildings in Europe and is now developing several projects in China. With their last project in Shanghai, the firm constructed a shop facade for the shopping center. An impressive curtain of 800 porcelain tubes was made in the traditional Chinese way.
Associate Director at GMP Architects: Sander Troost
Tengbom has been mentioned as part of the world's topmost innovative architectural firms, and it's among the oldest architectural practices. With a rich and multifaceted history, their mission is to keep our eyes on the future. With 600 employees in locations across Sweden and Finland, their projects are widespread across northern Europe.
CEO at Tengbom Architects: Johanna Frelin
NORR has been established since 1938. With continuous innovation and growth, the company currently employs over 750 specialists. The Ontario based Canadian design firm has a wide portfolio of projects overseas like the Al Tijaria Tower, Kuwait City, and UK spaceport.
Vice President at NORR: Peter Dubin
White Arkitekter was established back in 1951, in Swedish town: Göteborg by Sidney White. The company holds the main purpose to improve society through the architecture they make. Founders legacy still strongly lives the company's goal of contributing to a more sustainable world. Nowadays the firm is owned by its 616 people personnel, 122 of whom are partners.

Architect, Partner, VD/CEO at White Arkitekter: Alexandra Hagen
The companies focus is driven towards healthcare, education and civic industries architecture. With a sustainable approach to design firm creates high-performance architecture and design solutions that improve lives for people on a daily basis. Company ahs have been established in 1940 and currently employs over 500 specialists, With a solid revenue of 85 million USD.
Principal at HMC Architects: Dan Benner
Located in Washington DC, the US firm's main focus is on healthcare and have constructed numerous facilities throughout the US such as hospitals, academic facilities and also in housing and hospitality.
Associate Principal/Senior Project Manager at Page Southerland Page, Inc.: Stephen Bell
Robert A.M. Stern Architects, LLP, is a 265-person firm that consists of architects, interior designers, and supporting staff. In companies 49-year history, it has established an international reputation as one of the leading design firms with wide experience in residential, commercial, and institutional work.
Partner, Robert A.M. Stern Architects: Alexander Lamis
Company has over 350 employees located in 9 offices. With a strong focus on architecture and planning firm aims to be creating environments that enhance human potential. The firm develops various building projects within health, science, technological and educational spheres and holds95 million USD in revenue.

Director of Project Development at Flad Architects: Sarah Péreira
This Manchester-based company performs various projects ranging from light structures to complete urban infrastructure projects. Worth to mention that for the project: Ordsall Chord in Manchester, firm has won a RIBA National Award. BDP employs over 1000 specialists and recently has teamed up with Japan's leading engineering firm: Nippon Koei.
Director at BDP: Wayne Head
The firm is based in the UK and they are working closely with a wide range of clients from different sectors and regions. Their projects range across the public, private sector, and for local and national governments. The company holds a solid 105 million USD in revenue.
Associate at Atkins: Matt Quick
KEO is Globally ranked firm, with multiple offices spanning over seven countries Today they have a team of professionals from over 60 nations and has experience from every major market of the globe. Based in Kuwait city their work is rather international.
Director of Structural Engineering at KEO International Consultants: Andrey Danchev
Located in Detroit, Michigan companies experience ranges from urban design to large infrastructure projects. Their most notable work so far is Wanxiang Innova City, located in Hangzhou, China. It is envisioned as the world's most advanced Smart City. The framework for this vision identifies Area 1 as a new manufacturing campus of roughly 4.4M square feet that will be the catalyst for future development.
Senior Vice President/Civil Engineer at SmithGroup: Patrick Doher
The company executes projects in any sizes. Their experiences range from cultural, civic, offices, residential to infrastructural projects and skyscrapers. With clients from Europe, the Americas, Asia, and the Middle East, the company employs over 1000 skilled professionals.
Principal at Kohn Pedersen Fox Associates: Peter A. Gross
Located in Adelaide the Australian company's focus on urban planning and infrastructure, their international design practice is performed in studios located in China, Great Britain, USA, Australia, and Southeast Asia
Chief Executive at HASSELL: Gerard Corcoran
Company founded in 1932, currently employs over 550 specialists in multiple offices located in Vietnam, China, and Japan. Firms Projects are ranging between architectural design, technical, electrical and mechanical engineering, renovation and urban planning. The company holds 125 million USD in revenue.
Architect at Kume Sekkei: Fumiyasu Okazaki
The company offers a wide spectrum of services related to architecture, consulting, planning and development. With multiple offices in US company has established strong ground in the industry and received multiple recognized awards. The firm employs over 1100 active specialists and generates revenue of 130 million USD. ploys over 1100 active specialists and generates revenue of 130 million USD.
Chief Executive Officer at CannonDesign: Brad Lukanic
The company promises to elevate human experiences through its design approach and solutions. With more than 1000 design professions actively working in the firm, they can be proud of works such as Baoshan Long Beach Winder Tower, AmericanAirlines Arena NRG Solar Canopy and Rock & Roll Hall of Fame 2.0 Renovations.
Managing Principal and CEO at DLR Group: Griff Davenport
Company is the largest international architectural firm in the Southeast Asia region. Currently, the firm employs over 1600 architects, engineers, and planners. Founded in 1868 it has a long history behind, multiple award-winning projects and total revenue of 135 million USD.
Director at P&T Architects: Edgar Eduard Cozzio
With the philosophy of putting human experience as a central element in the design, this company serves international clientele with future-oriented projects. The firm employs 850 experts located in 15 studios across Asia, Australia, Middle East, Europe, and the Americas.
CFO at Woods Bagot: Peter White
The architectural company with 100 years of history and experience in their portfolio. Recognized by international audiences, firm diverse portfolio represents high-level projects in more than 91 countries and all US states. Currently, the company hosts over 700 employees.

Vice President at LEO A DALY: Cheri Pavlik
This large scale company has been first established in 1928. With its operations expanding across five continents Asia, Australia, Europe, the Americas, and the Pacific region. The firm has more than 10 000 people working in over 200 offices. The company manages to bring 145 million USD in turnover.
Technical Director – Communications & Stakeholder at GHD: Michael Ulph
The company was started in New York City back in 1981. With a total of 17 offices, the firm employs over 1000 specialists within architecture, design, engineering, and technology. Perkins Eastman manages to bring in a solid revenue of 150 million USD. Sun city Ginza
Chief Financial Officer & Executive Director at Perkins Eastman: Candace Carroll
HKS is a well established international design and architectural company with the belief that great design begins at the local level. The firm with its headquarters in Dallas, Texas manages over 1400 architects, designers, scientists, artists, engineers, and more.
Vice President at HKS Architects: Alex Thomas
Canadian based company that focuses on delivering human-centered design solutions for urban infrastructure, community buildings. With a total of 62 offices in 60 different cities, the firm employs over 2600 skilled professionals. The company executes projects in the fields of public housing, mobility, healthcare, educational as well as performs overall architectural and engineering solutions.
CEO at IBI Group: Scott Stewart
Company has been founded in 1970, currently, the firm is the leading architectural practice of South Korea, at the same time continuously expanding its market reach in international and domestic fields. With 1200 active employees out of which 550 is certified architects, Herrim is able to provide creative thinking, great technical knowledge, and high standard design solutions.
HSE Manager at Heerim Architects & Planners: Rashid Husseynov
The company was founded in 1943, and since then has continuously innovated. With multiple successful projects across architecture, engineering, planning, and design. NBBJ has recently been awarded the most innovative architecture Firm 2018 by Fast company. With over 700 employees company generates 175 million USD in revenue.
Executive Assistant at NBBJ: Laurie Nix
The company opened its doors back in 1967, since then it has grown and currently engages in international and local projects related to architecture, urban development, design, civil engineering, and structural engineering. With over 950 employees located in offices across Asia, the firm is able to generate 180 million USD in revenue.
Director at Nihon Sekkei Vietnam Inc.: Phuc Nguyen
As an award-winning company, it employs 1400 Creative minds and professionals together to make company Aedas. With the aim to deliver tailored design solutions for each client, the company works with an international clientele. Their 12 offices are located all around the world. The firm is proud of 41 featured projects, as Alacarte Ha Long Bay Condotel, The Beacon, and Unilever Headquarters.
Board Member of Aedas : Maxwell Connop
Company has successfully completed over 10000 projects covering more than 50 different cities. Projects ranging from research facilities, educational institutions, skyscrapers to urban districts has allowed the company to achieve over 1000 recognized awards and to be twice winning Architecture Firm Award from the American Institute of Architects.
Associate at Skidmore, Owings & Merrill LLP (SOM): Rami Abou-Khalil
Company has expanded its operations on a global scale and it has been recognized by Fortune magazine as the World's Most Admired Company, Engineering, Construction category. Strongly the following innovation and offering futuristic solutions, the company currently employs over 80000 people and generates revenue of 205 million USD.
Vice President, Federal Government Relations at Jacobs: Matt Chiller
The company that has recently won AJ100 International Practice of the Year award, continuously keeps innovating and places suitability in center of everything they design. Since Norman Foster first opened the company in 1967, it has grown over 1600 employees in 13 offices across all continents.
Associate at Foster + Partners: Alessandra Di Battista
Company has been named as the number one retail design firm for the 3d year in the row by Visual Merchandising + Store Design's annual top. With luxury clients from Burberry, Louis Vuitton, Nordstrom, Hudson's Bay Company, Target and Nike, firm coordinates its operations from 20 worldwide located offices. Over 2500 employees bring in 210 million USD large revenue.
Associate Vice President at CallisonRTKL: Dana (Trott) Brandle
This Canadian top design and delivery firm, has over 400 offices in local communities, employing more than 22000 specialists, all across the world. With a high focus on architecture, design and sustainability firm have received multiple awards, recognitions and honorable mentions.
President and CEO at Stantec: Gord Johnston
Company founded in 1935 has successfully adapted to changes in the world over time and continuously brings well-designed solutions for community-driven projects. The firm consists of over 2500 employees and has revenue of 220 million USD.
CEO at Perkins+Will: Philip Harrison
This Japanese architectural company has over 125 years of history in the industry, it is bringing high-quality services that range from urban and project planning to architectural/interior design, and consulting.
HOK is a global, award-winning design, architecture, and engineering company. With more than 1700 employees collectively collaborating across 24 offices spread out on three continents, the firm generates 250 million USD in revenue.
Chief Operating Officer at HOK: Thomas Robson
The company has been founded in 1976, and since then has completed more than 8000 projects. With over than 100 award-winning projects designs, the firm employs over 100 registered architects and a total of 650 employees.
Associate Principal – SAMOO Architects & Engineers: Sangjoon Simon Kim
Ranked as No.1 – Architectural Firm in Healthcare Design, No.1 – Central & Eastern Europe in Building Design by World Architecture 100 Survey, with multiple other rankings and world-class awards. The firm provides a wide range of solutions in architecture, engineering, planning, environmental sciences, research and more, for the health, defense, civic and transportation industries.
Vice President at HDR: David Yentzer
This California based architectural company represents modern design and sustainability. With over 10000 unique projects in more than 2500 cities all across the world, the firm earns a solid revenue of 400 million USD. Named as No. 6 most admired companies in the world by Fortune Magazine, it operates from 48 cities all over the world.
Executive Assistant to Co-CEO at Gensler: Linda Fones
With impressive 25000 completed projects in companies more than 120 years long history, it can definitely call themselves as industry professionals. The firm currently employs over 2800 specialists in design, architecture, planning, engineering, and science.
Chief Civil Engineer of Urban Planning Dep. at Nikken Sekkei: Masafumi Tanaka
The company strives to develop and implement new solutions to the complex challenges the world is facing. With multiple notable achievements, the company has been ranked as the No. 1 Transportation and General Building in Engineering News-Record's 2019 "Top 500 Design Firms" and 5 years in a row, announced as one of Fortune magazine's "World's Most Admired Companies" Companies total revenue comes to 500 million USD.
Chairman and Chief Executive Officer at AECOM: Michael S. Burke
With its headquarters based in Singapore, this award-winning architectural company has over 60 years of experience in the industry! The firm can be proud of multiple intentionally recognized projects as St Regis, Kuala Lumpur, Malaysia, The Oberoi, Gurgaon, India, and the Nakheel Mall, United Arab Emirates. Company has recently received recognition on its achievements in sustainability and innovation for their projects in 2018. Total revenue goes over 640million USD.
Associate Director at RSP Architects Planners & Engineers: Devaganga Mahajan
---
Did we miss anyone? Comment here if we missed a great architecture and they deserve mention in our list!
It is well known that the environment shapes the personality of a human being.

Then moving on, is the school, where students begin to learn and to engage with their environment and the people around them.

The first introduction to society is within the family, as it is the first social environment.
The design of classrooms is leaving the traditional, teacher-focused classroom behind and heading towards an open, flexible layout with furniture that supports technology-enhanced learning and student group projects.

The ideas that follow, support a sustainable perspective, as necessary and vital to respect the environment and to preserve it.

1) Integration of Technological Equipment within the Lessons .
Technology nowadays is playing a splendid role in everyone's life. It is embedded in society and schools are using it to help their students with their studies, research and speeding up the learning process.
The 21st century classrooms are designed with two key concepts; fast access to technology and a student-centred architecture.
In order to get the full benefits given by technology, classrooms have started to be equipped with an LCD projector, a document camera, an additional
wireless router and a high-tech whiteboard.
image from Istituto comprensivo Porcu Satta Cagliari

Almost all the schools around the world are embracing the idea of IT integration within the school's environment.

Nowadays, on average, 60% of schools provide the tools for students to study, some even allow them to use their own devices. Students become more active and responsible in their own learning process.

Technology in schools can bring many advantages, but also disadvantages.
Technology can help the students connect with each other in a variety of situations, for example, messaging platforms can be used by individuals within a group project, especially when not in the same location. Technology platforms can become a way to stay informed and ensure everyone feels able to participate equally in school activities

Through technological tools, students can broaden their knowledge, gain differing insights and be more involved and engaged in debates.

When talking about IT integration, it helps to bring fun while studying! Animated games with popular characters can explain everything from the solar system to the texts of Aristotle.

The disadvantages are many, including someone who struggles with… distraction.

This is harmful, but perhaps not as serious as a more evident trend, the temptation for students to use their devices to cheat during exams. This problem has been overcome by the introduction of thorough controls, digital citizenship contracts and IT specific training for teachers.
2) Decentralizing the Classroom.
Students should feel confident and comfortable in class.

Creating a student- focused environment is one of the main priorities for learning institutions.
A change that is relevant is that the teacher's desk has been replaced by a podium that can be moved around the room.

The decentralization of a classroom has a focused goal, to create a polycentric layout in order to capture and maintain the attention of all students.
Edtech: the classroom of the future

Unlike the traditional methods of education, where the student had to follow the teacher, today students are becoming more responsible for their own learning and the teachers are seen as guides, to help facilitate when it is needed.

3). Flexible Desk Furniture.
Flexible classroom furniture transforms the way students learn.
Rearranging a learning space several times during the course of the day draws students' attention and allows for a variety of tasks.
They're going to be better able to absorb and process information based on a higher level of engagement with the work they're doing.
These environments encourage innovation and will help the students to actively develop their interests by learning in different ways.
Most jobs in the modern world require some degree of collaboration and so the ability to work cooperatively to achieve a goal or complete a task is important for everyone.
Environmental and economical benefits include saving raw materials and money.
This is because schools can use the same flexible classroom furniture in many ways, rather than having to purchase new items for specific purposes. In this way, sustainability is achieved and maintained across the school.

North Arkansas High School is a typical example of using flexible desk furniture.
It has been revolutionary and other schools have followed in their footsteps to great success.

4) Collaborative and Sustainable Workspaces.
No matter the level of studies, student group projects are an important component of today's learning programs. Through the use of multi-functional tables, it is easy to arrange the environment to suit the task.
Supervision is necessary, in order to see if the set activities are bringing the expected results. But, teachers are changing the way they deliver information and also the purpose of the classroom itself.
The approach towards studying is more collaborative, teachers are experimenting different ways of teaching, such as discussion through the debates, learning by listening, learning by doing.

The contemporary classroom is closer to the Socratic idea of innovation and it has brought great results
Austin University, Texas

The Community College Survey of Student Engagement (CCSSE) at The University of Austin in Texas evaluated innovative solutions based on collaborative working spaces that are able to reinforce the co-working of students; it is important to outline that in Community College just half of the students move to 2nd year.
Many of the students leave due to problems related to the active and collaborative learning that occurs with others, improve this, improve graduation rates.

5) Sustainable movable room dividers.
Safety and flexibility are pillars for the classrooms of the future.
Architects think that classrooms are best with stable, movable room dividers that can help to organize an educational space in new ways.
Incorporating erasable chalkboard or whiteboard surfaces onto the partitioning systems enables students to depict a graphic vision of the group work and is helpful when discussing and exchanging opinions with each other.
This would also help the students in achieving a better group work experience .
An advantage can also be that these can create temporary classrooms, because they are easy to assemble and to carry.
Room divider, Accordion Portable
This is an example of a room divider, it is very functional as students can use it during the curricular courses and also in group work. It saves space and it reduces noise.

6) Comfortable Chairs.
Reading at a desk can be uncomfortable for long periods of time. Why have the offices of the future placed an emphasis on comfort?
Many classrooms now offer comfortable chairs that allow students to study for longer hours.
This should be seen as an opportunity to improve in the design of chairs and to take into consideration better ideas to achieve a better experience.
Comfortable chairs help the user avoid physical and health problems in the near future. Once it is possible to avoid these problems, less adults will have to face them in the future.

7) Presentation Areas.
Teachers need to be able to provide formative assessment. In order to help students improve their educational outcomes, instructors need feedback loops.
Presentation areas are spaces where the students can talk about the presentation within their groups and improve overall performances both as an individual and as a group.
Reimaging an environment that is comfortable for both teachers and students includes providing an area with a space for the laptops, ergonomic chairs, and large tables to be occupied by the teachers.
These appropriately equipped spaces allow for organised learning demonstrations which encourages relaxation and confidence in students.
A good example of presentation areas is given by the library at Pershing County High School.
Pershing County High School , Nevada.

8) Quiet Areas.
As the rooms in a school are mainly open spaces with many people, it can be hard to concentrate on tasks such as reading. Quiet areas in a learning environment are necessary for both students and teachers.
A quiet area can be used by students that prefer to work alone ,(not all students' personalitiesare the same) or if they are looking for a place to write and to concentrate.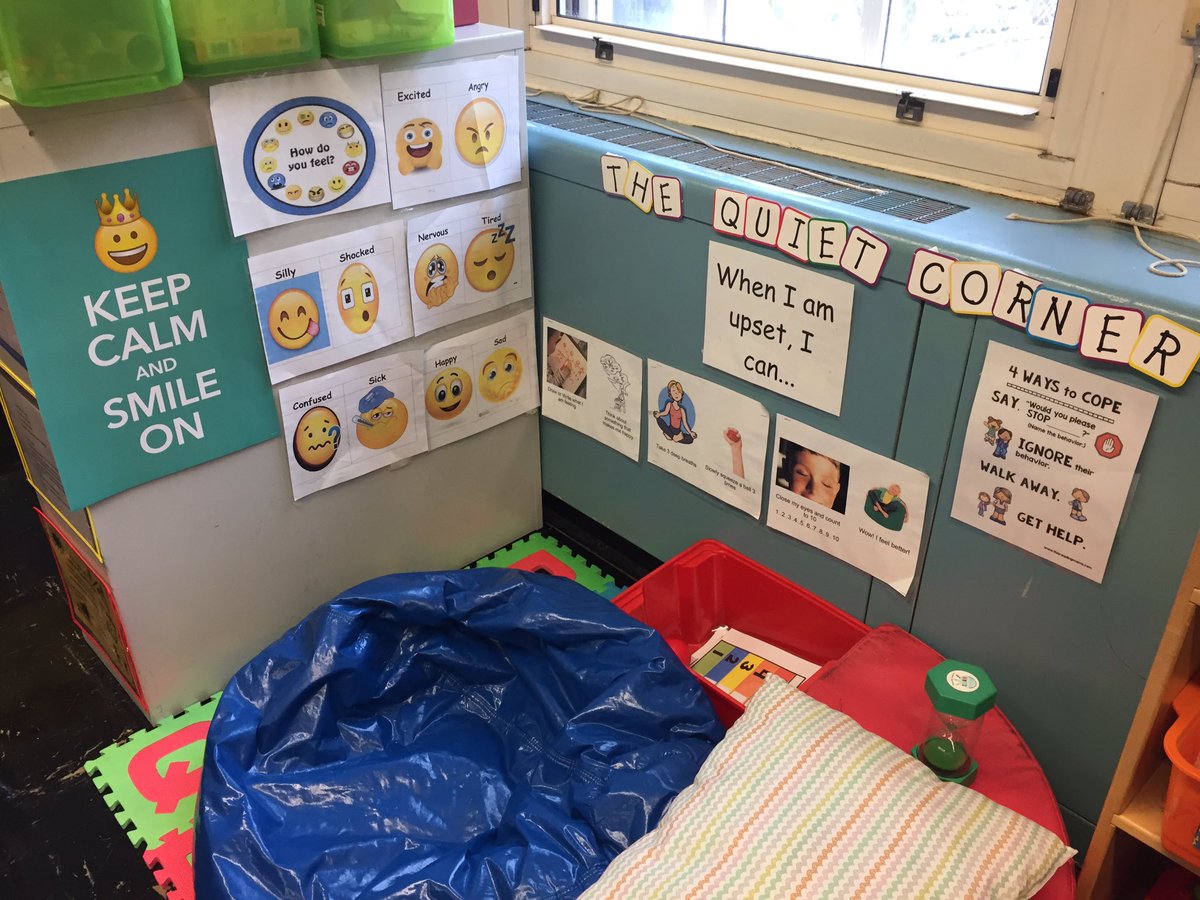 A school in New York ,the Queen North Primary School decided to create the break areas,quiet corners to self regulation and social emotional learning .
9. Learning Zones.
Computer-based learning can allow students to focus on those areas where they are having difficulty.
These can be located within classrooms in special learning zones or in dedicated computer labs.
The learning zone should provide students with spaces where they can talk and share different points of view and also enjoy the time spent together.
10) Makerspaces.
While many student projects can be accomplished by moving desks together or gathering in collaborative workspaces, more projects require the use of specialized tools.
According to the national Speak Up survey from Project Tomorrow, 31% of schools already have a makerspace and 23% of other schools are considering creating one.
Makerspaces are valuable because students get their first experience of the practical aspects of projects and they can gain confidence in their skills and competences.
11) Natural Lighting.
Improvements are vital when dealing with classrooms and learning spaces.
According to the American Department of Education, classrooms with better lightning had a 26% better learning rate in maths and a 20% better learning rate in reading.
This research-based study shows, no matter the age of the student, they learn better in spaces with ample natural light.
Large windows through the classrooms are necessary and with the natural lighting, students will benefit. The lighting in a classroom will affect the retention of the material being taught.
Students will improve and achieve a better experience while learning.
Southlands High School in Chorley, Lancashire

At the Southlands High School in Chorley, Lancashire, UK the new Art Room_2 was designed to emphasize the impact of natural light to maximize positive effects.

In fact, the effective classroom lighting should use as much as possible of any natural light available, this could be further integrated with artificial light when necessary.

The studies confirm that the natural light provides physical and physiological advantage for students, teachers and administrators.
In addition, the natural light is useful for the health, concentration and even test scores of students; a study by the Heschong Mahone Group estimated that students receiving high levels of natural light score up to 18% better than students receiving minimal quantities natural light.
12) Bright Colours.
In the era of challenges and technology, architectural design teams focus heavily on the colours of the classrooms.
The "vibe" of some classrooms can give the space a feeling that elicits a desire to create, versus others which encourage teamwork. T
Melbourne St. Mary Primary School

In St.Mary of the Cross in Melbourne, the new library has been designed with bright colors and common spaces that reinforce the creative attitude of the kids.

The area has common space for teachers and students and it is reflective of the sun's bright colours.

Indeed, the creation of a large modern learning environment able to accommodate over 250 students represented a challenge in terms of creating appropriately scaled spaces, cost effectiveness and efficient construction.

In this case, the structure of the library emulated the concept of "Bee Hives" ,that create an opportunity for the staff to teach in and around the beehive as well as to send students to work in groups and or individually. (from St. Mary Primary School)

13) Reading Areas.
Reading is essential for every student's life. Through reading, students are able to gain knowledge from the textbooks and it can be beneficial for building their future.

They not only widen their knowledge by reading, they start experiencing and get a better perspective on the variety of topics presented in the curriculum.

One of the easiest concepts to execute is creating an area just for reading.

Students should feel warm and invited to spend time in a space meant for quiet reflection on a book they're immersed in.

However, the school departments should also allow for students to engage with teachers when something isn't properly understood without the disruption of an entire classroom by doing so.
University of Helsinki

The reading area in Helsinki University provides a very innovative solution, including high visibility and common sharable spaces.

The area is based on clear, flexible floor levels, subdivided into functional zones and each space is encircled by walkways and by the information zone. (from Helsinki University site)

The work zone is soundproof and it guarantees quiet reading and teamwork rooms. (Ibid)
14) Playing area/common space.
Learning doesn't happen by just studying books, exchanging opinions and ideas with the people next to each other, which is actually an imperative.
These activities are helpful in achieving an effective learning approach, but it can be possible to play while learning too!

It could be a game based on a learning approach, a game that stimulates certain areas of the brain like chess or Sudoku and students can also focus on activities like drawing and painting.

Once they change activity from studying to a softer and more intuitive activity, they can replenish their energy and give more effort, and this would be reflected in the performance at school.
Emerson's Playing Zone School.

Emerson's High school is an example of how playing areas are combined with other study environments.
15) Corridors used as Informal Learning Places
Every area in a learning environment is used to better achieve the goal of improving student performances, outcomes and reaching a better experience in the working space.

Corridors have been used as an informal learning environment as many students spend some of their time there, talking with their classmates and with their teachers.
Xavier University, Cincinnati

Xavier University in Cincinnati provides a very good example of an Informal Learning Environment; indeed, due to the nature of the education, it suggests to investigate new ideas to further develop opportunities always.
---
There are many ways that classrooms around the world can be improved to maximise the study experience for both students and teachers.
Investing into educational design means investing in the future.
We are sure to continue to see more improvements and innovations that can shape the environment for the better.
Maybe the next big thing will come out of one of the Architecture Competitions left this year?
How has academic design changed since you've been in a classroom?
Let us know in the comments below what you feel has been missing during school times!
Acclaimed for its innovative and sustainable concepts of design, Denmark has seen the rise of ground-breaking architecture especially over the last decade. New-age structures that tackle current and future environmental problems are increasingly in demand in this country that aims for 100% renewable energy in 2050. Modern buildings that create a statement while expertly balancing form and function are here to stay.
Here is a list of 8 iconic sustainable building projects that pave the way for future trends.
Amager Bakke: Clean Energy Production and Waste Management
A cutting-edge power plant that, believe it or not, alternates as a hiking trail and a ski slope! Built by Bjarke Ingels Group (BIG) in 2017, this multi-functional structure burns waste instead of fossil fuels to generate enough electricity to power at least 50,000 homes and heat 120,000 homes.

Funded by energy and waste-collection from city residents, this automated operation takes no more than two people to run so that human resources can be allocated to 'Copenhill' that manages the smooth functioning of the ski slope, and facilities for visitors, including a top-floor restaurant and bar.
The 500-metre ski slope is expected to open in the summer of 2019, and can accommodate up to 1500 people on the area. Other options like go-kart racing and cable wakeboarding are made available for people who enjoy adventure sports. A certified climber's delight, this building also hosts an 85-metre long a climbing wall, the highest in the world!
Combining the need for sustainable development, energy production and waste treatment with the added benefit of leisure activity, this construction rightfully achieves social acceptance for urban power plants of similar calibre.

---
Green Lighthouse: Carbon Neutrality

This University of Copenhagen building gets a special mention for being Denmark's first certified sustainable structure, and the first carbon-neutral building in the country to achieve the American certification of LEED Gold rating (Leadership in Energy and Environmental Design). The Velux Group collaborated with several architectural, environmental, and engineering specialists to construct a cylindrical structure that drew inspiration from a sundial and the motion of the sun around the building.
Using solar rays to generate energy with an inclined roof that allows intense sunlight into the interior for heat absorption, this structure has been making an outstanding statement in terms of climate neutrality since its opening in 2009.
The building boasts of its own energy supply which combines solar energy, Copenhagen's district heating and heat pumps, to effectively cut its energy consumption by over 70% compared to that of a typical building its size. It also allows for the storage of seasonal hot water when the sun rays are at their strongest.
To further aid this, the building uses natural ventilation, and an automatic cooling and heating system to create a climate-friendly space for the students using its facilities. Spacious and full of daylight, the entire ensemble makes for a visually striking creation that was endorsed by the European Commission's Sustainable Energy Europe Campaign.

---
Maritime Museum of Denmark: Preserving skylines despite urban development

The Maritime Museum of Denmark is built on what used to be one of Denmark's most significant modern shipyards, in an area that also houses the Kronborg Castle, the setting of Shakespeare's Hamlet. This award-winning museum is yet another design project by the globally acclaimed BIG. As rapid, inevitable urban development takes place, it becomes tougher for preservationists and enthusiasts to insist on the protection of a city's unique architecture and the resultant skyline. A few prominent arguments for preserving a city's skyline are the embodiment of a city's distinguished cultural and historical identity, media-centric exploration of art through iconic landmarks, empirical study and research, etc.
A fine balance between modern economic success and historical sustenance is necessary, and proves to be a challenge that many architects around the world face.

Keeping this issue in mind, Bjarke Ingels came up with the innovative vision of building the monument underground, using the dry dock as an open, outdoor centrepiece with the rest of the construction assembled around it. Leaving the walls of the dock untouched, BIG excavated the centre of the dry dock to create eight floors below sea level, complete with exhibitions and art installations. Due to this strategic placement, the Maritime Museum establishes its distinct character as a unique monument despite having the impressive Kronborg Castle and the Culture Yard in the near vicinity.
This arrangement also ensures that the views of the Kronborg Castle, which is also a UNESCO World Heritage site, are unobstructed from all sides. Almost unnoticeable from the horizon, the Maritime Museum of Denmark is a sustainable masterpiece that conserves the sanctity of Helsingør's historic and cultural wealth without compromising on the demand for space.

---
Copenhagen International School, Nordhavn: Solar-energy Harvesting

Integrating one of the world's largest solar panel systems in a school building, Copenhagen International School (CIS) has coupled global learning with a sustainable outlook of 'practice what you preach'. This feeds into their vision of 'Educating champions of a just and sustainable future'. The architectural firm behind this beauty is C.F. Møller, that have giants like Carlsberg and Mascot International on their resume.
A whopping 12,000 solar panels are placed at various angles to make the maximum use of natural light and generate electricity that meets nearly half of the school's energy consumption, an equivalent of which would power 70 single-family houses. Majority of the classrooms are strategically placed on the corners of the building to ensure optimal usage of daylight, and reward wonderful views of the man-made peninsula that the school is built on.
CIS also has on-campus greenhouses; the food grown here is used in the canteen, so the students are aware of where their food comes from. Other sustainable solutions adopted by this school include food waste management food where scraps are put through a grinder to produce pulp for bio-gas production, after which the pulp is used as fertilizer in Danish agriculture, or fed to pigs (one of Denmark's biggest exports).
All the interiors of the school are designed using materials sourced from nature: wool-upholstered sofas, bamboo bookshelves, and oiled oak wood floors. The school's long-term goal is to use recirculated water for flushing toilets.

---
VM Mountain: Optimising Limited Urban Space

Another jewel on the crown of Bjarke Ingel's BIG, The Mountain is a residential project that is 2/3 parking and 1/3 living. By combining parking and housing spaces, the building makes optimal use of available area while still making terrace decks available to flats, complete with personal gardens. This evergreen vegetation is sustained by an automatic sprinkler system.
Imagine a suburban neighbourhood of homes built in a step formation in a 10-storey building, each equipped with its personal garden and an amazing view of the city and coastal region. A residential lift that moves diagonally makes it easier to navigate to the different floors.

The colourful parking area itself is far from most dingy parking lots, decorated with wildlife murals designed by French artist Victor Ash. With a ceiling height that goes up to 16m in some places, the parking lot has the appearance of a cathedral-like space. Residents of the 80 flats in the Mountain have access to 480 parking spots, and an arty space that doubles as a party arena for special events.
Awarded the world's best residential building at The World Architectural Fair, The Mountain has drawn a lot of attention for its innovative vision of blending the best of both urban and suburban ways of living.

---
Climate Ribbon & Storkeengen: Natural park conservation and Water Management

Randers Municipality has, overly in the past decade, been vexed by storms and sea level rise. To address this, C.F. Møller took up yet another challenge to address the climate change issue with a focus on 'The Climate Ribbon' project and a natural park called Storkeegen (Stork Meadow) in Randers.

The Climate Ribbon is a 6-kilometre-long ribbon between Randers city centre and river Gudenå, the longest river in Denmark. An essential part of a major urban development initiative, The Climate Ribbon integrates storm-control solutions into the harbour's urban spaces by creating new arenas for activity, design and nature that include facilities like a delta promenade, a river pool, a tidal display park, and a maritime area for sports and culture events, among others to bring more life to the city. A dedicated pedestrian and biking trail along the Climate Ribbon fosters a closer connection between the urban section of Randers and the wild natural space around river Gudenå.
The extension of this ambitious project is the conversion of Storkeegen into a public park, driven by key factors besides the effective management of the increasing stormwater levels, like adding value to the area, treatment of wastewater, and so forth.

Locations for recreational activity have been created to make the natural park more accessible to the general public and to create awareness of the municipality's efforts to redirect rainwater collected from the residential parts to purification basins in Storkeegen, before being led out to Gudenå. Not only does this help with water conservation, but also protects the low-lying parts of the city from being flooded during storms.
These efforts have been essential to preserve the flora and fauna and their evolving habitat in Storkeegen as much as possible. More endeavours towards amplifying these efforts can and are being taken throughout the world to preserve rainforests and natural parks.

Energy, Climate and Environmental Park: Multifunctional Park and Recreation Space

C.F. Møller has also been instrumental in the construction of Hillerød Utility Company's 'Energy, Climate and Environmental Park' that combines green living with recreational space built using recycled soil. While it may not come across as a typical way to spend a Saturday afternoon family picnic, architect Julian Weyer states that the park might just be the first facility in the world to integrate all activities in a single location, and take the step of fully involving the general public.
Here's why; the 50-hectare community park hosts a variety of waste management systems including an industrial and household recycling plant, a water purification facility, biomass and geothermal heat production plant, test fields for solar, wind and biomass energy, and a rainwater harvesting initiative.

All this in a landscape which normally consists only of walking and climbing areas amid nature. The project merges innovative sustainability and educational opportunity to allow for a venue where future generations can observe forward-looking enterprise in action.
---
The Climate Tile: Urban Development and Rainwater Management
The revolutions and sub-revolutions charged by the global phenomenon of climate change have given rise to many a visionary concept in the field of architecture, one of which is the Climate Tile project. Produced in 2015 by Third Nature, this concept was created to prevent flooding of streets due to excessive rainwater through continuous draining.
Denmark is a lowland, with its tallest hill being approximately 170 metres above sea level. To get an idea, that is less than half the height of the Empire State Building! With an average rainfall of 767mm recorded over the last 8 years, and experts predicting the rapid rise in sea levels, efforts such as the Climate Tile have been welcomed with open arms by Danish Design Award.

According to Third Nature, this 50-metre long Climate Tile-equipped sidewalk will collect data through the changing seasons on how to manage different weather types, weighting loads, salting, etc. This solution is aimed towards a positive use of climate change in developing cities that are more robust and sustainable. Local politics aside, this technology has great potential in Denmark and on an international scale, and has redefined techniques of rainwater management.

---
As global temperatures soar, there is an ever-pronounced need to reconsider and reinvent traditional techniques of urban planning and energy production in order to ease repercussions on the environment. Optimal use of geographical scenarios, topography, and other present-day elements is the best way forward to minimise our global footprint.
We have a lot to learn from a country that has managed to make a whole island self-sufficient (Go Samsø!). Governments all around the world must prioritise the allocation of resources and adoption of improved methods that revolve around sustainability to help usher in a better tomorrow.

---
If your city has similar (or better!) sustainable architectural marvels, feel free to mention them in the comments below.
For inspiration on how you can contribute in your own way, listen to these podcasts where industry leaders offer new and exciting insights into the architecture scene.
What I wish I knew prior to hiring an Architect
Shortly after I moved into my house I started noticing that certain aspects of the general design of the house don't serve me well. As a result I made a resolve to hire an architect as well as a general contractor to see through minor renovations to the house according to my personal preferences. Some of the obvious places around the house that I wanted the renovations to touch on include the kitchen, the closets, ceiling and floors. Through the renovations however, things do not go smoothly. Besides running way past the budget, it took twice as long as expected.
Even though I did a lot of research prior to commencing the work, I wonder why it still took more money than expected and a lot more time than anticipated. Popular opinion is that when doing renovations, there is always the risk of running into trouble with the architect hired. For me, this was not the case, sine the general contractor whom I had hired ended up playing such a significant role than expected as far as the quality and smooth running of the renovations is concerned. In spite of all that: there are still some things which I realized that I wish I had known prior to signing the agreement with the architect.
By the time the renovations were complete, I realized that architects won't necessarily handle most of the responsibilities during general renovations. Had I not assumed anything during the initial do over in choosing an architect we certainly would have discussed and gone through all the options which in turn would have provided for a joint shared set of expectations from the contract and most importantly from the budget? More specifically, below is an overview of what I wish I knew prior to hiring an Architect, they include the fact that:
Architects are responsible for drafting plans
Architects are able to come up with technical drawing which just so you know are also key in helping flesh out construction or renovation ideas. As a matter of fact, the drafted plan by architects help set realistic expectations and most importantly help fast track permits besides guiding contractors while onsite working on construction or renovations.
Architects should be creative
I love anything that is visually appealing and if I knew in advance that architects are also able to incorporate visually interesting elements such as having more light featuring on the floor than the actual plans seems to allow, including secretive storage areas amongst other things then I would have definitely asked the architect I hired to feature some of the special elements into the initial plan and feature a few more others during the course of the plan.
Architects should advise on fixtures and finishes
The phrase fixtures and finishes is mostly used in reference to paint jobs, tiling, flooring, kitchen and countertop works, lighting etc as such, having hired an architect, they should be able to serve as the point person and recommend fixtures as well as finishes especially if you haven't contracted a designer to see through your finishing.
Architects are responsible for identifying and managing the contractor
Most experienced contractors always have a work towards maintaining good working relationships with several reputable contractors. Whoever you hire should therefore recommend a few potential contractors to bid on your project that you can work with
Architects should be responsible for the overall management of the project
Renovations just like constructions have several constantly moving aspects. This is clearly evident from the fact that besides having people to coordinate, you also need permits and have to see through finishes and fixtures not to mention orders to track. Although contractors are more than able to handle some of the above mentioned responsibilities, architects too can serve as point men for instance by helping you understand the deadline of specific items you may have ordered, identifying specialized sub contractors and even keeping track of processes which fall slightly out of the general scope of the construction or renovation.
Architects should offers suggestion that would help keep the project on time
This is another level of managing the project. There is no denying that getting some for of assistance in terms of timeframe can also be something that you prioritize. Besides just staying on top of the contractor and other players involved in he construction or renovations, the architect that you hire should recommend attractive finishes which should also be delivered promptly. In fact, he/she should even help you properly understand which pieces you can reasonably have taken care of shortly after you finally decide move in.
Architects are also responsible for making suggestions that help keep the budget in check.
This an architect can achieve by including appealing suggestions as well as cheaper alternatives for finishes that seem rather pricey. For example, they can recommend features that you should consider spending on and highlight areas where you can easily save. At the same time, they are also best placed to help you anticipate the costs which you might not be preview to having decided to undertake the renovation or construction works.
In addition to all of the above, asking the right questions would also have helped seeing through the project to its intended conclusion, questions such as:
Which responsibilities does he/she handle and which ones can I handle?
Which role do I play in choosing and handling fixtures and finishes?
What is your strategy to see through a project of this size to its conclusion and on time and according to the budget?
Are there any unexpected solutions which you may have suggested on previous projects and worked out fine?
How do you deal with or handle conflict?
Do you have any notable references I can contact?
From the above, you can clearly see that time during renovation or time during construction can directly be equated to money. As such if you can get an architect who you can join hands with and he would help you see through the renovations or construction according to the initial plan and work timetable then leave nothing to chance. Doing so will definitely keep you in touch with details of the project besides largely ruling out the possibility of any exorbitant budget overruns which are very common when the construction works or renovations fall behind deadline.
In as much as the architect that I hired drew up the required plans and even went as far as helping me identify the experienced contractors to bid on the project not to mention helping manage the contractor I settled for, I was still disappointed on several other fronts. This is primarily because the fees involved turned out to be way more exorbitant that initially accounted for. From the above, it is clearly evident that I never asked the proper questions during our search for an architect to help with the renovations. Had I only know the above mentioned things, I would definitely have found the perfect fit to see through the project and it would have turned out completely different.