Becoming an architect is dream for many, but this dream starts with choice of correct school. Trough our research we have found all the best schools in Europe that offers architecture studies! Some of the schools offer free programs and some have available tuition support! It is guarantee you will find best academic choice for your future within architecture!
---
Faculty highly specialised in engineering and building management, offers it's students high quality education with direction towards architecture and urbanism. Attendees will explore design ,structures , materials and planning to be prepared for work placement after graduation.
Annual Tuition Fees
For domestic appliers: Coming soon
For foreigners (non-EU): Coming soon
---
Graduates are welcomed to join university and expand their knowledge and experience within architectural field. With rapidly growing demand for sustainable and high performance buildings is just raising. University aims to prepare future specialists for professional practices , consulting firms, research organisations and development firms.
Annual Tuition Fees
For domestic appliers: FREE
For foreigners (non-EU): 363.33 EUR
---
Faculty has built network with multiple corporations nationally as well as internationally, giving students ability to exchange knowledge. School approaches architectural material from research-by-design and design-by-research perspective. Universities given academical tasks are approached both experimentally and academically, preparing graduates for their careers in multicultural and international environments.
Annual Tuition Fees
For domestic appliers: 922 EUR
For foreigners (non-EU): 3500 EUR
---
Trough active research and lecturing, university aims to inspire critical and creative thinking among the students in the discipline of Architectural Design. With rapidly growing urbanisation and technological development new way of thinkers are required in industry. School is ready to contribute with highest quality of studies and technologies used in teaching process.
Annual Tuition Fees
For domestic appliers: Coming soon
For foreigners (non-EU): Coming soon
---
Universities teaching has developed through the time and currently offers students insight in architectural design , sustainability and business. In 6 year programme students will become confident architects to enter private and governmental sector with internationally approved diploma in architecture.
Annual Tuition Fees
For domestic appliers: 870 EUR
For foreigners (non-EU): 1520 EUR
---
Students are introduced of practical and theoretical frameworks of architecture, design , materials and planning. Gaining knowledge in creative thinking and problem solving, this 2 years architecture masters course will open doors for wide spectrum of career opportunities.
Annual Tuition Fees
For domestic appliers: Coming soon
For foreigners (non-EU): Coming soon
---
Young professionals will be prepared to enroll work placement after graduating the school. During the studies students will cover four main areas four thematic areas: architectural history and theory, technology (construction, structures), communication and management. At the end receiving BA in architecture.
Annual Tuition Fees
For domestic appliers: 8800 EUR
For foreigners (non-EU): 9120EUR
---
Czech Republic: Archip
Archip is not a typical university. It provides its students chance to obtains master degree through the focus on practical and project based work. Students work closely with lecturers on complex problems and aim to find creative and sustainable solutions. Young professionals are prepared then to successfully enter workplaces.
Annual Tuition Fees
For domestic appliers: 5600 EUR
For foreigners (non-EU): 7200 EUR
---
Studies are held in English and are project based by working un student group teams. Education is focused on nordic architecture, tectonic design and sustainable architecture. Universities teaching is based on research, meaning that the lecturer is doing research in subject he or she is teaching.
Annual Tuition Fees
For domestic appliers: FREE
For foreigners (non-EU): 13400 EUR
---
Practical work and specialised research together with industry practitioners is cornerstone for architectural program taught in the university. Students will gain knowledge in various fields as engineering, planing , design and humanities. Note that education is offered only in Estonian.
Annual Tuition Fees
For domestic appliers: 1000 EUR
For foreigners (non-EU): NOT available

---
This programs goal is to develop minds of the student's to work not only technical, scientific and artistic directions, but also to be able create solutions that are sustainable and socially responsible. School has strong international reputation. School employs leading practitioners with successful career results in architecture competitions, design projects or successful exhibition
Annual Tuition Fees
For domestic appliers: FREE
For foreigners (non-EU): 15000 EUR
---
Modern programme that will prepare future specialists for industry leaders. This course will provide you with knowledge on how to navigate and manage current metropolitan areas and emerging trends. Studies are based on economic, energy and transportation solutions and is based towards business world. Teaching is combination of theoretical methodology and real-world work.
Annual Tuition Fees
For domestic appliers: 12000 EUR
For foreigners (non-EU): 12000 EUR
---
Top German university offers it students Architecture department with over 31 professors and 200 scientists. Program is taught is in German only, and will improve students ability of research in sustainability. Main aim during the course is to prepare new professional and successfully integrate design practice into research.
Annual Tuition Fees
For domestic appliers: 260 EUR
For foreigners (non-EU): 260 EUR
---
Studying architecture in City like Athens could be very motivating and inspiring for every upcoming architect. In the faculty students will focus on architecture through theoretical, social and technical approach. Students will be given a chance to develop multiple project to showcase their visions.
Annual Tuition Fees
For domestic appliers: FREE
For foreigners (non-EU): FREE
---
During two years of studies, students will acquire skills in architectural technology , sustainability, building technology and theory. Working on individual projects and solving complex problems in groups each student will gain confidence and experience required to successfully enter the job market afterwards.
Annual Tuition Fees
For domestic appliers: 6400 EUR
For foreigners (non-EU): 6400 EUR
---
Icelandic bachelors education will be great start into the architectural world. Students will work on complex design projects broken down to smaller research courses.Academy is small compared to other architectural institutions , but that allows more personal approach to each student and lecturer.
Annual Tuition Fees
For domestic appliers: 2015 EUR
For foreigners (non-EU): 2015 EUR
---
University prepares students for problem solving in theoretical and practical manner within architectural field. When finished course students are commonly sought among regional and international firms and become experts in their selected fields.
Annual Tuition Fees
For domestic appliers: 7830 EUR
For foreigners (non-EU): 24800 EUR
---
Modern Italian school with strong traditions and culture behind offers its students professional teaching and excellent study environment. Strong research background, school is one of the largest engineering schools in Europe and is funded strongly by European union.
Annual Tuition Fees
For domestic appliers: Coming soon
For foreigners (non-EU): Coming soon
---
Students has a possibility to finish architectural bachelor degree in university prior enrolling in master program. During the studies scholar will be discovering deeply architecture and urban studies, BIM, law and management. International well experienced lecturers will deliver material in english.
Annual Tuition Fees
For domestic appliers: 6200 EUR
For foreigners (non-EU): 6200 EUR
---
Twice a year small groups of 10 students gets accepted in Masters of Architecture program by the university. During 2 years students covers subjects as architectural planning, intelligent facades, theoretical framework and actual case studies.
Annual Tuition Fees
For domestic appliers: 867 EUR
For foreigners (non-EU): 1143 EUR
---
Once graduating from program, students will have confidence to individually solve complex tasks of urbanisation and architecture. During the course, students have opportunity to participate in Erasmus exchange program and are required to do semester long internship.
Annual Tuition Fees
For domestic appliers: 3500 EUR
For foreigners (non-EU): 3500 EUR
---
Within 2 years of studies, new architects will explore subjects as architecture, European urbanisation and globalisation. The gained knowledge will therefore enable graduates to think and act strategically and future-oriented with opportunities to continue carers in private and governmental sectors.
Annual Tuition Fees
For domestic appliers: 1000 EUR
For foreigners (non-EU): 1000 EUR
---
Students will be exploring fields of design, history and technology in order to achieve final diploma that will confirm them as Architects. Course will deliver wide range of understanding how human, environment and society works with buildings and architecture. On how to detect any problems in this mechanism and how to solve them in best possible manner.
Annual Tuition Fees
For domestic appliers: FREE
For foreigners (non-EU): 13400 EUR
---
University with focus on in depth research and hands on projects. Students during the course will explore Urban design, Architectural design, aesthetics and functionality. The 6 years program should prepare new specialist in architecture for local and international projects.
Annual Tuition Fees
For domestic appliers: 510 EUR
For foreigners (non-EU): 1780 EUR
---
A well organised school with clear goal of preparing best architects that will then fulfil sustainable and thoughtful construction projects. Students will work together with architecture industry specialists and gain knowledge in urban planning and design as well as sustainability and architectural planning.
Annual Tuition Fees
For domestic appliers: Coming soon
For foreigners (non-EU): Coming soon
---
University provides students with dutch way of teaching, work in groups and problem solving through practical approach. Program is is taught in English and supported by excellent study environment , facilities and respectable professors. Students will explore areas and gain skills in areas as : design practice, social sciences, technology, engineering, innovation and sustainable development.
Annual Tuition Fees
For domestic appliers: 2083 EUR
For foreigners (non-EU): 18750 EUR
---
Studying and learning from problem based tasks students will shape themselves as creative planner for one of largest industries in Norway. Students will be introduced to planning of various types and sizes of projects in terms of architecture, design materials and finance. Program is taught in Norwegian.
Annual Tuition Fees
For domestic appliers: Coming soon
For foreigners (non-EU): Coming soon
---
Innovative Polish university welcomes student to obtain MSc degree in Architecture with focus on architectural design, city planning and spatial design. During the course students will explore various concepts and methods for architectural problem solving. Education aims to prepare specialists ready to join private and public sector.
Annual Tuition Fees
For domestic appliers: 2200 EUR
For foreigners (non-EU): 2200 EUR
---
University with diversified and international selection of students from over 100 different countries and nationalities. It makes is a great choice for someone who wishes to complete their master degree in architectural field in recognised university with prestigious background.
Annual Tuition Fees
For domestic appliers: 871,52 EUR
For foreigners (non-EU): 7000 EUR
---
Dynamic and friendly environment of study will help students to achieve their architectural masters degree. Students are encouraged to reach their best potential in architecture design, building creativity and sustainability.
Annual Tuition Fees
For domestic appliers: 1600 EUR
For foreigners (non-EU): 3500 EUR
---
International masters program will aim to prepare graduates for future development of our cities. Students will combine technological innovation, urban design, business strategy and societal concerns in order to develop solutions for smart cities.
Annual Tuition Fees
For domestic appliers: 6240 EUR
For foreigners (non-EU): 6240 EUR
---
High level of education that is based on research, aims to prepare competitive specialist in architectural field. Students will work closely with research and hypothesis defence as well as collaborate with schools industry partners.
Annual Tuition Fees
For domestic appliers: 3000 EUR
For foreigners (non-EU): 3000 EUR
---
Pedagogical activities of the education aim to provide students with independent creative artistic, design and design activities. Besides scientific and research activities are held in the field of architecture, urban planning.
Annual Tuition Fees
For domestic appliers: 3500 EUR
For foreigners (non-EU): 3500 EUR
---
Modern study program in Urbanism will allow students to gain knowledge in city planning , structures and materials required for nowadays modern cities. During 2 years of study, students will graduate with competitive diploma that is internationally approved.
Annual Tuition Fees
For domestic appliers: 3000 EUR
For foreigners (non-EU): 3000 EUR
---
With Main focus towards urbanism, contemporary architecture and design this school will be a great choice for students who are looking to expand their knowledge in urban development. Program focuses on technology, architecture and invasion and combination of all in worlds future development. School also offers related programs such as : civil engineering and industrial engineering.
Annual Tuition Fees
For domestic appliers: 3267 EUR
For foreigners (non-EU): 4900 EUR
---
Well known University offers dynamic environment for students to achieve the highest goals within architectural field. With advanced focus on Architectural design and Spatial Experiment, school prepares next professionals to be architects on a global market.
Annual Tuition Fees
For domestic appliers: FREE
For foreigners (non-EU): 19700 EUR
---
Swiss university with great history offers students environment and opportunity to expand their minds and practical knowledge within architecture. Study course aims to strengthen students ability to participate in large scale projects, solve challenges from practical and aesthetic view as well increase individual approach towards work.
Annual Tuition Fees
For domestic appliers: 1340 EUR
For foreigners (non-EU): 1340 EUR
---
Students with interest in architecture history and theories, will explore new solutions for our political, social, geographic and economic problems. During the course attendees will strongly work on research orientations chosen by them self and provided from university.
Annual Tuition Fees
For domestic appliers: 245 EUR
For foreigners (non-EU): 245 EUR
---
This Ukrainian university promises to prepare next specialist in architecture and building structures. Together with theoretical framework and practical projects students will explore current building technologies, materials and designs.
Annual Tuition Fees
For domestic appliers: Coming soon
For foreigners (non-EU): Coming soon
---
United Kingdom (UK): UCL
University is ranked as one of top Schools in the world. Students are continually proven successful track of entering job market after their graduation. From total of 5 years education, student will spend 4 years in school, solving various tasks in small groups with high focus on design. Final year is spent in architectural firm for practice or alternatively can be thesis project about Advanced Architectural Design if placement is not available.
Annual Tuition Fees
For domestic appliers: 10370 EUR
For foreigners (non-EU): 28400 EUR
---
Explore our map and choose schools by their geographical placement. Is there a school that is close to your home town or city you always wanted to move to? Each pin point includes full information about school and architectural education program.
All 43 schools offer a great opportunity for anyone to become a skilled architect. Contact schools directly , and apply for your next carrier push and maybe next time we will se some of your creations in our urban landscapes.
If you have been student of one of the schools, please contact us and share your opinion about study environment and quality of studies. We would love to hear student opinions and projects you have been working on during your study years. Are we missing any school? Please contact us and let us know about the school!
Disclaimer: The price of studies may vary year to year and subject to local currency changes.
There is not much left until the year 2019 ends up. Every architecture firm, upcoming architect or a student still has a great chance to participate in these 48 ambitious competitions and bring the best out of their creative work. Scroll through our list and find the most interesting competitions for you or even participate in all of them and maybe there is a chance for you to win thousands of dollars in prizes!
---
Trough the centuries cemeteries and the way we honor dead has changed. In this age accelerated urbanization and densification questions cemeteries as part of urban space. Is there a new way of how we can do it in this century? Designers are urged to explore new means of this ritual by suggesting devices, interior design projects, buildings, urban plans or other creations.
---
With cities growing at a fast pace, we must rethink how we use space and how transportation is distributed in them. Contenders are invited to propose innovative designs for parking towers that will hold at least 300 cars, will be friendly for city inhabitants and will blend in with functionality and aesthetics.
---
Engineers, architects, designers, and students from all over the world are invited to design a new landmark for the city Sharjah in the UAE. The city hosts the Barjeel collection and is an important representative of modern art and design in the Arab World.
---
Municipality of Maribor is looking for the most suitable solution, of the new promenade by the Drava river. Contestants should take in consideration geographical conditions and surrounding landmarks, as well as creative design solutions. It is suggested that proposals could include facilities for leisure, recreational and sports activities.
Design proposals are asked to envision new pier built in the Liqeni I Farkës lake. A new architecture piece should blend in the surrounding landmark and could reactivate how people interact with the environment they are living in. Participants should consider how will the new pier serve for local and international tourists all year long, how it will allow them to explore basin in an unexpected manner and way of pier contributing to sustainability.
---
Architects and designers are invited to explore the territory of Chinas countryside and work with public spaces as the library, homestay, and vegetable market. In essence, how do these spaces can help local residents, foreign residents and indigenous people shape the relationships together?
---
Competitors are given a unique opportunity to design a tourist village that will help its visitors to learn and better understand human evolution. Educate and spread awareness about ever-changing relationships between Australian natives and nature. The site takes place in Kakadu National Park and with beautiful sceneries, will definitely be a place for designers and architects creativity to spark.
---
In the middle of April, the world was watching tragedy in Paris- burning Notre-Dame. Could we use this global catastrophe to rethink the way how we see their heritage in today's culture, in today's cities? Hosts invite participants to explore possibilities of the new dialogues between past and contemporary architectures?
---
Participants are offered to participate in proposing concepts for new urban planning, architectural solutions, installations or other proposals for the city of Krakow. Municipality of Kraków seeks new orientation within the Old Town urban space in relation to the bank of the Vistula River. There are no really specific requirements set up. Contestants are welcome to choose the projects scale and types of visual materials presented by themselves.
---
With rapidly growing e-commerce popularity, traditional malls are put towards a threat. Malls currently serve not only shopping experience but also a harbors social spot of neighborhoods. Contestants are challenged to design marketplace that is evolving and more adaptive towards the coming future. Demolished Dixie Square mall place will be used as a site for this experiment.
---
The competition invites all undergraduate architecture students to look at how to improve the commuting atmosphere in Jakarta. Students will have the chance to explore and experiment with ideas in order to find solutions that could benefit city dwellers.
---
By city of Ljubljana, contestants are invited to design a footbridge over Ljubljanica river. The bridge is aimed to connect both sides fo river banks, as well as improve the general housing quality of the existing nearby neighborhoods.
---
With the recent acquisition of Vevče complex, the principal of city Ljubljana is inviting architects, engineers and designers to introduce the best solutions possible for areas comprehensive renovation project.
---
Suffered from multiple natural disasters and political instabilities, Haiti is currently among poorest in the region. Less than 50% of children are going to school and by a recent earthquake, more than 80% of schools in the west region of the country were devastated or seriously wrecked. An inspiring competition is set up, that asks architects and designers to propose plans for a rural school to Haitian, TE NWA community. Currently, children use a tent with plywood separated classrooms. A total of 7 levels of the clases has to be held in school and host over 50 children.
---
The Municipality of León in Mexico has announced the competition for participants to rethink urban areas of the Mexican city. With the main focus towards the integration of public spaces and green spaces within the new social housing neighborhood. Architectural practices and individuals are encouraged to focus on innovation and sustainability, same time keeping housing solutions safe and accessible for those groups with less income in society. With the completion of this project, the municipality will encourage access, equal opportunities and freedom from discrimination living.
---
With the ever-growing problem of overpopulation and lack of proper housing in urban areas, participants are asked to prototype a possible design of a micro-housing unit that could be used in the community by own choice. Contenders should evaluate aesthetics and functional nature of proposed visions. Explain how these units will improve life and serve the basic needs of the inhabitants.
---
The participants are invited to create a 21st-century library with elements of transparency, light, and nature. Designers should pay strong respect towards the context and surrounding environment. The new library should stay true to the spirit of the library as well as promote the culture of reading among visitors and city inhabitants.
---
Young Architects Company invites in contestants to design and present a place where sport can aspire. The place that can unite people and warm hearts. With the main prize of 10000 EUR, it makes it a serious and challenging competition for ambitious architects and designers.
---
The design challenge here is to improve people lives in urban areas by breaking their long screen time with public space installations. These installations should provoke attention, aspire element of play and connection. Participants can determine their own audience and context and design process. Cities like Tokyo, New York, London, Hong Kong or any other upcoming city of the world share chaos, high level of stress and disconnectedness where humans flow just as regular grey mass trough the streets.
---
Contestants are asked to design huts, keeping in mind the use of materials, sustainability, form, and integration in the landscape. 3 of the best designs will receive not only honorarium but the actual possibility to construct the huts along the River Trail located on the Assiniboine and Red rivers in Winnipeg, Manitoba.
---
Architects and designers are invited to design a home that can be dismantled, packed in a shipping container and moved to any place in the world to be mounted back again. Important to notice that hosts require this construction to be partially made out of BCORE (a special stainless steel material). Overall concepts will be judged on overall costs, aesthetics, BCORE usage, Eco-friendliness, housing strategies, disassemblability, and others.
---
A Desert house challenge presented by HOUSE CHALLENGE has yet brought another interesting task for international competitors to participate in. In this challenge, contenders are asked to explore possibilities of living in harsh environments such as the desert. The focus is to create creative designs or methods of temporary housing with new and original concepts.
---
City of Reyhanli, Turkey in last years has experienced tremendous growth for their population due to Syrian refugees. The town is facing multiple problems in hosting all in need, and therefore a transitional shelters solution has to be designed. Contestants are asked to evaluate the situation and propose best solutions that will serve the elderly, widowed and orphan Syrian refugees.
---
Competitions theme "Living upon Nature" suggests contenders open up their imagination and present various concepts of this slogan. A panel of jury suggest everyone think about how to enriches the relationship between Earth and humans, how is life in the city and how it is in nature, how will the future look like?
---
Architects, engineers, designers, and students are faced and exciting challenge of the urban reimagination of Italian city Monza in Lombardy. Contestants have freedom in terms of what to design, but it is required that final results bring value to neighbourhoods around It, is built and operated in a sustainable manner and creative to stand out.
Worth mentioning that it is a BIM-based competition! Contestants are invited to submit 3D models instead of traditional pdf blueprints.
There are just a few competitions like this in the world and it's the first one happening in Italy.
---
With no fixed place or client, designers are given wide freedom with house designing. OPENGAP invites everyone to challenge boundaries, innovate and suggest visionary proposals. Participants are suggested to choose the client of their own preference or inspiration.
---
In this competition architects and designers are asked to present their architectural answers in just 24 hours! The final brief will be only announced on the event day, but we can already see that the competition will be about future societies. With utopian themes, trough social problems and humanitarian issues, the competition seek to spark ideas and creativity in participants!
---
Trough the time home has been an important element of human life. The competition invites all designers to explore our possibilities for future homes, how will domestic architecture look like? Designers are encouraged to think about emerging building materials, and techniques. Consider the rise of smart houses, tiny houses, home-sharing and marketplaces like Airbnb.
---
A challenging competition where participants are asked to draw a new design for the future building of the Faculty of Mechanical Engineering located in the western part of the Slovenian capital city, Ljubljana. The new building should provide students and teachers with modern all necessary facilities for study and research.
---
Contestants are encouraged to reimagine and rethink spaces for visually impaired people. A place that would allow everyone to experience it to its full potential and to erase the distinction between the blind and the non-blind. There are no size or type limitations, however, space has to offer the ability to be used by all people. Architize suggests to look up for inspiration from Louis Braille and do research on what has already been designed for blind people.
Like what you're seeing so far?
Download the whole list below for FREE before we change our minds.
---
Participants are faced with challenges of creating a civic landmark that will enhance community life in Silicon Valley. Designs should be transformative with exciting presence and must include impressive lightning solutions with net-zero energy approach. In the second phase, three of the finalists will receive 150 00 USD stipendium to refine their proposals.
---
Paris is among the top 10 most expensive cities to live in. With the rising trend of short term rentals, landlords are choosing to earn as twice as much per month over long term rentals. Challenge is seeking to design a sustainable solution for the affordable housing problem. Participants should propose designs that can be used in different locations with different conditions in mind, as well as host various type of inhabitants, ranging from single professionals to families.
---
Participants are given complete creative freedom to design portable reading rooms that could be used in various locations. Designers can introduce specific environments they wish the reading room to suit, spaces can be open or closed and should encourage reading.
---
A powerful landmark of 'Aldeia da Mata' dolmen, located in Crato, Portugal is a perfect playground for students and professionals within the design and architectural fields to participate in this competition. The new Site cloister is expected to enhance the beauty and power of surrounding landscapes and provide spaces for exhibitions, offices, meetings, and others.
---
Current visitor center requires more modern touch in aesthetics and functionality to emerge better with surrounding landscapes. Competitors are asked therefore to deign new visitor center that would hold the potential to become an iconic landmark itself, exercise sustainable construction practices as well as hold all the basic amenities of the information center.
---
Participants are invited to design a cost-effective and eco-friendly building proposals for the guest house located next to one of the most breathtaking Icelandic landscapes. A winning design will be considered for the actual construction of 8-10 room guest house.
---
In this decade urban centers that fuelled by economic growth has faced a huge problem with affordable housing for its residents. As prices for housing has grown in tremendous speed, residents lack the opportunity to catch up with it. Therefore more solutions for affordable housing are required. Participants are encouraged to present solutions that are easily developed, with minimal use of materials and land, but not limited to size or residential units. The design should be flexible and adaptable to suit different locations across the world with their local specifications.
---
Iceland is country full of landmarks and now the designers and architects are given a chance to create one more of their own. The Iceland Volcano Museum has to serve various practical needs as an information centre, cafe and office complex being multipurpose exhibition hall.
---
Architectural students and professionals are invited to be part of redesigning Musée des Beaux-Arts de Lyon in France. Museum has a long history behind and several reconstructions and redesigns. This time contestants are asked to include and play around with artificial lighting on the museums interior and exterior façades as well as a choice of rooms, halls, and stairways.
---
With 3 main prizes, architects and designers are challenged to imagine living in new conditions. With the continuously growing world population, we must take action and expand our living areas. Spaces we haven't used before therefore has to be put in perspective. How would inhabitable village with the modern but yet sustainable design look like on Moon, under the water or by African coastline?
---
One of the most populated and poorest districts in Lima is in huge need for a community center, a place where locals can gather, study, work play and share. DNADD and Techo share a common vision that this center will be the starting point for many families to step out of poverty. Important to notice that it is planned to host different activities and provided a changing environment that is able to adapt its users.
---
Again, architects, designers, students, and engineers are invited to participate in annual Skyscraper Competition, organized by eVolo Magazine. This year's competition encourages participants to consider sustainability and advanced technologies, present new urban and architectural methods that aim to solve cultural, economic and social problems. Contestants are not restricted regards site, size or style. Think what is the skyscraper in the 21st century?
---
An exciting challenge for every designer or architect who is looking to twist their minds over the well-discussed problem of large venues not being properly used. Contestants are requested to design and propose plans for the multi-purpose stadium, that would not only host sports events but could also serve other purposes.
---
Competition wishes to push boundaries bit further and challenge visionaries to explore opportunities of inhabiting artic. With world cities growing at fast pace, overpopulation, poverty, pollution and high traffic, we must seek spaces out of cities allowing people to experience a better quality of life. Ellesmere Island becomes a perfect starting point for an ambitious project, this city will be a midpoint in the Hyperloop route between Moscow ( Russia ) and Vancouver ( Canada ).
---
Pop up a pavilion that connects people, architecture, and passion under one roof. This could be the short description of a given task. Archasm aspires to generate progressive ideas for fashion capital – Milan. Architects and designers are given the freedom to express their visions for visitors to be inspired.
---
Participants are suggested to design proposals for school in Mozambique. The aim is to find the best solution for the new school, the area is ready for build and the winning project will be constructed. It is important to consider all the required factors and especially the usage of building materials and available labour. Architects and designers have a wonderful chance to create for the community.
---
The host invites participants to create a design that is able to react on it's dynamic social, natural and built surroundings. Competition is accepted in urban, architectural, technological, or product design. There are no limitations towards projects location, size or functions. In previous events, designers went beyond typical solutions and much included robotics, mechanics, bio-architecture, mobility and any more.
"
---
Celebrating 50 years of space exploration, designers are invited to present concepts of space exploration centre for kids and teenagers. Organizers are expecting ideas that spark interest and creativity towards space exploration, are driven towards learning and are interactive.
---
Special mention:
Architects and designers are invited to propose sustainable, safe and resilient solutions for underprivileged areas. These proposals should improve the daily lives of the local citizens. It could be housing, civic, educational or cultural solutions that are presented by contestants.
---
Choose the competitions by their locations
---
Did you find any of the competitions interesting and considering to participate? If yes comment below wich one or how were your results!
*Registration fees and prizes may be subjected to taxes.
Download the list for free!
We're giving this entire list away for free! Fill in your details below to get the excel format of this list for FREE.
Have you ever wondered who are the main architecture firms in the world? We have composed a massive list of 100 best architecture firms sorted by their revenue. While reading our article you will find out who is behind some of the worlds most iconic buildings, and get a chance to connect with company leaders via Linkedin.
Interactive map
Click on the map below to see where the mentioned Companies are having their headquarters.
Founded in 1957, Tokyo, Showa Sekkei is one of the biggest architectural firms in Japan which delivers all services related to architecture. With a revenue of about 5 Million USD and over 200 employees, the firm is known for its innovative designs, such as for the creation of the Abeno Pedestrian Bridge and the Tokyo Metropolitan Matzusaka Hospital.
Aidea represents another influential architecture firm in the Philippines, located in Makai City which is the financial hub. With a revenue of about 7 million USD and over 200 employees it has received several awards within the last years such as the BCI Asia award in 2005 for the top 10 architecture firm in the Philippines and later on in 2011 they were recognized the BIM award for the best use of BIM for sustainability, build-ability, and constructibility. Their most famous work being Mandani Bay development project in Cebu.

Company president: Jojo Tolentino
Palafox Associates is a multi-disciplinary firm founded in 1989 with more than 100 professional consultants where the main focus is on engineering and interior design. Located in the capital of the Philippines, Manila offers the firms visibility and attractiveness for its fast pace growth and tourist attractiveness. The company is known for designing attractive parks and urban plans within the Philippines and internationally such as the Aluminum City in Bahrain.

Senior Project Architect at Palafox: Floren M. Naguit
Morphogenesis is listed as one of India's well-known, award-winning architecture and Urban Design firms. With their offices located in Mumbai, Bengaluru, and New Delhi. It is also listed as the only firm in the WA100 chart of the World's largest Architecture firms which is gender-neutral. The company employs over 50% of women across all levels. With over 8 million USD in revenue and international projects, Morphogenesis is also known for landscape design projects such as the Rock-cut Architecture- Amarnath caves.
Founding Partner at Morphogenesis: Manit Rastogi
Based in London, the firm features a long list of awards in urban planning and building design. The classical design and beauty are represented by their project of Trinity-square in London and their modern innovative touch with Skype project in Prague. One of their latest and greatest projects can be found in Hamburg and it is Fontenay Hotel.
Director at Aukett FItzroy Robinson: Tom Alexander
With more than 1,100 employees and 14 million USD in revenue, Archetype Group is one of the largest consultancies in the Asia Pacific with core services in Architecture & Master Planning and their expertise covers key construction sectors such as buildings and real estates. Their greatest project being: Capital Place (Four Seasons Hotel)
Owner, Founding President at Archetype Group: Francois Magnier
Change arises from the relationship between the past and the future. With this quote, the Italian firm company based in Milan has accomplished several projects in the classical design such as the New Padua Calcio stadium and the Chongqing Jihua Yuelai Eco-Oxygen Tower Project in China.
CEO Founder and Principal at Progetto CMR: Massimo Roj
UN studio started with 2 people and their passion laid down on a kitchen table 30 years ago. Currently, the firm has 4 international offices and in total manages over 200 designers and architects. Their main projects focus on human needs, housing, and fast-growing communities.
Founder of UNStudio: Ben van Berkel
Award-winning architecture company Ryder architects have been improving the quality of life around us since 1953 when a group of entrepreneurial architects started the company in Newcastle. Since then the company has grown into the 180 people working and bringing in a solid turnover of 15 million USD.
Director at Ryder Architecture: Mark Clasper
Founded in 2001 in Singapore, Malaysia, Space Matrix offers a design practice that specializes in workplace environments supplying future-ready workplace solutions throughout Asia. Space Matrix has created new workspaces in places like the BBC office in Singapore, Microsoft offices in Taipei and redesigned IBM Singapore office solutions.
CEO at Space Matrix: Arsh Chaudhry

GVA is a leading Mexican architectural firm in the Latin American region. Holding strong experience with over 50 years in the industry, the company reaches a turnover of 22 million USD. With more than 100 talented employees, GVA has managed to execute several high-class leisure projects, such as Hilton Resort in Aruba, Mundo Imperial in Acapulco and Breathless Punta Cana Resort and SPA in the Dominican Republic.
President at GVA & Asociados: Jaime Gomez Vazquez Aldana
The London Based architecture firm with over 22 million dollar revenue and approximately 300 employees. Focusing on urban design highlighting social and environmental responsibility. The firm has a track record of the construction of universities, colleges, campuses, and hospitals.
Partner at Sheppard Robson: Rupert Goddard
The Copenhagen based architecture firm's main focus is on the landscape, engineering and interior design and rethinking of how we can design social spaces to alleviate a growing global trend of loneliness.
CEO and Partner at Henning Larsen: Mette Kynne Frandsen
Architecture-Studio is a French architectural company which has multiple offices in Paris, Shanghai, and Venice. Today, the studio is run by 150 skilled architects, urban planners, landscape and interior designers. Companies staffs is well mixed with 25 unique nationalities represented.
Founder at AS Architecture-Studio: Martin Robain
Specialized in housing design and urban planning, this English firm has received more than 100 awards focusing on affordable housing. PRP Architects has over 50 years of experience in the field and a strong focus on sustainable housing. With 3 offices located in the UK, this firm gathers turnover of 23million USD.

Senior Partner at PRP: Anne-Marie Nicholson
With the headquarters in Paris with several offices located in France's major cities this firm specializes in general infrastructure and design they are well known for infrastructure construction in the sector of well being such as hospitals.
Director at AIA Architectes Ingénierus Associés: Simon Davies
Is one of the most diverse architectural firms as their work covers all scales and sectors with 950 ongoing projects, work in 44 countries. One of their featured projects is the BMW Central Building in Leipzig.
Principal at Zaha Hadid Architects: Patrik Schumacher
Well known for the construction of "The Chambon Penthaus" located in Brussels for which the Belgian firm has won the first prize at the Golden Rules for Urban development. Company is well known in Europe for its focus to achieve excellence in design, delivering solutions in an efficient way. Jaspers-Eyers Architects commits to emphasize on communication and design in an ecological way for the people and the environment.
CEO at Jaspers-Eyers Architects: Jean-Michel Jaspers
Thomson Adsett Architects based an Australian firm is best to be described as reliable and accountable once delivering high-end projects. Company has a combination of highly motivated and experienced designers, innovators, and architects that shape the future vision. Firms main activities reflect on hospitality, communal living, commercial, educational and interior projects.
COO at ThomsonAdsett: Louise Cox
Allies and Morrison is an architecture and urban planning practice based in London, Cambridge, and Dublin. Founded in 1984, it has developed a reputation for well-crafted buildings and thoughtful placemaking. Currently focusing on projects located in the Middle East and in North America.
Partner at Allies & Morrison: Jo Bacon
Based in Kansas city the firms' specializes in the construction of large infrastructures which include stadiums, event halls/venues, and arenas. With more than 3,000 projects in their portfolio such as Target Field Stadium in Minneapolis, First National Bank Stadium for FIFA 2020 and Sochi 2014 Winter Olympic & Paralympic Games. Company is definitely among the industry leaders once we are talking about architecture for large size venues.

Senior Principal at Populous: Brian Mirakian
Based in Adelaide, Australia the firm works in six capital cities, representing decades of experience and skills across all design disciplines. They collaborate with local and international partners such as UN Studio, Foster + Partners, Silver Thomas Hanley, and Cox Architecture. Their portfolio is based on general construction and infrastructure.

Director at Hames Sharley: Brook McGowan
Established in 1979, the firm has over 130 people working across 5 studios in the UK. The company takes their job very serious and approaches every customer with high ambition and drive towards excellence. 3DReid believes their buildings must bring beneficial outcomes for direct users and the wider public. Majority of their projects focuses around residential, industrial, educational and others.
Director at 3DReid Architects: Gordon Ferrier
Based in Ontario the Canadian firm has led several projects and constructions in the fields of healthcare, public buildings, and research and one of the most recent projects is the construction of the School of Culinary Arts and Information Technology in London.
Associate at Diamond Schmitt Architects: Dan Gallivan
Based in Hong Kong this architecture firm has completed projects in urban design all over the world with a particular focus on the middle east and in Dubai where they are well known for the construction of the Blue Water Residence home to the largest observation wheel in the world.
CEO at 10 design: David Pringle
Also, this prestigious company is based in Hong Kong with over 550 active staff members. Their main headquarters are in Hong Kong with additional offices located all across main Chinese cities: Beijing, Guangzhou, Shanghai, and Shenzhen. RLP offers services for a wide global client base, ranging from the public sector to commercial and institutional sectors.

Vice-Chairman at Ronald Lu & Partners: Bryant 慶耀 Lu 呂
The Mumbai based firm is one of the first companies to build an extensive range of the tallest buildings such as the tallest residential building in the world (23 Marina Dubai) and the tallest building in India.
Senior Associate Architect at Architect Hafeez Contractor: Pushyamitra Londhe
Ramboll is one of the largest architectural practices in the Nordic countries and fourth-largest in Europe with close to 800 experts. Rambøll Denmark was selected by Novo Nordisk A/S for the design of a new production facility. In this Facility is planned to fabricate and deliver the world's first protein tablet to the global market.

Chief Innovation Officer at Ramboll Group: Hilde Tonne
Jean-Michel Wilmotte, founder of Wilmotte and Associates was born in 1948 in French town Soissons. In 1975, Paris, he founded his own architecture firm. Currently, the firm employs 270 specialists from 25 different nationalities and operates in 20 countries. Companies international development office has launched two subsidiary companies: Wilmotte UK Ltd in London, and Wilmotte Italia Srl in Venice.
Senior Project Manager at Wilmotte & Associés: Marco Olivieri
The London based firm provides a unique blend of services and expertise, working with our clients to transform and modernize their businesses across the UK and Europe. Their main focus is on design and construction of large infrastructures across Europe.
Director of Infrastructure at Capita Symonds: Phil Downes
As TP Bennett has existed for already ten decades. The company can be proud of long-established expertise in listed buildings, built heritage and conservation. Company in total has seven listed buildings to its name and has been a huge part of development on hundreds of historic buildings in both the domestic and international realm, including work at UNESCO World Heritage sites in Libya and Ghana.
Associate Director at TP Bennett: Melanie Zarins
Based in Madrid this firm is one of the leading design companies specializing in the construction of large infrastructures for scientific purpose and they are well known for their unconventional touch such as the San Mames Stadium. Company has a solid 40 million revenue.
Director: Jesús María Susperregui

In the heart of everything the company does is the philosophy that architecture and design should be simple, elegant and timeless. The firm is having offices in Australia, Asia, and the Middle East. At the same time, they are working on extending their worldwide architectural and design services to the US and Europe by 2020.
Executive Chairman: Brenton Mauriello
The firm is one of the leading architectural companies in Scandinavia when it comes to turnover and number of employees. With a total of a bit over 470 workers located in 16 cities across Scandinavia LINK, architecture executes projects related to urban planning, design, architecture, interior, etc. Company is based in Norway and has been nominated for the RENOVER award 2019.
CEO at LINK arkitektur Danmark: Kirsten Anker Sørensen
The firm is one of the leading architectural companies in Scandinavia when it comes to turnover and number of employees. With a total of a bit over 470 workers located in 16 cities across Scandinavia LINK, architecture executes projects related to urban planning, design, architecture, interior, etc. Company is based in Norway and has been nominated for the RENOVER award 2019.
Architect and Partner at C.F.Møller Architects: Mads Mandrup
PBK has successfully planned and designed facilities for many international organizations and industry-leading companies. Their main focus is primarily on education, health & wellness. The company employs more than 500 design professionals over 15 offices located in Australia, the US, and China.
Partner, K-12 Education at PBK: Alexandra Parslow
Founded in Hong Kong in 1874, Leigh & Orange (L&O) has continued to thrive as a significant force in the markets it serves for nearly a century and a half. The company strives towards an innovative design approach, with the latest intelligent building ideas and advanced thinking in sustainability, energy conservation. The creation of architecture with a minimal environmental footprint has been part of their focus points.
Managing Director at Leigh & Orange Ltd: Ivy Lee
Dewan Architects and Engineers has been at the top position of the Middle East's rapidly growing architectural and engineering fields for nearly three decades. Companies current Chairman and original founder as well as Managing Director, Mohamed Al Assam, established the inaugural Dewan office in Abu Dhabi in 1984. Just 4 years in industry firm successfully completed their first towering commercial project, Baniyas Tower, in 1988.
Director Of Operations at Dewan Architects & Engineers: Haider Al Assam
With knowledge in every considerable industry sector, the London placed company specializes in, Retail, Leisure, Residential, Hospitality and Office design with over 2000 projects, 90 countries and more than 250 awards on their portfolio.
Director at Chapman Taylor: Jon Hale
Since its establishment, Kunwon has always been fully dedicated to generating inventive designs for the Korean market within residential and urban environments. Children have been Kunwon's main focus in its urban design projects, ensuring that the proposed environments are optimal for them.
Executive manager at Kunwon Architects & Engineers: Brad Shim
Arup plays a central role in the design and development of many of the world's favorite cultural institutions. Some of their notable work has been realizing the Sydney Opera House, the Centre Pompidou to our more recent work like the San Francisco MOMA or the Pinewood film studios extension.
Associate Director at ARUP: Derya Doğan
Their projects efforts are trying to find the perfect voice of carrying symbolism and poetry, which exceeds the simple requirement of logic and program. The French firm works mainly in the national context but their buildings can be found throughout Europe such as the Da Gennin Tower in Russia.
Architect Director at Valode & Pistre: Geraldine Maurice
With the main focus on interior design and projects of residential buildings in the UK such as hospitals and university campuses, they are also well known across borders as the US for the construction of large infrastructures such as the Miami Cruise Terminal.
Director of Architecture at Broadway Malyan: Ian Ellis
The firm is specialized in interior design for luxury resorts and public buildings throughout the US. With 10 offices in 3 continents company brings in a solid revenue of 54 million USD. The Sky lobby in Hong Kong remains one of their most notable projects.
Chief Executive Officer at Wilson Associates: Beth Campbell
The practice started in Hong Kong in 1963. The Wong Tung Group of Companies has successfully established an approved track record when we are talking about master-planning and architectural services for vast size orders in Hong Kong, Macau, and across the Pacific Rim Region.
Associate Director at Wong Tung & Partners Ltd.: Fred Ng
The firm was established first in 1969 with a clear vision to rethink architecture and planning in India, CP Kukreja Architects (CPKA) is currently one of the leading architectural companies of the country. The firm has been mentioned in one of the world's most influential architectural journals: World Architecture, to be part of the top 100 architectural firms in the world.
HVAC Design Engineer at CP Kukreja Architects: Najid Rehman
Based in Seoul, Gansam Architects have a rich portfolio of projects and awards for prestigious buildings and stunning urban planning. They also have constructed large infrastructures overseas such as the Presidential Palace, Baiterek Tower, Khan Shatyr.
Senior Designer at GANSAM Architects & Partners: Muchan Park
B+H is a global, award-winning consulting + design solutions firm founded on a 65-year legacy of creating bold and inspiring spaces for people. B+H provides core architecture, planning, landscape, interior design, and Advance Strategy services with a team of more than 450 staff collaborating across nine studios in Toronto, Vancouver, Calgary, Seattle, Dubai, Shanghai, Hong Kong, Singapore & Ho Chi Minh City.
Chief Marketing Officer, Principal at B+H Architects: Jennifer Futol
The Australian firm located in New South Wales has created large buildings and infrastructure projects. They do not have a particular design style but rather want to be connected to context, public engagement, and environmental performance.
CIO at COX Architecture: Moreno Sartorello
The company with more than 60 years of experience in healthcare design. Recently Interior design magazine ranked ZGF No. 1 as Most Admired Healthcare Design Firms among Top 40 healthcare companies in the world. In total Company has received over 1000 awards and consist of 600 active professionals located in offices across the US.
Managing Partner at ZGF Architects LLP: Ted Hyman
Benoy Architects are based in Newark-on-Trent, UK and focus on international projects in master planning and interior design. Some of their notable buildings can be seen in China, Bahrain, Colombia, and Indonesia.
Associate Director at Benoy: Priscilla Lin
Company primary focuses on educational institutions. The firm believes that proper facilities play a high role in the overall success of a student! Their work includes architecture, engendering, structural planning, and furniture design. Huckabee with 6 offices located in different US cities brings total revenue of 65 million USD.
Principal at Huckabee: Blaik Ritchie
This German architecture firm with over highly skilled 350 employees holds 70 years of experience. With offices located in Germany and China, their main architectural focus is towards cultural, health, educational facilities as well as production and master planning. The company works with office buildings and are highly involved in workspace design. Recently finishing Merck Innovation Center in Darmstadt, Germany and Zalando Headquarters in Berlin, Germany.
Managing Partner and Head of Design at HENN: Martin Henn
The Japanese architectural firm quotes their philosophy as "Originally, architecture is for all people. Their logo stands for Architecture, Art, Science, and Satow and still, nowadays these are the values firm strongly follows. With current innovations company also has a strong background in renewal projects such as the TORNARE Nihonbashi Hama-cho.
Architect at AXS Satow: Kazuyuki T
Founded in 1927 with 366 employees and have offices throughout Japan with headquarters in Tokyo. Company values sustainable projects and energy efficiency. The firm has extensive experience in designing public facilities, government offices, office buildings, educational facilities, medical institutions, hotels, resorts, and urban development areas.
Architect at Ishimoto Architectural & Engineering: Hiromi Horie
ATP architects engineers are the company who employs more than 800 employees, and they are well-known integrated design offices in Europe. Multidisciplinary teams located in ten different European cities develop integrated solutions for complicated construction projects where they have been working on sustainability principles for over 60 years, headquartered in Innsbruck, Austria.
Head of Design at ATP Architects & Engineers: Paul Ohnmacht
Based in Singapore, DP Architects are leading several projects in Indonesia, China and Dubai. They are specialized in consultancy, visual planning, and lighting. Founded in 1967, the firm currently employs over 1200 specialists in 16 offices all over the world.
CEO at DP Architects: Angelene Chan
With nearly 15,000 experts planning and designing cities and communities we live in, Sweco is shaping a sustainable future. The Stockholm firm is the founder of Urban Insight, a concept revolving around sustainability and optimizing electrical consumption.
CEO at Sweco: Dariush Rezai
Located in Hamburg, Germany, this firm has constructed large buildings in Europe and is now developing several projects in China. With their last project in Shanghai, the firm constructed a shop facade for the shopping center. An impressive curtain of 800 porcelain tubes was made in the traditional Chinese way.
Associate Director at GMP Architects: Sander Troost
Tengbom has been mentioned as part of the world's topmost innovative architectural firms, and it's among the oldest architectural practices. With a rich and multifaceted history, their mission is to keep our eyes on the future. With 600 employees in locations across Sweden and Finland, their projects are widespread across northern Europe.
CEO at Tengbom Architects: Johanna Frelin
NORR has been established since 1938. With continuous innovation and growth, the company currently employs over 750 specialists. The Ontario based Canadian design firm has a wide portfolio of projects overseas like the Al Tijaria Tower, Kuwait City, and UK spaceport.
Vice President at NORR: Peter Dubin
White Arkitekter was established back in 1951, in Swedish town: Göteborg by Sidney White. The company holds the main purpose to improve society through the architecture they make. Founders legacy still strongly lives the company's goal of contributing to a more sustainable world. Nowadays the firm is owned by its 616 people personnel, 122 of whom are partners.

Architect, Partner, VD/CEO at White Arkitekter: Alexandra Hagen
The companies focus is driven towards healthcare, education and civic industries architecture. With a sustainable approach to design firm creates high-performance architecture and design solutions that improve lives for people on a daily basis. Company ahs have been established in 1940 and currently employs over 500 specialists, With a solid revenue of 85 million USD.
Principal at HMC Architects: Dan Benner
Located in Washington DC, the US firm's main focus is on healthcare and have constructed numerous facilities throughout the US such as hospitals, academic facilities and also in housing and hospitality.
Associate Principal/Senior Project Manager at Page Southerland Page, Inc.: Stephen Bell
Robert A.M. Stern Architects, LLP, is a 265-person firm that consists of architects, interior designers, and supporting staff. In companies 49-year history, it has established an international reputation as one of the leading design firms with wide experience in residential, commercial, and institutional work.
Partner, Robert A.M. Stern Architects: Alexander Lamis
Company has over 350 employees located in 9 offices. With a strong focus on architecture and planning firm aims to be creating environments that enhance human potential. The firm develops various building projects within health, science, technological and educational spheres and holds95 million USD in revenue.

Director of Project Development at Flad Architects: Sarah Péreira
This Manchester-based company performs various projects ranging from light structures to complete urban infrastructure projects. Worth to mention that for the project: Ordsall Chord in Manchester, firm has won a RIBA National Award. BDP employs over 1000 specialists and recently has teamed up with Japan's leading engineering firm: Nippon Koei.
Director at BDP: Wayne Head
The firm is based in the UK and they are working closely with a wide range of clients from different sectors and regions. Their projects range across the public, private sector, and for local and national governments. The company holds a solid 105 million USD in revenue.
Associate at Atkins: Matt Quick
KEO is Globally ranked firm, with multiple offices spanning over seven countries Today they have a team of professionals from over 60 nations and has experience from every major market of the globe. Based in Kuwait city their work is rather international.
Director of Structural Engineering at KEO International Consultants: Andrey Danchev
Located in Detroit, Michigan companies experience ranges from urban design to large infrastructure projects. Their most notable work so far is Wanxiang Innova City, located in Hangzhou, China. It is envisioned as the world's most advanced Smart City. The framework for this vision identifies Area 1 as a new manufacturing campus of roughly 4.4M square feet that will be the catalyst for future development.
Senior Vice President/Civil Engineer at SmithGroup: Patrick Doher
The company executes projects in any sizes. Their experiences range from cultural, civic, offices, residential to infrastructural projects and skyscrapers. With clients from Europe, the Americas, Asia, and the Middle East, the company employs over 1000 skilled professionals.
Principal at Kohn Pedersen Fox Associates: Peter A. Gross
Located in Adelaide the Australian company's focus on urban planning and infrastructure, their international design practice is performed in studios located in China, Great Britain, USA, Australia, and Southeast Asia
Chief Executive at HASSELL: Gerard Corcoran
Company founded in 1932, currently employs over 550 specialists in multiple offices located in Vietnam, China, and Japan. Firms Projects are ranging between architectural design, technical, electrical and mechanical engineering, renovation and urban planning. The company holds 125 million USD in revenue.
Architect at Kume Sekkei: Fumiyasu Okazaki
The company offers a wide spectrum of services related to architecture, consulting, planning and development. With multiple offices in US company has established strong ground in the industry and received multiple recognized awards. The firm employs over 1100 active specialists and generates revenue of 130 million USD. ploys over 1100 active specialists and generates revenue of 130 million USD.
Chief Executive Officer at CannonDesign: Brad Lukanic
The company promises to elevate human experiences through its design approach and solutions. With more than 1000 design professions actively working in the firm, they can be proud of works such as Baoshan Long Beach Winder Tower, AmericanAirlines Arena NRG Solar Canopy and Rock & Roll Hall of Fame 2.0 Renovations.
Managing Principal and CEO at DLR Group: Griff Davenport
Company is the largest international architectural firm in the Southeast Asia region. Currently, the firm employs over 1600 architects, engineers, and planners. Founded in 1868 it has a long history behind, multiple award-winning projects and total revenue of 135 million USD.
Director at P&T Architects: Edgar Eduard Cozzio
With the philosophy of putting human experience as a central element in the design, this company serves international clientele with future-oriented projects. The firm employs 850 experts located in 15 studios across Asia, Australia, Middle East, Europe, and the Americas.
CFO at Woods Bagot: Peter White
The architectural company with 100 years of history and experience in their portfolio. Recognized by international audiences, firm diverse portfolio represents high-level projects in more than 91 countries and all US states. Currently, the company hosts over 700 employees.

Vice President at LEO A DALY: Cheri Pavlik
This large scale company has been first established in 1928. With its operations expanding across five continents Asia, Australia, Europe, the Americas, and the Pacific region. The firm has more than 10 000 people working in over 200 offices. The company manages to bring 145 million USD in turnover.
Technical Director – Communications & Stakeholder at GHD: Michael Ulph
The company was started in New York City back in 1981. With a total of 17 offices, the firm employs over 1000 specialists within architecture, design, engineering, and technology. Perkins Eastman manages to bring in a solid revenue of 150 million USD. Sun city Ginza
Chief Financial Officer & Executive Director at Perkins Eastman: Candace Carroll
HKS is a well established international design and architectural company with the belief that great design begins at the local level. The firm with its headquarters in Dallas, Texas manages over 1400 architects, designers, scientists, artists, engineers, and more.
Vice President at HKS Architects: Alex Thomas
Canadian based company that focuses on delivering human-centered design solutions for urban infrastructure, community buildings. With a total of 62 offices in 60 different cities, the firm employs over 2600 skilled professionals. The company executes projects in the fields of public housing, mobility, healthcare, educational as well as performs overall architectural and engineering solutions.
CEO at IBI Group: Scott Stewart
Company has been founded in 1970, currently, the firm is the leading architectural practice of South Korea, at the same time continuously expanding its market reach in international and domestic fields. With 1200 active employees out of which 550 is certified architects, Herrim is able to provide creative thinking, great technical knowledge, and high standard design solutions.
HSE Manager at Heerim Architects & Planners: Rashid Husseynov
The company was founded in 1943, and since then has continuously innovated. With multiple successful projects across architecture, engineering, planning, and design. NBBJ has recently been awarded the most innovative architecture Firm 2018 by Fast company. With over 700 employees company generates 175 million USD in revenue.
Executive Assistant at NBBJ: Laurie Nix
The company opened its doors back in 1967, since then it has grown and currently engages in international and local projects related to architecture, urban development, design, civil engineering, and structural engineering. With over 950 employees located in offices across Asia, the firm is able to generate 180 million USD in revenue.
Director at Nihon Sekkei Vietnam Inc.: Phuc Nguyen
As an award-winning company, it employs 1400 Creative minds and professionals together to make company Aedas. With the aim to deliver tailored design solutions for each client, the company works with an international clientele. Their 12 offices are located all around the world. The firm is proud of 41 featured projects, as Alacarte Ha Long Bay Condotel, The Beacon, and Unilever Headquarters.
Board Member of Aedas : Maxwell Connop
Company has successfully completed over 10000 projects covering more than 50 different cities. Projects ranging from research facilities, educational institutions, skyscrapers to urban districts has allowed the company to achieve over 1000 recognized awards and to be twice winning Architecture Firm Award from the American Institute of Architects.
Associate at Skidmore, Owings & Merrill LLP (SOM): Rami Abou-Khalil
Company has expanded its operations on a global scale and it has been recognized by Fortune magazine as the World's Most Admired Company, Engineering, Construction category. Strongly the following innovation and offering futuristic solutions, the company currently employs over 80000 people and generates revenue of 205 million USD.
Vice President, Federal Government Relations at Jacobs: Matt Chiller
The company that has recently won AJ100 International Practice of the Year award, continuously keeps innovating and places suitability in center of everything they design. Since Norman Foster first opened the company in 1967, it has grown over 1600 employees in 13 offices across all continents.
Associate at Foster + Partners: Alessandra Di Battista
Company has been named as the number one retail design firm for the 3d year in the row by Visual Merchandising + Store Design's annual top. With luxury clients from Burberry, Louis Vuitton, Nordstrom, Hudson's Bay Company, Target and Nike, firm coordinates its operations from 20 worldwide located offices. Over 2500 employees bring in 210 million USD large revenue.
Associate Vice President at CallisonRTKL: Dana (Trott) Brandle
This Canadian top design and delivery firm, has over 400 offices in local communities, employing more than 22000 specialists, all across the world. With a high focus on architecture, design and sustainability firm have received multiple awards, recognitions and honorable mentions.
President and CEO at Stantec: Gord Johnston
Company founded in 1935 has successfully adapted to changes in the world over time and continuously brings well-designed solutions for community-driven projects. The firm consists of over 2500 employees and has revenue of 220 million USD.
CEO at Perkins+Will: Philip Harrison
This Japanese architectural company has over 125 years of history in the industry, it is bringing high-quality services that range from urban and project planning to architectural/interior design, and consulting.
HOK is a global, award-winning design, architecture, and engineering company. With more than 1700 employees collectively collaborating across 24 offices spread out on three continents, the firm generates 250 million USD in revenue.
Chief Operating Officer at HOK: Thomas Robson
The company has been founded in 1976, and since then has completed more than 8000 projects. With over than 100 award-winning projects designs, the firm employs over 100 registered architects and a total of 650 employees.
Associate Principal – SAMOO Architects & Engineers: Sangjoon Simon Kim
Ranked as No.1 – Architectural Firm in Healthcare Design, No.1 – Central & Eastern Europe in Building Design by World Architecture 100 Survey, with multiple other rankings and world-class awards. The firm provides a wide range of solutions in architecture, engineering, planning, environmental sciences, research and more, for the health, defense, civic and transportation industries.
Vice President at HDR: David Yentzer
This California based architectural company represents modern design and sustainability. With over 10000 unique projects in more than 2500 cities all across the world, the firm earns a solid revenue of 400 million USD. Named as No. 6 most admired companies in the world by Fortune Magazine, it operates from 48 cities all over the world.
Executive Assistant to Co-CEO at Gensler: Linda Fones
With impressive 25000 completed projects in companies more than 120 years long history, it can definitely call themselves as industry professionals. The firm currently employs over 2800 specialists in design, architecture, planning, engineering, and science.
Chief Civil Engineer of Urban Planning Dep. at Nikken Sekkei: Masafumi Tanaka
The company strives to develop and implement new solutions to the complex challenges the world is facing. With multiple notable achievements, the company has been ranked as the No. 1 Transportation and General Building in Engineering News-Record's 2019 "Top 500 Design Firms" and 5 years in a row, announced as one of Fortune magazine's "World's Most Admired Companies" Companies total revenue comes to 500 million USD.
Chairman and Chief Executive Officer at AECOM: Michael S. Burke
With its headquarters based in Singapore, this award-winning architectural company has over 60 years of experience in the industry! The firm can be proud of multiple intentionally recognized projects as St Regis, Kuala Lumpur, Malaysia, The Oberoi, Gurgaon, India, and the Nakheel Mall, United Arab Emirates. Company has recently received recognition on its achievements in sustainability and innovation for their projects in 2018. Total revenue goes over 640million USD.
Associate Director at RSP Architects Planners & Engineers: Devaganga Mahajan
---
Did we miss anyone? Comment here if we missed a great architecture and they deserve mention in our list!
It is well known that the environment shapes the personality of a human being.

Then moving on, is the school, where students begin to learn and to engage with their environment and the people around them.

The first introduction to society is within the family, as it is the first social environment.
The design of classrooms is leaving the traditional, teacher-focused classroom behind and heading towards an open, flexible layout with furniture that supports technology-enhanced learning and student group projects.

The ideas that follow, support a sustainable perspective, as necessary and vital to respect the environment and to preserve it.

1) Integration of Technological Equipment within the Lessons .
Technology nowadays is playing a splendid role in everyone's life. It is embedded in society and schools are using it to help their students with their studies, research and speeding up the learning process.
The 21st century classrooms are designed with two key concepts; fast access to technology and a student-centred architecture.
In order to get the full benefits given by technology, classrooms have started to be equipped with an LCD projector, a document camera, an additional
wireless router and a high-tech whiteboard.
image from Istituto comprensivo Porcu Satta Cagliari

Almost all the schools around the world are embracing the idea of IT integration within the school's environment.

Nowadays, on average, 60% of schools provide the tools for students to study, some even allow them to use their own devices. Students become more active and responsible in their own learning process.

Technology in schools can bring many advantages, but also disadvantages.
Technology can help the students connect with each other in a variety of situations, for example, messaging platforms can be used by individuals within a group project, especially when not in the same location. Technology platforms can become a way to stay informed and ensure everyone feels able to participate equally in school activities

Through technological tools, students can broaden their knowledge, gain differing insights and be more involved and engaged in debates.

When talking about IT integration, it helps to bring fun while studying! Animated games with popular characters can explain everything from the solar system to the texts of Aristotle.

The disadvantages are many, including someone who struggles with… distraction.

This is harmful, but perhaps not as serious as a more evident trend, the temptation for students to use their devices to cheat during exams. This problem has been overcome by the introduction of thorough controls, digital citizenship contracts and IT specific training for teachers.
2) Decentralizing the Classroom.
Students should feel confident and comfortable in class.

Creating a student- focused environment is one of the main priorities for learning institutions.
A change that is relevant is that the teacher's desk has been replaced by a podium that can be moved around the room.

The decentralization of a classroom has a focused goal, to create a polycentric layout in order to capture and maintain the attention of all students.
Edtech: the classroom of the future

Unlike the traditional methods of education, where the student had to follow the teacher, today students are becoming more responsible for their own learning and the teachers are seen as guides, to help facilitate when it is needed.

3). Flexible Desk Furniture.
Flexible classroom furniture transforms the way students learn.
Rearranging a learning space several times during the course of the day draws students' attention and allows for a variety of tasks.
They're going to be better able to absorb and process information based on a higher level of engagement with the work they're doing.
These environments encourage innovation and will help the students to actively develop their interests by learning in different ways.
Most jobs in the modern world require some degree of collaboration and so the ability to work cooperatively to achieve a goal or complete a task is important for everyone.
Environmental and economical benefits include saving raw materials and money.
This is because schools can use the same flexible classroom furniture in many ways, rather than having to purchase new items for specific purposes. In this way, sustainability is achieved and maintained across the school.

North Arkansas High School is a typical example of using flexible desk furniture.
It has been revolutionary and other schools have followed in their footsteps to great success.

4) Collaborative and Sustainable Workspaces.
No matter the level of studies, student group projects are an important component of today's learning programs. Through the use of multi-functional tables, it is easy to arrange the environment to suit the task.
Supervision is necessary, in order to see if the set activities are bringing the expected results. But, teachers are changing the way they deliver information and also the purpose of the classroom itself.
The approach towards studying is more collaborative, teachers are experimenting different ways of teaching, such as discussion through the debates, learning by listening, learning by doing.

The contemporary classroom is closer to the Socratic idea of innovation and it has brought great results
Austin University, Texas

The Community College Survey of Student Engagement (CCSSE) at The University of Austin in Texas evaluated innovative solutions based on collaborative working spaces that are able to reinforce the co-working of students; it is important to outline that in Community College just half of the students move to 2nd year.
Many of the students leave due to problems related to the active and collaborative learning that occurs with others, improve this, improve graduation rates.

5) Sustainable movable room dividers.
Safety and flexibility are pillars for the classrooms of the future.
Architects think that classrooms are best with stable, movable room dividers that can help to organize an educational space in new ways.
Incorporating erasable chalkboard or whiteboard surfaces onto the partitioning systems enables students to depict a graphic vision of the group work and is helpful when discussing and exchanging opinions with each other.
This would also help the students in achieving a better group work experience .
An advantage can also be that these can create temporary classrooms, because they are easy to assemble and to carry.
Room divider, Accordion Portable
This is an example of a room divider, it is very functional as students can use it during the curricular courses and also in group work. It saves space and it reduces noise.

6) Comfortable Chairs.
Reading at a desk can be uncomfortable for long periods of time. Why have the offices of the future placed an emphasis on comfort?
Many classrooms now offer comfortable chairs that allow students to study for longer hours.
This should be seen as an opportunity to improve in the design of chairs and to take into consideration better ideas to achieve a better experience.
Comfortable chairs help the user avoid physical and health problems in the near future. Once it is possible to avoid these problems, less adults will have to face them in the future.

7) Presentation Areas.
Teachers need to be able to provide formative assessment. In order to help students improve their educational outcomes, instructors need feedback loops.
Presentation areas are spaces where the students can talk about the presentation within their groups and improve overall performances both as an individual and as a group.
Reimaging an environment that is comfortable for both teachers and students includes providing an area with a space for the laptops, ergonomic chairs, and large tables to be occupied by the teachers.
These appropriately equipped spaces allow for organised learning demonstrations which encourages relaxation and confidence in students.
A good example of presentation areas is given by the library at Pershing County High School.
Pershing County High School , Nevada.

8) Quiet Areas.
As the rooms in a school are mainly open spaces with many people, it can be hard to concentrate on tasks such as reading. Quiet areas in a learning environment are necessary for both students and teachers.
A quiet area can be used by students that prefer to work alone ,(not all students' personalitiesare the same) or if they are looking for a place to write and to concentrate.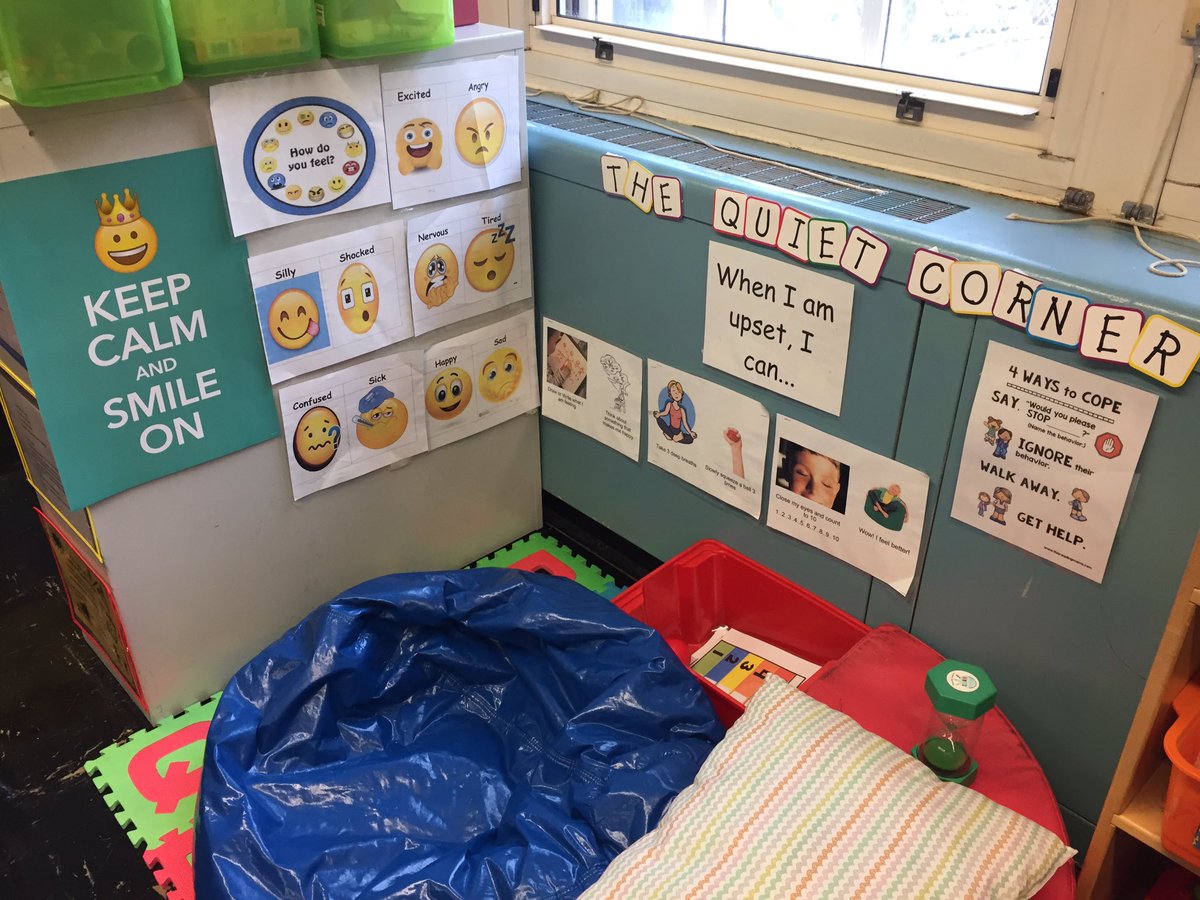 A school in New York ,the Queen North Primary School decided to create the break areas,quiet corners to self regulation and social emotional learning .
9. Learning Zones.
Computer-based learning can allow students to focus on those areas where they are having difficulty.
These can be located within classrooms in special learning zones or in dedicated computer labs.
The learning zone should provide students with spaces where they can talk and share different points of view and also enjoy the time spent together.
10) Makerspaces.
While many student projects can be accomplished by moving desks together or gathering in collaborative workspaces, more projects require the use of specialized tools.
According to the national Speak Up survey from Project Tomorrow, 31% of schools already have a makerspace and 23% of other schools are considering creating one.
Makerspaces are valuable because students get their first experience of the practical aspects of projects and they can gain confidence in their skills and competences.
11) Natural Lighting.
Improvements are vital when dealing with classrooms and learning spaces.
According to the American Department of Education, classrooms with better lightning had a 26% better learning rate in maths and a 20% better learning rate in reading.
This research-based study shows, no matter the age of the student, they learn better in spaces with ample natural light.
Large windows through the classrooms are necessary and with the natural lighting, students will benefit. The lighting in a classroom will affect the retention of the material being taught.
Students will improve and achieve a better experience while learning.
Southlands High School in Chorley, Lancashire

At the Southlands High School in Chorley, Lancashire, UK the new Art Room_2 was designed to emphasize the impact of natural light to maximize positive effects.

In fact, the effective classroom lighting should use as much as possible of any natural light available, this could be further integrated with artificial light when necessary.

The studies confirm that the natural light provides physical and physiological advantage for students, teachers and administrators.
In addition, the natural light is useful for the health, concentration and even test scores of students; a study by the Heschong Mahone Group estimated that students receiving high levels of natural light score up to 18% better than students receiving minimal quantities natural light.
12) Bright Colours.
In the era of challenges and technology, architectural design teams focus heavily on the colours of the classrooms.
The "vibe" of some classrooms can give the space a feeling that elicits a desire to create, versus others which encourage teamwork. T
Melbourne St. Mary Primary School

In St.Mary of the Cross in Melbourne, the new library has been designed with bright colors and common spaces that reinforce the creative attitude of the kids.

The area has common space for teachers and students and it is reflective of the sun's bright colours.

Indeed, the creation of a large modern learning environment able to accommodate over 250 students represented a challenge in terms of creating appropriately scaled spaces, cost effectiveness and efficient construction.

In this case, the structure of the library emulated the concept of "Bee Hives" ,that create an opportunity for the staff to teach in and around the beehive as well as to send students to work in groups and or individually. (from St. Mary Primary School)

13) Reading Areas.
Reading is essential for every student's life. Through reading, students are able to gain knowledge from the textbooks and it can be beneficial for building their future.

They not only widen their knowledge by reading, they start experiencing and get a better perspective on the variety of topics presented in the curriculum.

One of the easiest concepts to execute is creating an area just for reading.

Students should feel warm and invited to spend time in a space meant for quiet reflection on a book they're immersed in.

However, the school departments should also allow for students to engage with teachers when something isn't properly understood without the disruption of an entire classroom by doing so.
University of Helsinki

The reading area in Helsinki University provides a very innovative solution, including high visibility and common sharable spaces.

The area is based on clear, flexible floor levels, subdivided into functional zones and each space is encircled by walkways and by the information zone. (from Helsinki University site)

The work zone is soundproof and it guarantees quiet reading and teamwork rooms. (Ibid)
14) Playing area/common space.
Learning doesn't happen by just studying books, exchanging opinions and ideas with the people next to each other, which is actually an imperative.
These activities are helpful in achieving an effective learning approach, but it can be possible to play while learning too!

It could be a game based on a learning approach, a game that stimulates certain areas of the brain like chess or Sudoku and students can also focus on activities like drawing and painting.

Once they change activity from studying to a softer and more intuitive activity, they can replenish their energy and give more effort, and this would be reflected in the performance at school.
Emerson's Playing Zone School.

Emerson's High school is an example of how playing areas are combined with other study environments.
15) Corridors used as Informal Learning Places
Every area in a learning environment is used to better achieve the goal of improving student performances, outcomes and reaching a better experience in the working space.

Corridors have been used as an informal learning environment as many students spend some of their time there, talking with their classmates and with their teachers.
Xavier University, Cincinnati

Xavier University in Cincinnati provides a very good example of an Informal Learning Environment; indeed, due to the nature of the education, it suggests to investigate new ideas to further develop opportunities always.
---
There are many ways that classrooms around the world can be improved to maximise the study experience for both students and teachers.
Investing into educational design means investing in the future.
We are sure to continue to see more improvements and innovations that can shape the environment for the better.
Maybe the next big thing will come out of one of the Architecture Competitions left this year?
How has academic design changed since you've been in a classroom?
Let us know in the comments below what you feel has been missing during school times!
Speaking about the best architecture, design and buildings, we essentially refer to the minds behind all of this. We've gathered a list of the most amazing contemporary architects and their work in order to inspire you and inform you about the most fascinating constructions out there.
1.Daniel Libeskind – The Jewish Museum
Daniel Libeskind was born in 1946 in Poland. The Jewish Museum in Berlin was Libeskind's first major international success. Some other notable works include the Grand Canal Theatre in Dublin and the Imperial War Museum North in England.
---
2. Richard Meier – Barcelona Museum of Contemporary Art
Richard Meier, born in October 12, 1934 is an American abstract artist and architect, whose geometric designs make prominent use of the color white. A winner of the Pritzker Architecture Prize in 1984, Meier has designed several iconic buildings including the Barcelona Museum of Contemporary Art. Local media referred to the museum as "the pearl" among the old architecture of Barcelona.
---
3. Norman Foster – 30 St Mary Axe
Norman Foster, born in June 1, 1935 is a British architect whose company, Foster + Partners, maintains an international design practice famous for high-tech architecture. He is one of Britain's most prolific architects of his generation. When you are travelling to London, one of the first buildings to strike your eye will be the 30 St Mary Axe. The building is a commercial skyscraper in London's primary financial district.
---
4. Renzo Piano –The Shard
Renzo Piano, born in September 14, 1937 is an Italian contemporary, abstract and functional architect. One of his most notable projects is "The Shard", which is the tallest building in United Kingdom (309 meters).
---
5. Santiago Calatrava – City of Arts and Sciences
Santiago Calatrava, born in July 28, 1951 is a Spanish architect, structural design and analyst engineer, sculptor and painter. His largest project is the City of Arts and Sciences in his birthplace, Valencia. The building is an entertainment-based cultural and architectural complex. It is the most important modern tourist destination in the city of Valencia and one of the 12 Treasures of Spain.
---
6. Rem Koolhaas – CMG Headquarters
Rem Koolhaas, born in November 17, 1944 is a Dutch architect. architectural theorist, urbanist and Professor at Harvard University. His largest work to date is the CMG Headquarters in Beijing. The CCTV Headquarters won the 2013 Best Tall Building Worldwide from the Council on Tall Buildings and Urban Habitat.
---
7. Ieoh Ming Pei – The Rock and Roll Hall of Fame
Ieoh Ming Pei, born in April 26, 1917 is a Chinese American architect and he is often called the master of modern architecture. One of his most notable projects is" The Rock and Roll Hall of Fame", that recognizes and archives the history of the best-known and most influential artists, producers, engineers, and other notable figures who have had some major influence on the development of rock and roll.
---
8. Jean Nouvel – Doha Office Tower
Jean Nouvel, born in August 12, 1945 is a French architect. At 25, Novel started a firm with François Seigneur. In 2008, he received the Pritzker Prize for his work on over 200 projects, including Doha Office Tower in Qatar. Doha Tower is an iconic tower located in Doha, Qatar. The $125-million office building, has a height of 232 meters, with 46 floors.
---
9. Frank Owen Gehry –The Louis Vuitton Foundation
Frank Owen Gehry, born in February 28, 1929 is a Canadian-born American architect. A number of his buildings, including his private residence, have become world-renowned attractions. His works are cited as being among the most important works of contemporary architecture. The building of the Louis Vuitton Foundation is an art museum and cultural center and is one of Frank Gehry best-known works.
---
10. Tom Wright – The Burj Al Arab
Tom Wright, born in September 18, 1957 is a British architect best known as the designer of the Burj Al Arab in Dubai. The Burj Al Arab is a luxury hotel is the fifth tallest hotel in the world, although 39% of its total height is made up of non-occupiable space. The shape of the structure is designed to resemble the sail of a ship.
---
11. Balkrishna Dosh – The Aranya Housing Project
Balkrishna Dosh, born in August 26, 1927 is an Indian architect, known as the Eco-friendly Architect of the Millennium. He is considered to be an important figure of Indian architecture and in 2018 he became the first Indian architect to receive the Pritzker Architecture Prize. One of his most notable works is The Aranya Housing Project which is considered a model project for its care for third world urban poor.
---
12. Ole Scheeren – The Interlace
Ole Scheeren, born in January 6, 1971 is a German architect and urbanist. You can see his contemporary architectural style in various buildings such as The Interlace which won the World Building of the year award in 2015. The Interlace is a large residential complex in Singapore consisting of a series of apartment blocks stacked diagonally across one another. The concept behind The Interlace was to find a way of creating high-density housing without adding another tower block to Singapore's skyline.
---
13. Peter Eisenman – Holocaust Memorial
Peter Eisenman, born in August 11, 1932 is an American architect who is considered one of the New York Five, a group of world-renowned architects of New York City. His style of architecture mainly focuses on high modernism or deconstruction. One of his most notable works is the Holocaust Museum in Berlin, a memorial to the Jewish victims of the Holocaust.
---
14. Eduardo Souto de Moura – Paula Rego Museum
Eduardo Souto de Moura, born in July 25, 1952 is a Portuguese architect who was the recipient of the Pritzker Architecture Prize in 2011. His major works include a style of conservatism and modernism. One of his marvelous pieces of architecture is Paula Rego museum. The design was made in concordance with Paula Rego wishes. She stated that the building should be "fun, lively and also a bit mischievous".
---
15. Kazuyo Sejima – Rolex Learning Center
Kazuyo Sejima, born in October 29, 1956 is a Japanese architect known for her clear modernist elements in her designs. Her buildings are distinguished by the fact that they have large windows which creates a fluid transition between interior and exterior. One of these buildings that describes her style is the Rolex Learning Center.
---
16. Moshe Safdie – Habitat 67
Moshe Safdie, born in July 14, 1938 is an Israeli-Canadian architect, urban designer, educator, theorist, and author. Safdie is famous for architecture which bends lines and curves to create geometry that has never been defined before. He is most identified with Habitat 67, which paved the way for his international career. Habitat, is a model community and housing complex in Montreal and is considered one of the most recognizable and spectacular buildings in Canada.
---
17. Shigeru Ban – The Paper Dome
Shigeru Ban, born in August 5, 1957 is a Japanese architect, known for his innovative work with paper, particularly recycled cardboard tubes. His designs are minimalist and require only the necessary building material. One of this type of works is the Paper Dome, a temporary church building.
---
18. David Chipperfield – The Hepworth Wakefield
David Chipperfield, born in December 18, 1953 is an English Architect who is known for his contemporary architectural style. One of his buildings that describes the best his style is the Hepworth Wakefield, and art museum that received 100,000 visitors is the first five weeks after opening.
---
19. Fumihiko Maki – The Tokyo Metropolitan Gymnasium
Fumihiko Maki, born in September 6, 1928 is a Japanese architect who received the Pritzker Prize for his work, which often explores pioneering uses of new materials and fuses the cultures of east and west. The project that brought him the most desired prize in architecture is the Tokyo Metropolitan Gymnasium. The building is characterized by the contemporary design style that made Fumihiko Maki known worldwide.
---
20. John Andrews – Satellite Campus of the University of Toronto
John Andrews, born in October 29, 1934 is an Australian architect, known for designing a number of acclaimed structures in Australia, Canada and the United States. One of his works took part in the premises of The University of Toronto Scarborough, a satellite campus of the University of Toronto. The first completed building of the campus named after its designer, John Andrews, was built in a "brutalist" architectural style and completed in 1964.
---
21. Peter Zumthor – The Kunsthaus Bregenz
Peter Zumthor, born in April 26, 1943 is a Swiss architect known for his uncompromising and minimalist work. His work brought him the 2009 Pritzker Prize and 2013 RIBA Royal Gold Medal. One of his best projects is the Kunsthaus Bregenz, one of Europe's leading galleries for contemporary art.
---
22. Jacques Herzog & Pierre de Meuron – Tate Modern
Herzog & de Meuron is a Swiss architecture firm with its head office in Basel, Switzerland. The founders and senior partners Jacques Herzog, born in April 19, 1950 and Pierre de Meuron, born in May 8, 1950 were awarded the Pritzker Prize in 2001. They are best known for their conversion of the giant Bankside Power Station in London to the new home of Tate Modern, one of the largest museums of modern and contemporary art in the world.
---
23. Ryue Nishizawa – The Garden and House
Ryue Nishizawa, born in 1966 is a Japanese architect based in Tokyo. In 1995, he co-founded the firm SANAA with the architect Kazuyo Sejima. In 2010, he became the youngest recipient ever of the Pritzker Prize, together with Sejima. One of his eye-catching projects is the "garden and house", a five-story townhouse fronted by a stack of gardens.
---
24. Alejandro Aravena – The Siamese Towers
Alejandro Aravena, born in June 22, 1967 is a Chilean architect. He won the Pritzker Architecture Prize in 2016 and he is best known for the work on the Siamese Towers. The building serves as the Center for Technological Innovation at the Catholic University of Chile.
---
25. Takaharu Tezuk – The Roof House
Takaharu Tezuka, born in February 23, 1964 is a Japanese architect. He and his wife founded the Tokyo-based firm Tezuka Architects. Their work emphasizes human activity and connectivity as can be seen in the work of the "Roof house".
---
26. Rafael Aranda, Carme Pigem and Ramon Vilalta –
The Tossols Basil Athletics Stadium
Rafael Aranda, Carme Pigem and Ramon Vilalta founded RCR ARQUITECTES in 1988 with the intention of producing quality architecture while focusing on environment and landscape. One of their projects that is basically only about environment is the Tossols Basil Athletics Stadium, where the architects choose not to alter the space by cutting any trees or by leveling the landscape.
---
27. Mauricio Rocha & Gabriela Carrillo – The Criminal Courts for Oral Trials
Taller de Arquitectura established by Mauricio Rocha in 1991. Later on, in 2012, Gabriela Carrillo joined the firm and the name was changed to Taller. Taller projects try to develop contemporary architecture, focusing on the environment and on the overall efficiency. One of their known projects is the Criminal Courts for Oral Trials in Mexico. The project matches Taller ideology of design and functionality.
---
28. Frida Escobedo – The Serpentine Galleries
Frida Escobedo, born in 1979 is a Mexican architect. Her focus is on design and restoration of urban spaces like, housing, community centers, art venues and hotels. The Serpentine Galleries are two contemporary art galleries situated in London. Every year they appoint world renowned architects to build a temporary summer pavilion. Frida Escobedo was the youngest architect to ever work on this project.
---
29. Solano Benitez – The Unilever Building
Solano Benitez, born in 1963 is a Paraguayan architect. In 1987 he founded his own firm that tries to produce sustainable and economic solutions. One of these buildings is the Unilever Building, a large container of offices that permits entry of light and proper ventilation.
---
30. Dominique Perrault – The DC Towers
Dominique Perrault, born in April 9, 1953 is a French architect. He had and has projects all around the world, some notable ones are the Olympic Velodrome and Olympic swimming pool in Berlin, the Olympic Tennis Stadium in Madrid, the Fukoku Tower in Osaka or the French National Library. Another project that he is working on is the DC Towers. Only one of the DC Tower is finished and is currently the tallest skyscraper in Austria.
---
31. Álvaro Siza – The Expo'98 Portuguese National Pavilion
Álvaro Siza, born in June 25, 1933, is a Portuguese architect known for his simple but breath-taking projects. He stated that "architects don't invent anything, that they just transform reality". One of his works that express his style and ideologies about architecture is the Expo'98 Portuguese National Pavilion, a project that can be described as being a work of complex simplicity.
---
32. Antoine Predock – The Canadian Museum for Human Rights
Antoine Predock, born in 1936 in an American architect based in New Mexico. His style is aiming to preserve the cultural foundation of a scene and he is designing his creations as being part of the landscape. One of his famous projects that reflects his ideologies is the Canadian Museum for Human Rights.
---
33. Ben van Berkel – The Erasmus Bridge
Ben van Berkel, born in 1957 is a Dutch architect; who founded together with his wife, UNStudio. One of his memorable projects is the Erasmus Bridge, who was accomplished before the creation of his new office, UNStudio. The bridge is compared with a swan by the public and described by the architect as being" a bracket construction in sky-colored steel [that] can appear thin as a needle, or wide as a harp".
---
34. Bernard Tschumi – The New Acropolis Museum
Bernard Tschumi, born in January 25, 1944 is a Swiss architect and educator who is known for his deconstruction approach towards his projects. One of his most well-known works is The New Acropolis Museum, a place that stores the most important works of art and architecture.
---
35. Bjarke Ingels – The 8 House
Bjarke Ingels, born in October 2, 1974 is a Danish architect known for his innovative and ambitious design approach, many of his buildings defy traditional architectural stereotypes. One of his most notable projects is the "8 House". The building is a mixed of three types of residential housing and retail and office spaces.
---
36. César Pelli – The Petronas Towers
César Pelli, born in October 12, 1926 is an Argentinian architect who designed some of the tallest building in the world. One of his projects that enter in this category is the Petronas Towers. The towers were the tallest building between 1998 and 2004 and they still are the tallest twin towers in the world. Cesar Pelli states that "Humanity has an obsession with building big" and the fact that "Tall has power."
---
37. Christian de Portzamparc – Château Cheval Blanc
Christian de Portzamparc, born in May 5, 1944 is a French architect, urbanist and winner of the world renowned, Pritzker Prize in 1994. His work is being described as having a bold design, artistic touch and focusing on the importance of the environment and landscape. Château Cheval Blanc is a winery designed by our architect where his focus was not put only on the structure but also on the contrast between the landscape and the design of the building.
---
38. David Childs – One World Trade Center
David Childs, born in April 1, 1941 is an American architect, known for being the architect behind the tallest building in New York City, One World Trade Center. The structure holds a sentimental value and a history for the reason that is built on the same spot where a tragedy happened to the old World Trade Center.
---
39. Jeanne Gang – The Aqua Tower
Jeanne Gang, born in March 19, 1964 is an American architect and urban designer. She's work is characterized by having an innovative use of materials and environmentally sensitive approach. Her most famous work is the Aqua Tower, an 82-story residential skyscraper. The building was awarded as being the best skyscraper of the year 2009.
---
40. Joshua Prince-Ramus – The Vakko Headquarters and Power Media Center
Joshua Prince-Ramus, born in August 11, 1969 is an American architect and founder or REX, international architecture and design firm. He received many awards for one of the best young architects of our era. One of his works that brought him these awards is the" Vakko Headquarters and Power Media Center". The construction is two office buildings, built one inside the other.
---
41. Ken Yeang – The National Library Singapore
Ken Yeang, born on October 6, 1949, is a Malaysian architect, well known for his Eco-architecture and green design. One of his key buildings that follows his ideologies is the National Library Singapore, where Ken Yeang found the opportunity to apply his sustainability concepts.
---
42. Kengo Kuma – The Bamboo Wall House
Kengo Kuma, born in 1954 is a Japanese architect and professor. He is known for his goal to recover the traditions that the Japanese architecture holds and implement them in the architecture from our century. One of his key projects is the Bamboo Wall House, which had the purpose to contrast the Great Wall of China in the sense of fragility and transparency.
---
43. Ma Yansong – The Absolute Towers
Ma Yansong, born in 1975 is a Chinese architect and founder of MAD architects. His ideology comes from the concept that contemporary architecture has no spirit and he want to make buildings that inspire people and are against this concept of today. One of his most notable projects is the Absolute Towers, residence with the focus on reducing energy load and giving to its inhabitants as much light as possible.
---
44. Massimiliano and Doriana Fuksas – The Shenzhen Bao'an International Airport Terminal 3
Massimiliano Fuksas, born in January 9, 1944, is an Italian architect and founder of Studio Fuksas alongside his wife, Doriana Fuksas. Their architecture is known for its elegance, their focus on the desires and needs of the public and the importance that they give to the environment. One example of their exemplary work is the Shenzhen Bao'an International Airport Terminal 3, a project that shows elegance and utility.
---
45. Rafael Moneo – The National Museum of Roman Art
Rafael Moneo, born in May 9, 1937 is a Spanish architect, who won the Pritzker Prize in 1996. He is known as an architect that combines aesthetics and functionality in his projects. One of his best buildings is the National Museum of Roman Art, where Rafael Moneo used Roman techniques, materials and proportions in order to give authenticity to the building.
---
46. Rafael Viñoly – The 432 Park Avenue
Rafael Viñoly, born in 1944 is a Uruguayan architect, who describes itself as being a practical and intelligent architect who takes into consideration all the factors that go in to the architecture of a building. One of his most famous works is the 432 Park Avenue, the third tallest building in North America.
---
47. Richard Rogers – The Pompidou Centre
Richard Rogers, born in July 23, 1933 is a British-Italian architect, winner of the Pritzker architecture prize in 2007 and known for his focus on functionality and modern design. One of his memorable projects is the Pompidou Centre, designed with the help of Renzo Piano and Gianfranco Franchini. The project is described as being "not a building but a town where you find everything – lunch, great art, a library, great music".
---
48. Robert Stern -The 15 Central Park West
Robert Stern, born in May 23, 1939 is an American architect, which often uses "modern traditionalist" to describe his work. Robert Stern is behind the design of one of the most famous condominium apartment building in New York City, the 15 Central Park West.
---
Sheila Sri Prakash, born in July 6, 1955 is an Indian architect known for being the first woman to open her own firm. While working on her firm, Shilpa Architects, she became one of the most influential architects in the world. She is being known for focusing on local and cultural arts and by center her architecture on sustainability.
---
50. Steven Holl – The Kiasma Museum in Helsinki
Steven Holl, born in December 9, 1947 is considered one of the most important American architects for the importance that he gives to natural light. He has the ability to utilise the light and shadows in his design in order to get the best balance between the two. One of his most known projects is the Kiasma Museum in Helsinki, that is on par with his abilities, being designed in such a way so it can catch the low angle of Scandinavian sun.
---
51. Tadao Ando – The Row House
Tadao Ando, born in September13, 1941 is one of the most distinguished Japanese architects. His unique and abstract style brought him many awards including the most desired award, the Pritzker Architecture Prize in 1995. One of his most famous works that resembles the simplicity in his style is the "Row House".
---
52. Sir Terry Farrell – The MI6 Building
Sir Terry Farrell, born in May 12, 1938 is a British architect and urban designer. One of his most famous projects is the MI6 Building, headquarters of the Secret Intelligence Service of the United Kingdom. The construction characterizes the best his contextual urban design and postmodernism style.
---
53. Thom Mayne – The Caltrans District 7 Headquarters
Thom Mayne, born in January 19, 1944 is an American architect described as having a bold, futuristic and environmentally friendly design. One of his most famous constructions that follows his style is the Caltrans District 7 Headquarters. The building, completed in 2004 brought him the distinguished Pritzker Architecture Prize on the following year.
---
54. Thomas Heatherwick – The Learning Hub
Thomas Heatherwick, born in February 17, 1970 is an English designer, known as an "ideas engine". He states that he does not have his own style as many other architects, but he describes himself as being a problem solver. One of his most notable works is the Learning Hub in Singapore, an academic building with no corridors that creates a dynamic environment and encourage interactions between students.
---
55. Toyo Ito – The Tower of Winds
Toyo Ito, born in June 1, 1941 is a Japanese architect, world known for his creative and unique projects and for his innovative designs. His style brought him the word renowned, Pritzker Prize in 2013. One of his famous projects that scream his style is the "Tower of Winds". Even dough the building is just a storage house it looks as so much more due to the relation between nature and architecture that Toyo Ito manage to implement in its design.
---
56. A. Eugene Kohn, William Pedersen and Sheldon Fox –The Lotte World Tower
A. Eugene Kohn, William Pedersen and Sheldon Fox are the founders of Kohn Pedersen Fox Associates, one of the biggest architecture firms in the world. Their projects touch a vast area of activity, from cultural spaces, commercial office buildings, transportation facilities to educational facilities, residential and hospitality developments. One of their most famous works is the Lotte World Tower, the 5th tallest building in the word, that is inspired from traditional Korean art and design.
---
57. Alvaro Siza – The Ibere Camargo Museum
Alvaro Siza, born in June 25, 1933 is a Portuguese architect known for his traditional approach for his projects. One of his awarded projects is the Ibere Camargo Museum, inaugurated in 2007, the design museum follows the European trends of that specific year and perfectly shows Alvaro's style.
---
58. Stanley Tigerman – The Illinois Holocaust Museum
Stanley Tigerman, born in September 20, 1930 is an American architect, theorist and designer, characterized by his social and development-mindset. One of his most known works is the Illinois Holocaust Museum, a building that has the mission to honor those who were lost and teach the mass how to fight against hate and indifference.
---
59. James Polshek – The Rose Center for Earth and Space
James Polshek, born in February 11, 1930 is an American architect known for his attention that he gives to people and their needs and his ability to add modern architecture components to the traditional ones. One of his best-known projects is the Rose Center for Earth and Space, one of the biggest attractions of the American Museum of Natural History in New York City.
---
60. David Adjaye – The National Museum of African American History and Culture
David Adjaye, born in September 22, 1966 is a British architect known for his diversified design and unique way of using materials and light. One of his most known projects is the "National Museum of African American History and Culture" in Washington DC. The building and the connection between its design and surrounding landscape represent America's long African culture.
---
61. Wang Shu – The Ningbo Museum
Wang Shu, born in November 4, 1963 is a Chinese architect known for his modern design accomplished by using classic materials and an older style. His well-known design approach can be seen in his most famous work, The Ningbo Museum.
---
62. Glenn Murcutt – The Riversdale Boyd Education Centre
Glenn Murcutt, born in July 25, 1936 is an Australian architect and winner of the Pritzker Architecture Prize in 2002. He is known of being the most famous Australian architect. Glenn earn this title not by building tall and imposing buildings but by designing smaller settlements that let him focus on economical design, preserving energy and environment. One of the many examples of buildings that enter this category is the Riversdale Boyd Education Centre.
---
63. Elia Zenghelis – The Ashikita House of Youth
Elia Zenghelis, born in 1937 is a Greek architect characterized by simplifying structures, materials and building taking into account the landscape and environment. An example of his work is the Ashikita House of Youth, which was build in such a manner so the design will direct people's eyes towards the water.
---
64. Peter Pennoyer – The Metropolitan Opera Club
Peter Pennoyer, born in February 19, 1957 in an American architect known for his traditional and classic design. Even though he has many outstanding modern works, one of the most famous ones is the Metropolitan Opera Club, which we can say it's strengthened his classic style.
---
65. Maya Ying Lin – The Vietnam Veterans Memorial
Maya Ying Lin, born in October 5, 1959 is an American designer and architect best known for sculptures and historical memories but also for her care for nature and environment. Her most famous project is the Vietnam Veterans Memorial, build in the honor of the US army that fought in the Vietnam War.
---
66. Denise Scott Brown – The Postmodernism, the Sainsbury Wing
Denise Scott Brown, born in October 3, 1931 is a South African architect that became one of the most influential architects of the past century by her planning, writing and teaching architecture. She and her husband manage to build one of the most sophisticated public projects in the Postmodernism, the Sainsbury Wing.
---
67. Amanda Levete – The Selfridges Building
Amanda Levete, born in November 17, 1955 is a British architect, considered one of the most innovative architects in UK. She obtained this title by designing the Selfridges Building with the Future System team. The building is part of the Bullring Shopping Centre, it cost 60 pounds and it is one of the most futuristic buildings in Birmingham.
---
68. Annabelle Selldorf – The David Zwirner Gallery
Annabelle Selldorf is a German architect and founder of Selldorf Architects. This firm creates clear and modern settlements, which are "brought to life by its users". Included in this category are museums, libraries, galleries and residential buildings. One of the most notable ones being the David Zwirner Gallery.
---
69. Odile Decq – The Fangshan Tangshan National Geopark Museum
Odile Decq, born in 1955 is an award-winning French architect and founder of Studio Odile Decq. Her work is characterized by the importance that she gives to the overall space. An example is the Fangshan Tangshan National Geopark Museum, where the interior is spacious and structured.
---
70. Susana Torre – Fire Station Five
Susana Torre, born in 1944 is an Argentinian architect known for her projects that gather cultural, social and regional topics. Her style can be recognized is some of her best-known projects like, Fire Station Five in Columbus, the Clark and Garvey Houses in The Hamptons and the Consulate of the Ivory Coast in New York City.
---
71. Elizabeth Diller and Diller Scofidio + Renfro– The Institute of Contemporary Art
Elizabeth Diller, born in 1954 is an American architect and partner in Diller Scofidio + Renfro alongside with Ricardo Scofidio, Charles Renfro, and Benjamin Gilmartin. She is known one of the most influential designers of cultural buildings. One of her many known buildings is the Institute of Contemporary Art, the first new art museum to be built in Boston.
---
72. Diébédo Francis Kéré – Primary School in Gando
Diébédo Francis Kéré, born in April 10, 1965 in Burkina Faso is the founder of Kéré Architecture. He finished his studies in Germany and then decided to come back and help his home town. He is known for building the Primary School in Gando along side many other school related buildings.
---
73. Bruce Kuwabara – The Remai Modern
Bruce Kuwabara, born in 1949 is a Canadian architect and founder of KPMB Architects. He is known for his sustainable architectural design and for being one of the few who was studding this aspect before being a priority in Canada. One of his well-known projects is the Remai Modern art museum.
---
Douglas Cardinal, born in March 7, 1934 is a Canadian architect known for his curved style. One example is the Canadian Museum of History, Canada's most visited museum.
74. Douglas Cardinal – The Canadian Museum of History
---
75. Jack Diamond – The Four Seasons Centre
Jack Diamond is a Canadian architect known for his ability to analyze the construction site. He won many awards on different types of buildings, from civic and residential to academic and cultural projects. One of the most famous ones is the Four Seasons Centre, a theater in Toronto with a capacity of 2000.
---
76. Bruno Freschi – The Science World
Bruno Freschi, born in April 18, 1937 is a Canadian architect known for his specific focus on space, form and urbanism. One of his projects is the Science World where his style can be clearly seen.
---
77. Barton Myers – The New Jersey Performing Arts Center
Barton Myers, born in November 6, 1934 is an American architect and he is known for his focus on urban consolidation, the ability of a building to define the surroundings and the ability to combine the old and new architectural combinations. His style can be seen in one of his most popular projects, the New Jersey Performing Arts Center.
---
78. Altuğ Çinici – The Middle East Technical University
Altuğ Çinici, born in 1935 is a Turkish architect known for her fast adaptability to modernization and her focus on environment. She earned a lot of awards along the years and one of the reasons is one of her most notable works, the Middle East Technical University.
---
79. William McDonough – NASA Sustainability Base
William McDonough, born in February 20, 1951 is an American architect known for his focus on "green" architecture and for minimizing the negative environment impact. One of his most famous construction is the NASA Sustainability Base, that shows the best his ecological style.
---
80. Eric Parry Architects– One Fen Court
Eric Parry is a British architect who did establish Eric Parry Architect practice in 1983. Trough the years architectural firm achieved multiple awards, and currently additional to architectural and urban design as holds a large portfolio of interior design projects.
---
81. Minsuk Cho – The S-Trenue Tower
Minsuk Cho, born in 1966 is a South Korean architect, founder of Mass Studies and known for his urban research and for his buildings. His work is worldwide recognize for their shape, size, innovation and space efficiency. A clear example of all mentioned is the residential/office tower, the S-Trenue Tower.
---
82. MVRDV : Winy Maas, Jacob van Rijs, and Nathalie de Vries – The EXPO 2000 Pavilion
Winy Maas, Jacob van Rijs and Nathalie de Vries founded MVRDV in 1993. The company is based in Netherlands and had implemented contemporary architectural solutions and urban issues all over the world. One of their most well-known projects is the EXPO 2000 Pavilion, that was made to represent balance between nature and technology.
---
83. Thom Mayne – The 41 Cooper Square
Thom Mayne, born in January 19, 1944 is an American architect and principal founder of Morphosis. The company is focusing on culture and modern design and forms. One of their innovative projects is the 41 Cooper Square, a project that integrates sustainability into function and architecture.
---
84. Hafeez Contractor – The Imperial
Hafeez Contractor, born in 1950 is an Indian architect known for building a large number of skyscrapers in India. He also stated that he does not have a particular style, he wants to make beautiful and imposing construction. An example is the twin-tower residential skyscraper, The Imperial.
---
85. Raj Rewal – The Parliament Library
Raj Rewal, born in 1934 is an Indian architect, known for his ability to combine light and dark design and also the ability to connect the interior design with the exterior landscape. One of his most known projects that reflect his style is the Parliament Library in New Delhi.
---
86. Rahul Mehrotra – The KMC Corporate Office
Rahul Mehrotra is an Indian architect and founder of RMA Architects. The firm is known for the equal importance that they give to urban design, architecture, panning, landscape and historic preservation. One of their most famous projects is the KMC Corporate Office, which illustrates Rahul Mehrotra's style; the building is able to control the amount of light and air that circulates inside the construction.
---
87. Sanjeev Panjabi & Sangeeta Merchant – The Exim Tower
Sanjeev Panjabi and Sangeeta Merchant are two Indian architects and founders of SPASM Design Architects, one of the best firms in the country. Their work includes family houses, luxury villas or commercial towers. One work that is included here is the Exim Tower, which is in concordance with the Indian tradition and the firm style.
---
88. Christopher Lee, Serie Architects. – The Jameel Arts Centre Dubai
Serie Architects are focusing on architecture, urban design and research. One of their well-known projects is the Jameel Arts Centre Dubai, where their focus on space efficiency and elegance can be seen, as well as the relation between inside and outside, art and nature.
Hope you learned something new from this list and don't hesitate to tell us who did we miss.
For additional information about famous buildings and architecture in general, feel free to check these blogs